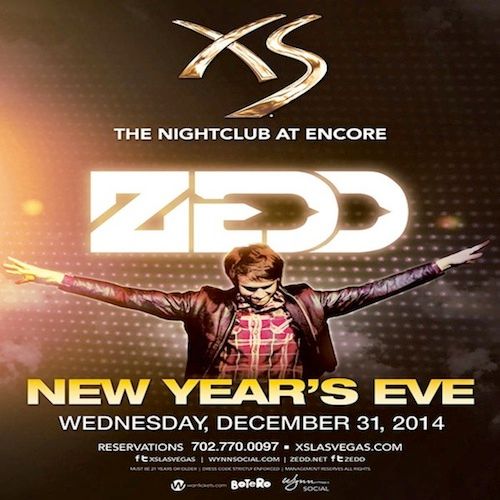 If you plan on being in Vegas for New Year's Eve, you're in luck. As the ultimate destination for decadence, Sin City is planning countless celebrations, bringing in top-level talent to ensure guests have a glamorous, unforgettable night. How to choose among so many options? A sure bet will be ringing in 2015 with one of EDM's darlings, Zedd, at one of the city's most opulent megaclubs, XS at Encore. We're giving away a pair of tickets to the show:
As he rings in the New Year, Zedd will be celebrating a massive 2014.  The German producer started the year off strong with his first Grammy award for Best Dance Recording for "Clarity" featuring Foxes.  Just a few days later, he debuted at XS, starting his 2014 residency at the storied Las Vegas nightclub.  He kicked off festival season with an incredible mainstage performance at Ultra then went on to wow crowds at both weekends of Coachella.  On Saturday, August 31st, he celebrated his birthday in a big way at XS: he brought in 11,323 fans and successfully broke the venue's record for most guests in one night.  On top of it all, he's been turning out hits like 'Break Free', his collaboration with pop sensation Ariana Grande and a dance-worthy remix of one of 2014's most inescapable songs, 'Rude' by Magic.  With that kind of momentum, Zedd's flying full-force into 2015 and his NYE celebration at XS will undoubtedly be one of the most incredible celebrations on the Strip.
For those considering matching the main man's signature plaid on NYE, chances are that kind of casual attire will be out of place on the dance-floor.  As always in Vegas, the ladies have the advantage for entrance. To 'stay the night' with Zedd at XS, men's all-access tickets are going for $300 + $25 service charge and women's all-access tickets are $125 + $19.75.  If those ticket prices have you breaking a sweat, you can stay cool outside with an outdoor-only ticket: guys pay $30 + $5.50 and girls pay $20 + $4.  Tickets are available here and iff you're interested in getting a table, contact XS through their website or a promoter.
Twelve Days of New Year's Eve Events:
1. SnowGlobe 2014
2. Toronto's Countdown NYE  
3. Zedd at XS