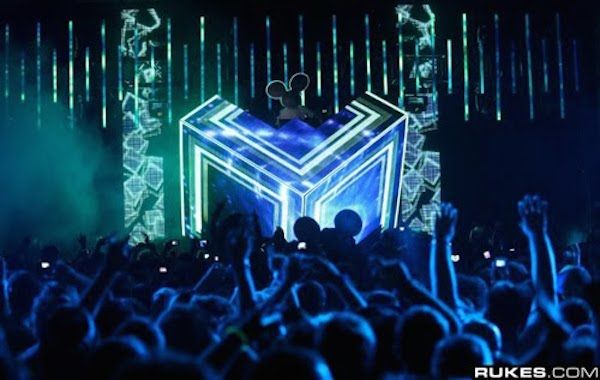 To say Deadmau5 has been a busy-bee as of late would be a gross understatement. Joel has been all over the place, doing pretty much anything and everything you'd wanna do as a world-renowned musician. Outside of music, he's stripped down the Purrari and prepping it for sale, buying an absolutely bonkers track-car, and continued his coffee-run series (check out his latest ride, with Rob Ford.) More importantly though, he's been throwing down a series of  heavy hitting performances, and laying down the foundations for what could be the most legendary collaboration in the history of dance music.
With an unhooked XS performance, a b2b set with Eric Prydz for a SW4 afterparty along with their mysteriously tantalizing mau5-ville project at HARD Day of the Dead, and a techno packed Ibiza show (that we're hoping to get our hands on soon), the Mau5 Horde has had no shortage of Deadmau5-y goodness. If that wasn't enough to satisfy you, then rejoice, because his headlining iTunes Festival performance has been uploaded to YouTube in its full 75-minute glory. The set features a number of his most popular releases and some more experimental plays. The  full tracklist is posted below, with time stamps.
Now Deadmau5 is heading back to North America to further prepare for his 2015 (we're hoping) tour. While interviewing with BBC Radio 1's Zane Lowe before the release of his new album While (1<2), he brought up the tour and left us eagerly awaiting the new year. "I'm done making money. I'm not thinking about maximizing profits by minimizing production and maximizing ticket prices. I remember many points in my career where I had all these great ideas but just couldn't spend that money. This is the selfish tour, really, I'm gonna haul off with 16 trucks of look what I can do."
Check out the set now, because there's no telling how long it'll be online. Enjoy.
Tracklist:
[00:00:00] 01. deadmau5 – Gula
[00:07:00] 02. deadmau5 – Coelacanth II
[00:07:18] w/ deadmau5 feat. Greta Svabo Bech – Raise Your Weapon (Acappella)
[00:09:25] 03. deadmau5 – Your Ad Here (You There Edit)
[00:14:05] 04. deadmau5 – Cthulhu Sleeps
[00:18:35] 05. deadmau5 – Superliminal
[00:21:08] 06. deadmau5 – My Pet Coelacanth
[00:23:55] w/ Morgan Page feat. Lissie – The Longest Road (Acappella)
[00:28:15] 07. deadmau5 – Where My Keys
[00:29:50] 08. deadmau5 – Phantoms Can't Hang
[00:33:35] w/ Inner Universe – Ghost in the Shell SAC OST+ (Acappella)
[00:35:53] 09. deadmau5 – Moar Ghosts N Stuff
[00:38:15] w/ deadmau5 feat. Rob Swire – Ghosts N Stuff (Acappella)
[00:39:15] 10. deadmau5 feat. Rob Swire – Ghosts N Stuff
[00:42:15] 11. deadmau5 – Suckfest9001
[00:44:35] 12. deadmau5 – Infra Turbo Pigcart Racer
[00:50:20] 13. deadmau5 – Acedia
[00:53:25] w/ deadmau5 feat. Colleen D'Agostino – Drop The Poptart (Acapella)
[00:54:40] 14. deadmau5 – Somewhere Up Here
[00:55:30] w/ deadmau5 feat. Colleen D'Agostino – Drop The Poptart (Acapella)
[00:57:27] 15. deadmau5 – Fn Pig
[00:59:40] w/ deadmau5 feat. Chris James – The Veldt (Acapella)
[01:00:25] 16. deadmau5 feat. Chris James – The Veldt (Tommy Trash Remix)
[01:05:43] 17. deadmau5 – Strobe