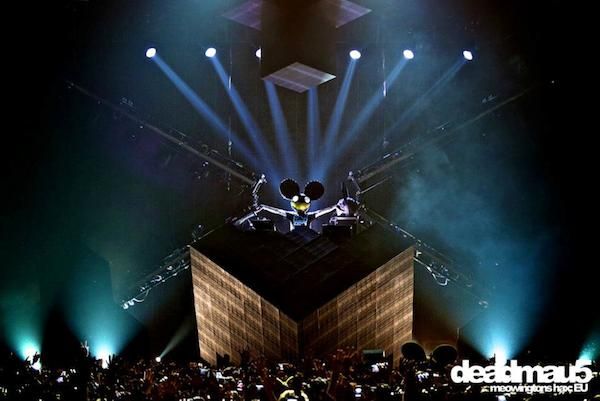 Hyped about Deadmau5's upcoming album 'While (1<2)'? Ya should be. Frustrated with great anticipation at the same time? Well if you're like us, then the answer is most definitely yes. June 17th can't come soon enough. A 25 track double monster album should be plenty to be excited about, but there's something even bigger coming over the horizon.
Deadmau5 was recently interviewed by BBC Radio 1's Zane Lowe, where he discussed the new album (and how to say the title), the reasoning behind the deadmau5.live platform, further thoughts on the EDM industry, and – most importantly – the plans behind a new tour of monumental proportions.
"This new one's gonna be a doozy. We've been working with some really top production companies, that aren't like the top production companies in EDM. I'm talking like THE top production companies. They're even coming back saying, 'Dude you have the biggest balls."
In an effort to put it into scope, Zane compares it to Bon Jovi, but according to Mau5, this is going to be even bigger. We're talking 16 trucks worth of setup, and a production that will likely only fit in stadiums. As one could imagine this is doesn't come cheap, but ya gotta love Joel because he's going 'all chips in' and 'doing it like it's his last tour'. This is a man with ambition and a desire to do something huge, and now he has the funds to finally see his grandest ideas come to life. This is, as he puts it, the 'selfish tour'.
"I'm done making money. I'm not thinking about maximizing profits by minimizing production and maximizing ticket prices. I remember many points in my career where I had all these great ideas but just couldn't spend that money. This is the selfish tour, really, I'm gonna haul off with 16 trucks of look what I can do."
This tour is on a 5-6 year plan, so you can bet there's quite a lot going on behind the scenes in tech-development. We've seen the experimental robotic Mau5 Heads and a slew of new touch screen performance tech over the past year, who knows what's going to come to full fruition when the tour kicks off. Maybe a full production studio on stage to create and edit music live, like he postulated a year ago? For now, like with the new album, all we can do is a wait. Ever so eagerly. Check out the full interview below for all the details in Joel's own words.