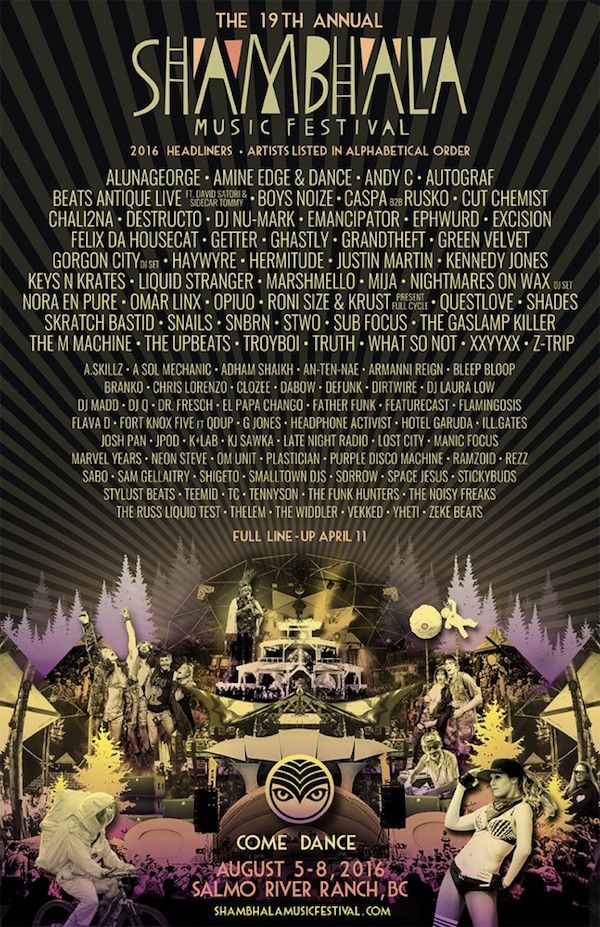 With just under three weeks to go, Canada's Shambhala Music Festival is fast approaching its 19th year in production (August 5-8), which is poised to only continue the festival's impressive transformation and upward movement from its once humble beginnings on the Bundschuh family's farm in Salmo, British Columbia into one of Canada's largest, most popular and highest revered electronic music gatherings. The perfect mixture of Shambhala's jaw-dropping stages, scenic forest backdrop, carefully curated lineup overflowing with some of electronic music's best, workshops, movement classes, yoga, vendors and overall radiant personality and communal vibes guarantees its unwavering staying power and reputation within the festival circuit. This year's annual celebration will prove to be no different, and possibly even better than ever before, as the festival just officially announced its jam packed 2016 music schedule sprinkled over four days and across six stages.
The inaugural day of 2016's festival, Thursday August 5th, sees the Living Room and Amphitheater stages opening their gates to festivalgoers eager to move their feet and shake their hips all weekend. Stylust Beats will kick things off with an early appearance on the Amphitheater stage at 1:30 p.m., with Space Jesus gracing the stage later on in the night at 10:30 p.m. Night owls should be sure to check out the stylings of An-Ten-Nae over at the Living Room stage at 1:00 a.m. The festival's opening ceremony will take place the next afternoon on Friday the 6th at the Grove stage at 1:00 p.m., with music erupting onto all six stages for the first time all weekend shortly after at 3:00 p.m. The Russ Liquid Test, Opiuo, KJ Sawka, The Gaslamp Killer, Caspa & Rusko, Excision, Om Unit, and Liquid Stranger are just a few of the many exceptional names to check out during Friday's festivities. With Shambhala in full swing, Saturday's celebration will host the likes of some of bass music's greatest, like Plastician, Stylust Beats, DJ Madd, Thelem, ill Gates, Alix Perez, Truth, The Widdler, Sorrow and The Upbeats. The festival will climax with a thunderous close on Sunday, August 8th thanks to roaring performances by Nightmares On Wax, Manic Focus, Shades, Emancipator, Bleep Bloop and G Jones and many, many others. Check out Shambhala 2016's full schedule here.
Those unable to make it to this year's Shambhala Music Festival should mark their calendars for August 2017, as it will signify the festival's 20th year on the Farm, which means 20 years of amazing music, incredible people, and memories to last lifetimes. From August 11th to 13th, 2017, help Shambhala celebrate their graceful dance through two decades of beautiful people doing beautiful things in a beautiful place. Tickets will go on sale a little earlier this year, so keep yours eyes peeled at shambhalamusicfestival.com for live ticket sales for 2017, starting on September 1st, 2016, 12 p.m. PST.