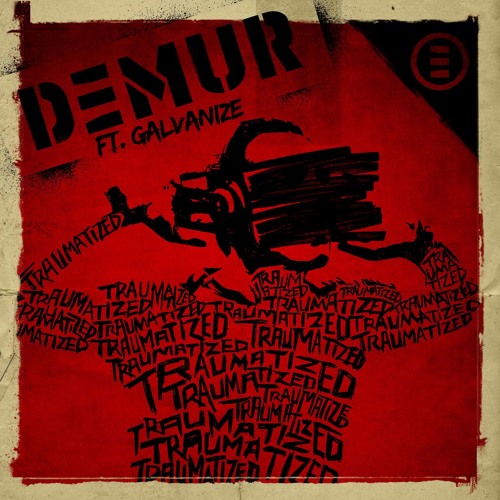 Demur – Traumatized (feat. Galvanize)
de·mur
/dəˈmər/
(verb): To voice opposition
If you asked the average-joe on the street, or any music mogul in their office, or most any dj/producer of prominence about "the state of the dance scene," or even the music industry at large, they'd likely tell you it's flourishing. That shows are bigger than ever. There's more money in the system than ever before thanks to sponsorship. And there's more music than ever before to choose from. But if you ran into Demur on the streets of LA, you wouldn't be asking any average-joe.
We covered his "Smells Like Teen Spirit" remix back in February, a kick off to his project that's not meant to rake in the big bucks, but meant to stir the pot and get a movement started much like Nirvana did in the 90s. Based on his name and artwork choice alone, we'd wager he sees a great deal more strife and dissent around us, as fans continue to willingly take in mass produced commercialized cookie-cutter fodder, and seemingly reality of variety and choice in our music library is false reality.
His music takes inspiration from Drum & Bass, Breaks, Rock, Jersey Club, UK Garage, and a general sense of hysteria; "Traumatized" featuring Galvanized is everything you'd expect from the above genres and more. We haven't heard channeled passion and aggression this clearly in music since the Prodigy's heyday, and he could very well take that mantel in a few years. You can have this fast paced, guitar laden, drum driven, rager of a tune now at the link below, and it's out on July 2nd via INTELLIGENTSIA Records.
Demur – Traumatized (feat. Galvanized) | Free Download

But that's not at we're bringing for you today…with a reputation developing from his propaganda just as much as his music, Demur is on a rampage bashing artists like Carnage and other big room kings DVBBS, apparent thieves and sell-outs like David Guetta after his "Lean On" UEFA Anthem rip (This One's For Your), and even Euro-heavyweights in Hardwell. For the support on his Nirvana remix, we've been given the honor of premiering an artwork that shed some light on that opinion of the industry we discussed earlier….wanna know how to enter the big room edm world? Check out the Bangerz Machine.