According to Wikipedia, a bromance is "an exceptionally tight affectional, homosocial male bonding relationship that exceeds that of usual friendship, that is distinguished by a particularly high level of emotional intimacy". That being said, it's pretty obvious that there are a few DJs out there that take their friendships to the next level. With large-scale festivals booking numerous international producers to play the same event, it's no surprise that many of them have gotten to know each other. Some of these guys have even taken things to the next level, as we've seen Skrillex, RL Grime and more take their bromances to the studio.
Before we get started, there are a couple guidelines. The first one is what we like to call the "Dillon Francis Rule". This rule means that each artist may only appear on the list once due to the fact that if we didn't have this in place, Dillon might take up the whole article. The second rule is the "Disclosure/DVBBS Rule", which states that the bromances cannot feature biological 'bros'.
Now that the technicalities have been addressed, it's time to sit back, hit play on the tune below and let the beauty of the bromance sink in.
Skrillex & Diplo

To kick off the list, we have the hottest duo in electronic music. We already knew that Skrillex and Diplo had a solid friendship before they announced their side project, but ever since the guys began taking Jack Ü more seriously, it seems like their bromance followed suit. Things may die down now that their album has been released, but we have a funny feeling that this is only the beginning.
Hardwell, Dannic & Dyro

They used to be the top artists on Revealed Recordings, but now that Dyro has an imprint of his own, it feels like the guys haven't been as close. For the last two years, the three amigos have gotten cozy during their North American bus tour, but it doesn't look like we'll be seeing a 2015 edition. Regardless, Hardwell, Dannic and Dyro will still go down as one of the best bromances in dance music.
Baauer & RL Grime

You would think that since they're two of the biggest forces in trap music, Baauer and RL Grime would be enemies rather than friends. Thankfully, the guys have a solid relationship and along with multiple B2B sets and a North American tour, they have taken their bromance to the studio to create "Infinite Daps".
Dillon Francis & Zedd

As previously mentioned, Dillon Francis could have made it on this list because of his many bromances with DJs like Skrillex, Diplo, Martin Garrix and more. In the end, we had to go with Zedd due to the fact that we can't help but smile every time we see a picture of them. These dudes now how to make some seriously funny faces and when you take their super cute poses into account, it's hard to deny the bromance.
Flume & Chet Faker

Considering that they're two of the most forward-thinking artists in the game, it's no surprise that Flume and Chet Faker have taken their friendship to the next level. Also, the guys both call Australia home, which goes to show that this is a match made in heaven.
Tiësto & Martin Garrix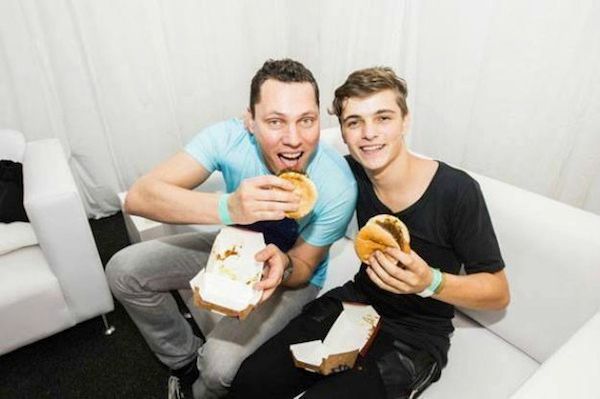 While you can make the argument that this is more of a 'mentor-mentee' relationship than a bromance, there is no denying that Tiësto and Martin Garrix have a special friendship. Even though one of them is towards the end of his career and the other is just getting started, that doesn't mean the guys won't continue to tear up main stages across the world for the time being.
Tchami & DJ Snake

These two artists may come from very different genres, but Tchami and DJ Snake have still found a way to make their bromance work. The guys joined forces on "Turn Down For What" and have now started working on a new project, 'Pardon My French', alongside another Frenchmen. This venture is still in the early stages, but if they keep it up, Mercer might be joining the bromance some time in the near future.
Axwell & Sebastian Ingrosso

There was a time that this duo used to be a trio, but now that Steve Angello has left the picture and Swedish House Mafia is no more, it has become clear that Axwell and Sebastian Ingrosso have a serious bromance going on. Their new collaborative project is now in full swing and we're sure that you'll continue seeing this bromance for many years to come.
Will Sparks, Timmy Trumpet & Joel Fletcher

Melbourne bounce seems to keep growing in popularity and a large part of that is due to the popularity of this trio. These Aussies are known for their wild B2B2B sets and even brought their bromance to North America on the 'Bounce Bus' tour. Hopefully, Will Sparks, Timmy Trumpet and Joel Fletcher take their relationship to the next level, as a collaboration between them would be a wild one.
deadmau5 & Eric Prydz

To end our list, we have someone who doesn't come across as much of a 'bromance' kind of guy. deadmau5 is known for his trash-talking, but it seems like he has a lot of respect for progressive house legend Eric Prydz. The two artists joined forces at HARD's 'Day of the Dead' for a massive B2B set and then followed that up by reworking "The Veldt" for the 5 Years Of Mau5 album. While we have a feeling that Joel won't want to admit it, this relationship has bromance written all over it.