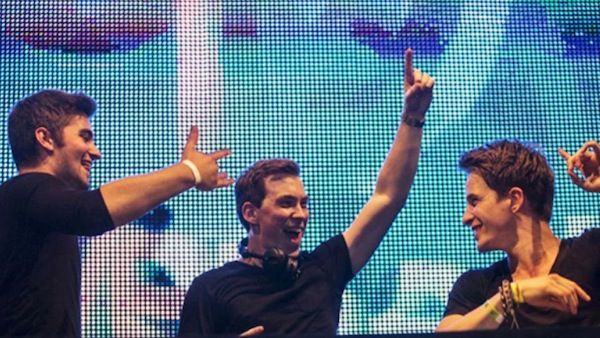 Do you remember being a kid and counting down every second until summer? Warm weather, no school, but most importantly: summer camp. Yes, this was the time where you got to reunite with old friends, stay up all night until you pass out in your bunks, and create memories that will last a lifetime. Now try to recall those memories, except with a state-of-the-art tour bus, thousands of screaming fans and a whole whack of beer and energy drinks and you've got the Revealed Recordings North American Bus Tour.
We were lucky enough to sit down with Dannic, Dyro and Hardwell during one of their stops and were able get an inside scoop on the humble beginnings of the Revealed, what it's like working with your friends and what the three young producers have in store for us. The guys have been hitting up cities across the United States for the past couple weeks and have left their mark wherever they have appeared. The show features an energy-filled crowd, tons of new material, but most importantly, three DJ's that are more than just label mates.
It seems like we are writing about feuding artists every day, so when we got the chance to chat with the guys, it was refreshing to see the chemistry between the three. This chemistry does not come overnight though, as Hardwell and Dannic made it clear that Revealed's success was a long time in the making and told us some stories that they said have "never been discussed in an interview before". Back then, they were DJing weddings and small bars and knew each other as Robbert and Daan. Robbert told us he first saw Daan playing a tiny venue and was instantly impressed by his mixing skills, but also his ability to effortlessly switch between genres. "That's when the friendship started", the Revealed boss told us, "a friendship based on drinking beer, having fun and obviously music." That friendship then blossomed into something that was beyond their wildest dreams. "He's like 'I want to a release a track with you and see what happens', and look where we are now," Dannic said. That track featured Funkadelic (AKA Dannic) and a young Hardwell on vocals, or as he put it "Calvin Harris style", and was called "Get Down Girl". That was Revealed's first of many releases and the beginning of one of electronic music's most successful labels.
Although the label may have started with two friends, a lot of credit needs to be given to some new pals formed along the way. One of the most important young artists on Revealed's roster has to be fellow countryman, Jordy van Egmond. Better known by his stage name Dyro, van Egmond has numerous accomplishments to his name over his young career. This includes debuting at number 30 on DJ Mag's Top 100, which made him the youngest 'Highest New Entry' in the poll's history. Dyro may be well on his way to becoming a household name, but he still knows he has room to grow. He told us, "I still see Hardwell as my mentor. I still get advice from him and learn a lot from him." Receiving tips from a person who knows the ropes in the make-or-break industry of music is an extremely valuable resource, but it means a lot more when it is coming from someone who is more than just your boss.
When asking Dannic and Dyro what Revealed Recordings means to them, they both answered with the same one word: family. "It's my home, that's basically it. When I make a song, it feels like I can release it there anytime. They give me a lot of freedom and that's really cool" Dyro told us. That is exactly what the world's number one DJ envisioned when he set out to start his own label, as Hardwell explained to us, "I don't even contract the guys, if they want to leave, they're going to leave. The thing is, if they love what they do and they have the same love for music as I do, we don't need contracts. I always tell them, 'I want to create a family and create a record label, I don't want to be a record boss'. I want to bring my friends on the road with me and have as much fun as possible and that will create inspiration". That strategy is obviously working and Dannic is well aware of how important it is to have such a hard-working artist leading the label. He even felt the need to stop Hardwell and tell us that, "He's (Hardwell) being so humble right now. I'm so thankful for what he's done for me, Dyro and everyone else on the label. He's the one and only chief in the EDM scene right now."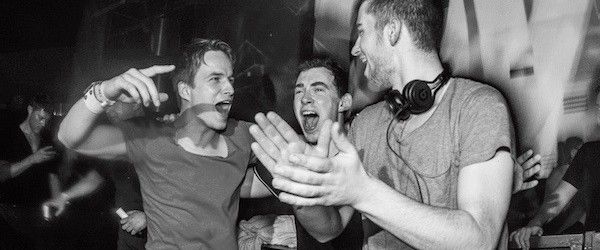 In an industry where both musical and business partnerships are often solely based on marketability rather than creativity, it is great to see a group of guys who genuinely enjoy working together. While most of their work has been limited to teaming up as pairs and not a trio, they were able to come together to create something special at Ultra Music Festival last month. The bus tour may allow them to tour together, but Dannic, Dyro and Hardwell were given what they described as a "blessing in disguise" when some rain put Dannic in quite the predicament. His set was delayed and by the time the showers stopped, he was only left with ten minutes to play. Luckily, the following act still had his full hour and was none other than his good buddy Dyro. "I couldn't be there and take an hour and have him play for ten minutes. We're friends, we don't do that stuff" said the youngest of the three producers. The solution: an impromptu back-to-back-to-back set that featured the two Revealed artists and the boss himself both MCing and dropping a few tracks of his own. "He saved mine and Dyro's set", said Dannic, as Hardwell smiled beside him.
This chemistry, that is a result of years of friendship, helped create one of Ultra's most memorable moments. Now, it is being brought to the studio, including the one the one that is located on their tour bus, where the three artists will combine their signature sounds to create a star-studded tune. This will be new for the Dutch trio, as Dyro told us that they, "do a lot of mashups together, but really haven't produced on a song together". Hardwell even surprised us and let us in on some exclusive details about the upcoming release. "We've received some amazing vocals for it, it's going to be a vocal track", said the Revealed chief. He added, "Nobody expected that. We sent it to some different songwriters and yesterday we found a vocal and the three of us were blown away. The vocal track is going to project what is going down on the bus and the relationship between us. That's why we fell in love with the vocal."

While we may have to wait a while for this track to be released, it will be worth the wait knowing that there is so much love and effort going into this mighty collaboration. Revealed is more than just a group of artists producing songs in order to make a quick buck and that will definitely be reflected in this highly-anticipated tune. The trio of artists not only have a passion for making music, but also a passion for turning what started out as a crazy idea from a little-known Dutch producer into one or the most established and respected labels in not only dance music, but the music industry as a whole. The three main attractions of Revealed Recordings should not have a problem accomplishing this seeing as they are doing what they love and are surrounded by people they truly care about. Dannic put it best, when it comes to friends in this industry, "you can tell if it is fake, and you can tell it if is real." In the case of the Dannic, Dyro and Hardwell, it is just as real as a group of friends at summer camp.