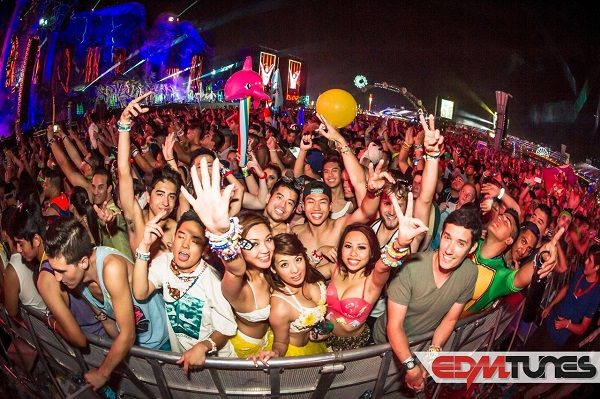 As electronic music fans, sometimes it feels like all we talk about is music festivals. From lineups to locations to ticket prices to preparation and anticipation leading up to an event, as soon as one festival is over we begin talking about planning for the next year. Our love for music festivals is justified though: it's nearly impossible to replicate the feelings of liberation, euphoria and community in any other environment.
For those with festival-fever, you're not alone.  The numbers prove that today's audiences are increasingly festival-oriented and the number of music festivals in North America has grown exponentially.  To reflect the immense popularity of these mass-scale events, Eventbrite released a study revealing the most buzzworthy music festivals.  By monitoring and measuring social media conversations about music festivals, the study quantifies who is talking about what festivals and where as well as general trends about social media engagement with the music festival scene.

In the 2013-2014 festival season, the most discussed music festivals in the US were: Bonnaroo, Buku Music + Art Project, Brooklyn Hip Hop, Burning Man, Coachella, Electric Daisy Carnival, Electric Zoo, Forecastle, Gathering of the Juggalos, Governors Ball, Gulf Coast Jam, Hangout, Hard Summer, iHeartRadio, Lollapalooza, Moogfest, Mysteryland, Pitchfork, South by Southwest's music component, Spring Awakening, Sun City, Sunfest, TomorrowWorld, Ultra, and Warped Tour.  The majority of conversations revolved around the festival experience, rather than specific artists.  In addition, festivals have a huge ability to engage fans that don't actually attend the event, through live streams and social media posts from attendees; according to the study, "23% of conversation (approximately 5 million posts) came from people who were participating in the festival remotely."
Check out the map below to see the most talked-about music festivals state-by-state.  If you'd like to check out the full study, the full report PDF is available here.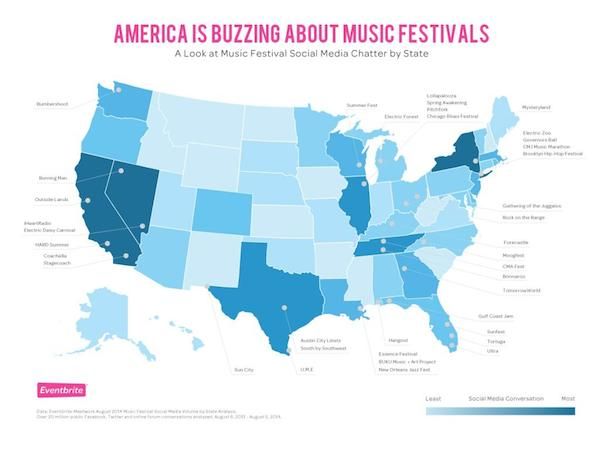 Top Photo Credit: Brockelbank Photography