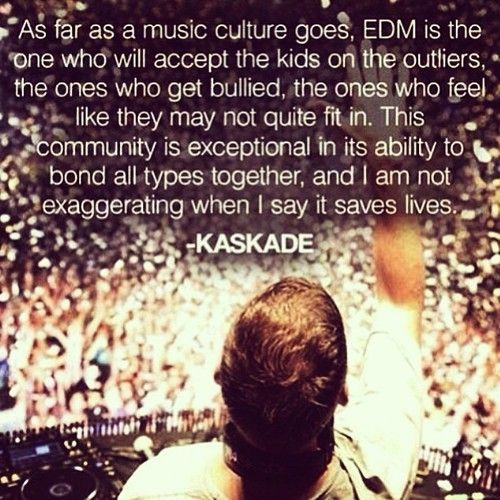 I was sitting there listening to MIA to LAS (a personal favorite off Kaskade's Atmosphere), reading about all of his music disappearing from Soundcloud when it struck me. Kaskade is one of the only producers in the industry besides maybe deadmau5 who really gets it.  Soundcloud has been bent over a table by the labels when it comes to takedown notices, even when the original creators (i.e. Kaskade and 50,000 other DJs) want them to be available. While I've given it up to deadmau5 here before, I wanted to take time to write a love letter to Kaskade. He, in my mind, embodies the absolute best in American dance music, much more than just being America's Best DJ (which, he totally won last year if you forgot). Not only has he been innovating both sides of the house coin, progressive & more traditional genres, but his embrace of the exploding dance music culture in the USA over the last 5 years deserves massive respect. His recent Redux 2014 tour is astonishing and he's working on more crazy stuff in addition to ways to get his music to his fans directly.
While he grew up in Chicago, he attended university Utah. He took a break from spinning records to serve two years on a mission for The Church of Jesus Christ of Latter-day Saints in Japan. That's right, Ryan Raddon served as a missionary in Japan before Kaskade was ever a thing. After being inspired by a waterfall, he thought maybe "cascade" sounded good, so he got to work.  In 2003, It's You It's Me with the debut album pushed out, creating an amazing, smooth sound that was signature then, even though we had no idea how far he'd go. Or perhaps you did, and I tip my hat to you, EDM hipster 😀

Before long, "Steppin' Out" hit #5 on the Club Play chart on Billboard. Peep an extended version of that straight from his recent Redux tour below.
Kaskade worked long and hard in the studio in the middle of the decade, dropping album after album. In the Moment, The Calm, Here & Now, Love Mysterious, and Strobelight Seduction all came out in a four year arc through 2008.  That same year, he collaborated with deadmau5 on some of the most crushingly beautiful dance music to ever be created. This collab will go down in history as the greatest thing ever to come out of the partnership between America and Canada. The shimmering chords built on the old school techno & trance build ups but with a polish and shine that the world had never heard. The haters hated, but the world fell in love.
To be clear, this sound was one of the new sounds I believe are structurally responsible for drawing the currently maturing EDM crowd that the USA is seeing. "I Remember" was played in a million dorm rooms across the country, with "Move For Me" cracking the Top 15 UK Singles chart. I have no doubt 90% of the people who are buying tickets to festivals in the US or the UK these days have a story associated with these two genre-disrupting tracks.
This could've been enough, especially riding that slow burning, pushing, deep sound, and turning that into a career, but he didn't stop there. Dynasty showed up in 2010, notching him another #1 hit on the US charts. The steamy, glitzy beat that stays building but never crests keeps the energy high without getting too big or uncomfortable. Exactly what it needed to be.
While I wasn't at Ultra in 2012, you heard about Kaskade & Armin Van Buuren closing the place down on Sunday, and off we went. His Atmosphere tour was insane, and
he straight gifted the live album of it to his fans
.

And that could've been enough. He could be riding that same music and tour again and we'd love him for it. But he's been vocal and defying the powers that be, defnding the kids and the scene. Whether it's standing up to scalpers personally, organizing Spark Runs to inspire good habits, calling out hacks on his twitter/tumblr, standing up for Kandi bracelets (yup, he totally did that), or straight up just getting in the face of people who attempt to demonize the industry, this guy has been going to bat for us for literally years. And I wanted to give props for that. Through all of those fights, he still makes time to enjoy himself. As he tweeted over Memorial Day Weekend:
Yes I opened w/ it's you it's me last night. Yes the song is 11.5 years old. No I don't regret it, the song STILL works.

— Kaskade (@kaskade) May 26, 2014
That's right, the stuff earlier on in the post is actually relevant at the end. That's from Mysteryland, where he opened with a track you just listened to, if you've been playing along. And he knocked it out of the park, even though they misspelled his name on the T-shirts. His parties are still dope and if you made it to one of the Redux shows, you'd see why he gets all the love from people who know what's up.
Mr. Raddon played two sets at EDC this year as well, performing on the main stage to please the more big room crowd, and then taking to the Mayan Warrior Cart to perform a redux set as well! In an industry that is seemingly becoming more and more about the money, Kaskade chooses to reject the status quo and, after an entire decade, still caters to his fans and to the music.
And he releases tons of free tracks, because he understands that the whole point of the internet is to get people to listen to your stuff so they'll enjoy it, maybe buy some and maybe see Kaskade play. I certainly plan to the next time he's in town. You should too. He's good for what ails ya.
P.S. This is the track I was talking about at the beginning, MIA to LAS, it's wonderful. Kaskade rocks. And if you must know, my favorite remix of what must be thousands that he's done is below as well. He & Lana Del Rey just need to formally collaborate already.