The mud has settled and Memorial Day Weekend has officially become history with the end of Mysteryland 2014. While there were logistics that made this event far from perfect, the expertise in which ID&T wove in new and old school styles of music is what will be remembered most. From a magical wedding to stunning fireworks, from Smorgasborg food to spiritual journeys, here is a trip down the rabbit hole that is Mysteryland.

It was Saturday afternoon and Lets Be Friends was half way through their ground-shaking set at the Boat Stage when the sky turned black. Everyone knew it was going to rain. It did.   In the 45 years that have passed since the last festival on these grounds, the legend of the mud has lived on, and today it would rear its playful head again; although this time, we were prepared. The crowd quickly donned ponchos as LBF said "fuck this rain" and continued to throw down. Thankfully this was the most we would see of the rain, with brief showers rounding out the rest of the day.
For a spotty weekend forecast, love sure was in the air. Saturday night Jessie and Steve Arthur got married at the love chapel, continuing the growing trend of getting married at music festivals. What better way to share one of the biggest moments of your life then with hundreds of complete strangers? Speaking of sleeping with strangers, the highlight of the festival may have been the dozens of cuddle puddles that appeared as the nights progressed at the main stage. Mysteryland was another example of a festival where strangers were the air in our lungs, the fields where we run, and the sky where we're floating.
So what about the music? That big-room sound everyone loves so much? It was prevalent in almost every main stage act; then again, what more could you expect from Nicky Romero, Steve Aoki and Dimitri Vegas & Like Mike. But while EDM dominated the main stage, it was surrounded by a plethora of diverse electronic music: Sunday School had everyone covered with some groove at the Big Top, vibes at the Vinyl Only and club love at the Spiegel Tent; Q-Dance brought out the skank in all of us for 12 hours of the hardest style on the East Coast, and The Boat would have made Andy Samberg proud with its dirty dubstep and pounding trap.

When you ask people which was their favorite set you are bound to hear differing opinions, but one name may pop up more often than not: Kaskade. While it may not come close to matching his closing Ultra set, Kaskade sealed up the rabbit hole with a memorable 90 minute mix that incorporated all of his music stylings that we've seen him trot out the past year. Tears were shed when the opening chords to "Its' You, It's Me" came on, and chills were shared as fireworks went off in accordance with "Something Something Champs." Lost in the Kaskade shuffle some 100 yards away was a special set by Dillstradamus that was nothing short of epic. If ever there was a heart-wrenching conflict, it was choosing to see Kaskade or Dillstradamus. When I arrived at the Boat Stage I was greeted with Daft Punk's "One More Time," which was followed soon after by Waka Flocka's "No Hands," because why not.
Others will say that these weren't even the best sets of the weekend. Big Gigantic was there Friday night for an hour of soothing saxophone, topped off by Pink Floyd's "Comfortably Numb" as an encore. Moby spun a set filled with classics like "Infinity" and Led Zeppelin's "Immigrant Song", while Chase & Status threw down a drum & bass set so hard-hitting a portion of the crowd was forced to retreat due to exhaustion. The Q-Dance stage was so intense that after his set, AudioFreq joined the crowd for Ran-D, while Josh Wink's 20 year anniversary set at the Vinyl Only stage was a beautifully orchestrated piece that had people stuck between dancing and standing there bewildered. One more note on Q-Dance: if you've never been to a hardstyle show and you don't take the time to give it a try, you're missing out on a festival experience that makes the Wall of Death look like child's play. But the real class act here was Brillz, who slowed down his set on the Boat Stage to deliver us Jimi Hendrix's legendary "Star Spangled Banner" from Woodstock. It may not have been the hologram rumor that had been making its rounds, but it was the next best thing and a defining moment in a memorable Sunday.
Mysteryland was not without its faults: the highly touted RFID cashless system went down on Saturday, and the charging stations that were promised never came to fruition. Food and beer vendors were forced to turn away hungry customers and the $5 showers were forced to become free. On top of this was the amount of time spent waiting: the most popular food tents had 20-30 minute lines, peak times for the showers had 45 minute lines, and the lines to get into the festival had people waiting up to an hour. Throw in the "Kascade" t-shirts and there was a recipe for disaster.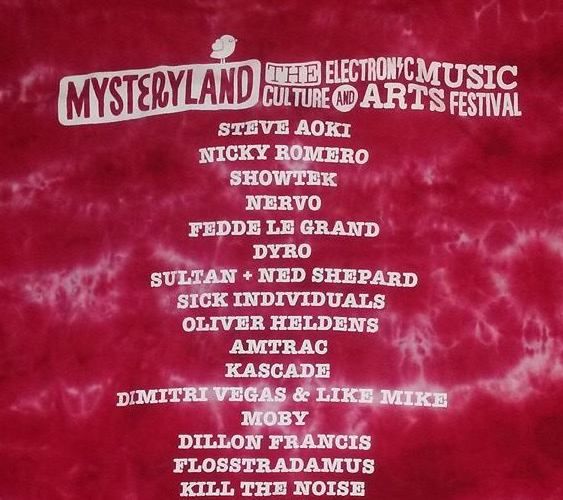 Coming into the weekend people were making connections to Woodstock left and right, us included. But what people forget is the reason Woodstock is remembered: it was a disaster. The organizers were unprepared for the amount of people they were going to have and locals contributed peanut butter sandwiches to the struggling youth. The traffic was so bad cars were abandoned on the road and people walked to the festival and right past security, which was unable to prevent the hoards from flooding the grounds. What people should be referencing is a concert that occurred two years later in New York, Watkins Glenn: 750,000 people showed up for 3-days of jam band rock & roll, and it went off much more smoothly. Think of Saturday as the day that paid homage to the Woodstock roots as Murphy's Law took effect, while Sunday was Watkins Glenn, a well executed plan with a little luck on its side.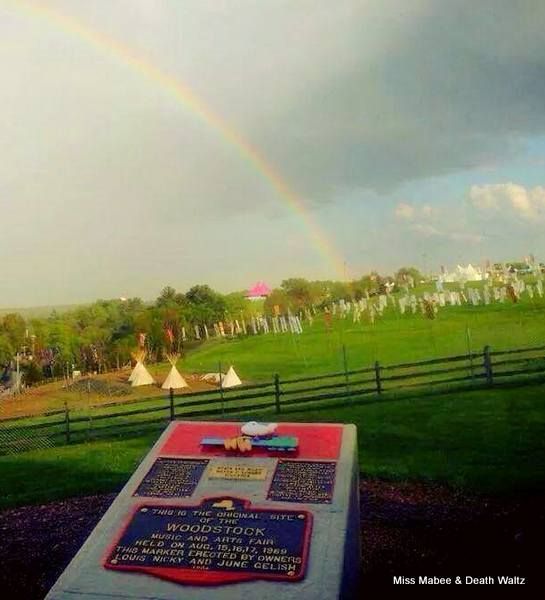 Now to the part of the festival most people didn't get to see. There were the Rekorderlig hot air balloon rides on Sunday complete with free Rekorderlig cider, available with a reservation or media pass. There were the charging stations in the VIP area that actually worked, as well as available outlets in the artist and media area. There was the free food and the open bar, so nary a birdie buck was spent. There were the VIP bathrooms that came equipped with sinks, and expedited entry that made waiting on line a five minute ordeal. Even in this slice of heaven the disparity between the elite and the rest was apparent. If one were to get a real taste of the festival, they would have to get down and dirty in the camp grounds.

There is something special about camping at a festival where you can literally eat, sleep, rave, repeat. Littered with dirty faces and neon shirts, the atmosphere of the camping grounds was a cross between a hippie festival and a frat party; bros tossing frisbees and drinking beers next to pow wow circles with bongo drums. While yes, not all of the camping experience was sunshine and rainbows; and yes, some memories were lost because of dead cell phones, the small idiosyncrasies made it home. We were forced to live in the moment and enjoy the festival for the music and focus more on what was around us instead of documenting it for later.

Another pressing issue that was getting complaints was the security, drawing comparisons to either the TSA or a bouncer at the local dive bar. This was not an ID&T issue, but an issue from the security agency that was hired. Regardless, their presence was felt everywhere; including EMS, you wouldn't go more than 30 minutes without seeing someone who worked with the festival. What's more is the community that was there were more than willing to help out a person in need, whether it be through space to breathe, water from a camelbak, or a clutch Kind bar.
With a silent statement, Mysteryland honored the hallowed grounds of Woodstock with zero deaths while displaying a stage for art and music to be seen by thousands. The camaraderie between ravers this weekend showed that when the pop-music aspect referred to as EDM fades, what will be left is a fan base similar to rock & roll. While all eyes were on EDC New York, Mysteryland was where we continued to define the electronic music culture as a place for peace, love, unity, and respect. As the saying goes, life is made up of small moments like these, and in this moment we found that yesterday is history, today is a gift, and tomorrow…well, it's a mystery.

Note: This entire article is written from the point-of-view of the writer, and some of the sentiments felt are that of the writer and the writer alone. 
(Photo Credit to: Tony Colasurdo Photography, Miss Mabee and Death Waltz, Kerry Sullivan, and ALIVE.)