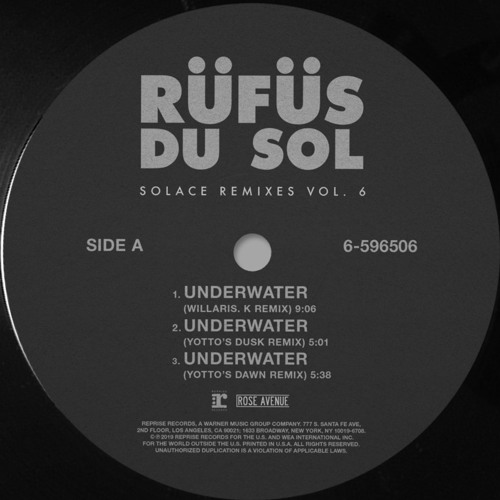 RÜFÜS DU SOL grace us with another remix package including two from Yotto on 'Underwater'. The remixes distinguish themselves in the form of dusk and dawn iterations. Yotto previously provided a remix for the trio's 'Like An Animal' on their 'Bloom' album.
Coming in first, the dusk remix formulates a rolling bass and dark atmosphere. Brushing through, ethereal pads begin to surface combining with a resonant bright synth lead. This iteration of the track manages to bring out moments of calmness among the groove. In contrast, Yotto brings a grittier and deeper sound on the dawn version. It kicks off with a sort of metallic synth launching into the vocal hymns. Overall, it seems to take a more equilibrium level of tone between the heavy and melodic sections.
Yotto's remix comes alongside another by Willaris. K in the 6th volume of 'SOLACE' remixes. Past volumes portrayed versions of 'No Place', 'Lost In My Mind' and 'Treat You Better'. Other artists hosted in these packages include Cassian, Purple Disco Machine, Icarus, Will Clarke, Lindstrom, Prins Thomas, and Adam Port.
Listen to both remixes below.