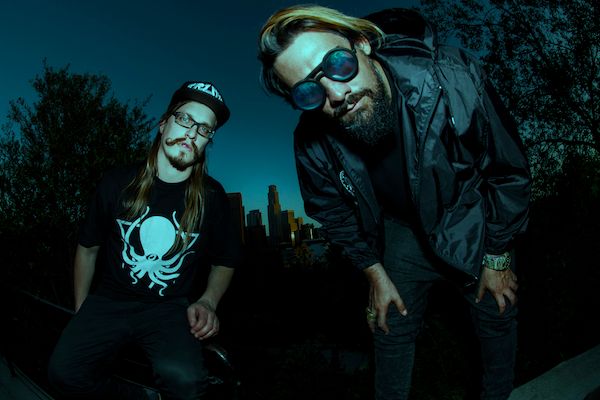 Hailing from Christchurch, New Zealand, globally renowned dubstep duo Tristan Roake and Andre Fernandez, a.k.a. Truth, have spent the better part of a decade solidifying a comfortable position for themselves atop the underground bass music food chain with a timeless sound that never ceases to dull in significance and only improves with age. Since first commencing their rise to dubstep fame in 2007 alongside some of the scene's most prominent innovators, Truth have managed to maintain and strengthen their rightfully impenetrable position as exemplary forefathers of the underground sound. As some of the genre's notable pioneers, Truth not only helped mold the now unmistakable dubstep sound almost a decade ago with their first release on the iconic label DEEP MEDi, but have managed impressively enough to consistently develop, preserve and perfect their own thunderous, sophisticated and undeniably dark style, persistently deeming them a highly coveted act for many of today's global dubstep fans.
Supplementing their extensive, earthshaking discography is their equally impressive DJing resume, as Truth have earned the opportunity to play to bass hungry crowds around the globe. Recent gigs include Canada's Shambhala Music Festival and Croatia's Outlook Festival to creating their own Deep Dark & Dangerous club nights (originating in San Francisco), recently performing at London's DEEP MEDi 10 Year Anniversary show, hosting their own radio show on Sub FM and regularly frequenting Youngsta's Rinse FM show. Throughout their decade-long music career, Truth have managed to develop a near untouchable reputation within the burgeoning underground dubstep circuit for their producing and DJing expertise, both of which have aided equally in cementing them as irreplaceable figures within the community. In a rare occurrence, we were lucky enough to sit down with both Tristan and Dre to learn more about the madmen behind the deep, dark and dangerous stylings of Truth, starting with the duo's first introduction to dubstep.  

In a serendipitous moment of fate, Tristan and Dre became formally introduced to dubstep in the mid-2000s by none other than Mala, who appeared at their front door during a tour stop in New Zealand. At that time, the duo was unaware of the existence of Mala, Digital Mystikz, DEEP MEDi, or the exact personality of the dubstep sound. A mutual friend introduced the now iconic bass music forces on that significant day and the rest is history. The guys recounted:  
Tristan: We'd been involved in the New Zealand bass music scene for quite a few years prior to dubstep and what we saw as "dubstep" evolving, we had been doing drum and bass stuff since the early 2000s and so at that point it seemed like the new trend that was happening, but no one knew of course what was going to happen. We were doing our own thing at the time, and then Mala from Digital Mystikz was coming through New Zealand on tour and he actually went to Dre's place for a day just to chill and these guys got along really well. Mala played a bunch of the forthcoming DEEP MEDi music and it was our sort of first real proper listen to it, just as it was about to get started.
Dre: And we had never heard of Mala or DEEP MEDi Musik or anything. We had heard a little bit of dubstep before that, we were thinking 'ah it's just a new trend, we don't want to jump bandwagons' and then he left us that CD and we were like "damn this shit's dope."
They continued:
Tristan: It was different to what we thought the dubstep sound was. In our town, everyone was playing very vocal influenced, quite like reggae style, dubby dubstep, and this stuff was more spacious, and more sort of thought out. It was different than what I was expecting, and the next day I went to Dre's house for our weekly "make beats" session on Wednesday and had a go of making it. We were making drum and bass for quite a long time and we had all these sounds sitting there that were like crazy weird shit that we hadn't been able to use and as soon as we just changed the tempo and experimented, we didn't know what to expect and it was amazing.
Dre: It was also at a time in 2007 where drum and bass was starting to get quite watered down, quite oversaturated. We really got into it because of that raw jungle sound, the low end, the bass lines, the minimal stuff. It kinda got so overproduced by that point after ten years that we were starting to think "oh God, all these tunes are sounding the same, the same drum loop, it's not what we originally fell in love with" and then we heard the CD from Mala and were like "wow this is the same idea, even though it's a different tempo, it's still the same idea." That's why we fell in love with the music in the first place, that space and the focus on the bass.
Tristan: Sort of the feeling of the unknown as well. Whatever we were making we'd never made before. Whatever we did those first few weeks it was like "what if we do this?" It gave us the ability to sort of experiment with stuff, and we spent like a year after that just making beats and not telling anyone about it, but the first tracks we made Mala signed to DEEP MEDi straight away.
Dre: At the time it's not even like something we were too serious about, and I think that's why we enjoyed it so much, because we were just having fun with it. With the drum and bass we were overthinking, just overproducing. We had got to the point where we were quite capable producers technically but we were overdoing things and overthinking it. And then with dubstep, because we did take a step back and say "it's not too serious, let's just have some fun," that's when the good stuff starting happening. That's the start of it and from then on we never really looked back. We didn't make a conscious decision to stop making drum and bass, we just started making dubstep and really enjoyed it.
After gaining traction as an acclaimed dubstep duo living in their hometown of Christchurch, New Zealand, Tristan and Dre made the crucial move to the States to better optimize their accessibility to the North American bass music market. The duo bounced around living in various parts of the West Coast until Tristan ultimately moved back to New Zealand to begin his own family, resulting in Dre relocating himself to Los Angeles, where he currently resides. Although the duo became and remain separated physically, they are still able to continue conquering the underground dubstep world by force, quite possibly even faster and more efficiently than ever before. This potentially risky separation turned out to be a highly beneficial strategy for spreading their uniquely savage sound to all corners of the globe in twice the speed, with Dre smashing speakers across North America and Tristan annihilating dance floors across the pond, sometimes on the very same night. That being said, the guys were impelled to tweak their production habits to accommodate this new, unusual arrangement; not an easy feat for a duo that was used to working together in the same studio five days a week for years on end. Tristan and Dre explained how they gracefully coped with these changes whilst preserving their productivity and musical integrity, as well as the unexpected benefits that come from creating tracks on opposite ends of the world:   
Tristan: Well I guess to start with, Dre and I did live very close to each other for a very long time. Before we went separate directions physically, we'd spend like four or five days in the studio together every week for like five years. So we do know each other really well from that, but yeah I mean it's amazing because making music remotely like we do has really amazing benefits as well, but we're not in the studio together vibing, which we do get together like twice a year for a month at a time or whatever and just go hard, and it's instant, the minute we make a track it's like back to what it was. And that's really cool, but then at the same time, we both start ideas all the time and put them in a folder, which then, only the ones we both like just end up getting finished, so it's this kind of organic filtering process of all our music, and it can be a bit more thought out. Dre will put like five new tunes in the Dropbox and it's like "which one am I gonna work on now?" Which is an exciting challenge.
Dre: The thing is, I think at the end of the day we'd both rather be able to just say "hey come around to my place, see you in half an hour," get on a tune and smash it out, but the reality is, we can't do that so we figured out a formula that works and you know, it really does work. Some of our best tunes that we've made have been just online together. In saying that, Tristan got here a couple days ago, as soon as we sat in the studio together, in like ten minutes wrote a track together. I just think together it's magic.
Since first garnering attention with their 2007 DEEP MEDi release, Truth have managed to not only inject their musical presence into the underground dubstep scene with releases on UK labels such as Tempa, Get Darker, Wheel & Deal and Artikal Music, but also into the global dubstep market with releases on esteemed North American dubstep labels like Firepower Records, SMOG, Rottun Records and Disciple Recordings. One of the most crucial components of Truth's overall musical output is their unprecedented ability to excel at the art of versatility, as their music taps into a seemingly infinite range of feelings and inspirations whilst remaining undoubtedly fresh and undoubtedly "Truth". This highly unique facet of the duo's sound has allowed them to undertake the commendable task of seeping their underground style into the global bass music market, and in turn, attracting a much larger and diverse audience than ever before. When asked to elaborate on the difficulties this presents, the duo replied:
Dre: It's a constant challenge for us being pigeon holed as like a "deep act" in North America because in New Zealand people say "Truth, they play dubstep," in the UK when we play there, "Truth, they play dubstep," out here a lot of people say, "Oh Truth, that's that deep dubstep." So we've always been pigeon holed out here as the "deeper" act when really, for us, yeah sure it's deeper, but it's just like a more of a contained energy. Our music's still heavy as fuck, so trying to slide into that American market with the big festivals and the bigger EDM kinda producers, it's definitely been a challenge, but at the same time, someone has to lead the way and try and push that sound into that area, you know.
Tristan: That's exactly why we released an album on Firepower, for example. A few years ago when Firepower was really peaking, we did an album with our own music, we didn't change anything for it, it was just what we wanted to do, but on a platform where people wouldn't normally hear that kind of music.
They continued:
Dre: I think people would look at it differently if we had moved to North America after releasing on labels like DEEP MEDi and Tempa and then released an album on Firepower and totally changed our sound, but we could have released that exact album on Tempa or on DEEP MEDi but we chose to go through Firepower to reach different avenues and a broader kind of cross section of people, and we don't expect everyone to like it or even understand it. A lot of people think we're crazy releasing on big American labels. For us it's not crazy, it's just reaching new people cause we want to just spread our music.
Tristan: We feel like the people that listen to music are smart and they can make their own mind up about what they like, and when they hear some music they can make their own mind up if they like it, but it's the fact that they aren't even hearing it in the first place.
Dre: It's not your fault if you go to all these EDM parties and don't know anything about any underground nights and haven't been exposed. It's not your fault, you just haven't heard it. So that's what our main kinda thing was with that, just reaching other people, and whether they like it or not is a different thing, but just being able to reach it.
Driven by a deep rooted demand for creativity, originality and innovation coupled with an attuned outlook on not only the merit of their own music, but the musical output of others, Tristan and Dre have recently assumed the responsibility of curating their own imprint, Deep Dark & Dangerous. Their record label serves as an extension of the duo's musical standards, as it personifies their concern for unearthing new sounds and styles as well as exposing unknown, up-and-coming artists in the scene. They explained:
Tristan: We've always been sent these amazing tunes and wanted to have our own label, but at the same time there's always this subconscious thought of "yeah but someone else is doing this label, that label," but really after a while there were all these tracks we were getting sent that weren't even coming out.
Dre: We just felt like we were at a position that it was our turn to give back and start exposing some of these awesome producers that have been sending us music for a while and a lot of new guys that people just ignore, but we were just like "damn there's some really good music that should be getting played at big parties."
Dre added:
Dre: There's so much good stuff happening. For me, it's a really exciting time for music. It's really popping off right now. We're at the forefront of it right now, experiencing it all around the world, so we've seen what's going on. It's not just a trend in LA, it's all over the world. New nights are popping up, there's new promoters, there are guys in London that stopped making dubstep fucking five years ago and started making deep house and are now making dubstep again. So things go around in circles, and right now, it's a really good, new fresh kind of start.
Over the last decade, Truth have matured gracefully into an invaluable staple within the dubstep community due to their unparalleled addiction for ingenuity and infectious bass weight. Their insatiable thirst for pushing the creative limits of their own sound has earned them the utmost admiration and a well deserved authority within the sound system culture, as their unwavering passion for discovering different, more versatile and more concise expressions of their musical selves has proven an infinite grab bag of fresh, exciting inspiration. Not confining themselves to the limits of 140 BPM, but rather, embarking on an endless, self-imposed voyage for uncovering all that is deep, dark and dangerous within the realms of music production, Truth will inevitably continue to carve a path through bass music's history. In regards to realizing their ceaseless love of the dubstep sound and discerning their position within it, the guys mentioned:
Tristan: We've always loved it, we were playing very diverse, heavy sets as well, especially earlier on and then one day Dre and I just had a mix at his house where we just for some reason only played dark shit and we were both like "this is what we're really into" and we kind of realized, we had this moment, and it was probably around that time when people like Youngsta were just holding it down but most of the shit that was happening was just getting heavier and heavier and more ravey.
Dre: We just decided, that's us, that's what we are, that's what we've always liked. As long as it's soulful, and when I say soulful I don't mean funky, I mean moody. As long as it has a mood to it; that might be sadness, it might be happiness, but it has to have feeling cause we just feel like there's too much plastic music. Just too much shit that doesn't stimulate emotion, it's just so lame you know, we're just about the opposite of that. Sometimes we go too far and take it way too deep, and people kind of don't even understand it and people say "what is this weird shit," it's like "well we like it deep and dark like that, you know, shit that you can't understand."