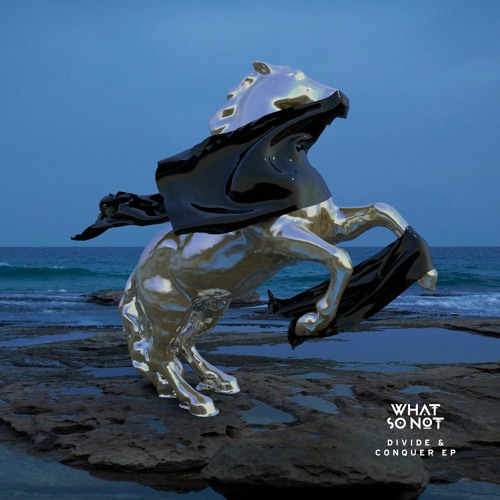 What So Not – Divide & Conquer EP
What So Not could've been a completely different monster. After Flume left the project early last year due to creative differences, the other half of the duo, Emoh Instead, stopped experimenting with trap—something Flume obviously wanted to continue (re: Skin). Instead, breathtaking, melodic synths, dreamy vocals and more urgent rhythms replaced the hip hop, but didn't take away the darkness and hard edge found in the Australian producer's early work. Emoh started to show off his new found direction in his first solo EP, Gemini–spawning the hit single of the same name featuring girlfriend George Maple. The 5-track EP, which included a collaboration with Dillon Francis, went on to become one of the best electronic efforts in 2015.
Now, Emoh continues to push the dark melodic boundary even further with his second EP, Divide & Conquer. Published under the OWSLA label, Divide & Conquer expands on Gemini's free-flowing synths and conjures up stronger, big bass resonances. It's especially true in the first track off the EP, also with the same name, with its high voltage roughness in the 'drops.' Although there are elements of trap in 'Buried' featuring Rome Fortune and Maple, they are quickly extinguished by 'Montreal,' a worthy successor to 'Gemini,' featuring Kimbra. 'Trust,' a collaboration with BURNS, immediately follows and keeps the momentum of 'Montreal's tranquility. It's no surprise 'Lone,' a collaboration with Ganz and featuring JOY, acts as the first single from the EP. It's comprised of most of the components found throughout the effort, making it a great overall preview.
It's an EP that's two or three tracks away from sounding like a full-fledged album. The inclusion of an interlude and a short closing arrangement shows Emoh's ability to capture the listener and then gently let them go. Hopefully an actual LP will make its debut sooner than we think. Divide & Conquer is dedicated to family friend, Mitchell McConachy.
What So Not – Divide & Conquer EP | Purchase