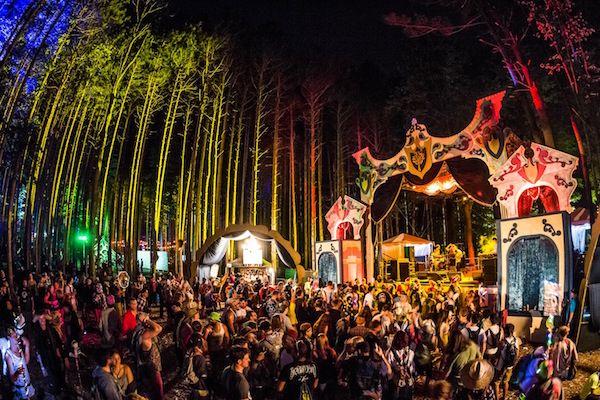 Returning to the lush landscape of Laytonville, California's Black Oak Ranch on July 22, Enchanted Forest Gathering will celebrate its sixth year as Northern California's premier boutique music, movement, and conscious living camping festival. This year's installment boasts a music lineup featuring over 70 internationally-acclaimed live and electronic acts including headliners Shpongle, The Polish Ambassador, Ayla Nereo, Hamsa Lila, PANTyRAiD, Minnesota, Fana Fi Allah, Autograf, Lila Rose, and Thriftworks, as well as over 50 movement classes for flow artists, yogis, and dancers, coupled with over 60 educational workshops covering subjects around sexuality, science, spirituality, ancestral arts, wellness, nutrition and nourishment. With just over a month to go before Enchanted Forest Gathering opens up its hallowed gates for bass music aficionados, yogis and families alike, the cultural dialogue on alcohol-free music events continues to grow, with Enchanted Forest Gathering's position on the subject now becoming one of its key distinguishing features.
Since its inception, Enchanted Forest Gathering's mission has been to create a safe environment in all forms of expression, nourish and activate personal growth within its participants, inspire collective sharing and redefine conscious celebration. To that end, they have continued to build upon a safe and alcohol-free environment which serves as fertile ground for a new kind of festival experience and a container for an experimental way of life. This experiment inspires attendees to find deeper, more meaningful stimulation free of alcohol, setting a remarkably different tone for a gathering and encouraging new kinds of expression and connection. While alcohol may not be present, Enchanted Forest Gathering hosts no less of a party atmosphere with an emphasis on conscious movement and dance, as a return to our bodies and an alternative to alcohol.
Along with its alcohol-free philosophy, Enchanted Forest Gathering aims to keep their annual celebration limited to a 5k attendee cap, which further enables festivalgoers to feel more comfortable with embracing full self-expression. By maintaining an intimate setting, attendees are also more likely to make heart to heart connections as they have opportunities to repeatedly engage with new and existing friends, which helps deepen the overall experience and community. Through keeping a mindful eye on attendance numbers, creating an alcohol-free space, and maintaining close-knit vibes, Enchanted Forest Gathering allows participants to fully harness and illuminate their individuality, which means giving attendees the option to celebrate the weekend in their birthday suits! The festival has always stood behind the mottos that "safe is sexy and consent is mandatory" and that being naked is not about being sexual, it's about being free. From embracing "Free The Nipple," the lack of alcohol and mutual coherent respect of one another, along with a manageable and capped attendance create an intimacy, comfort and inspiration for self-expression that isn't found at any other festival in the US.
Purchase tickets for this year's Enchanted Forest Gathering, taking place from July 22-24 at Black Oak Ranch in Laytonville, CA here!