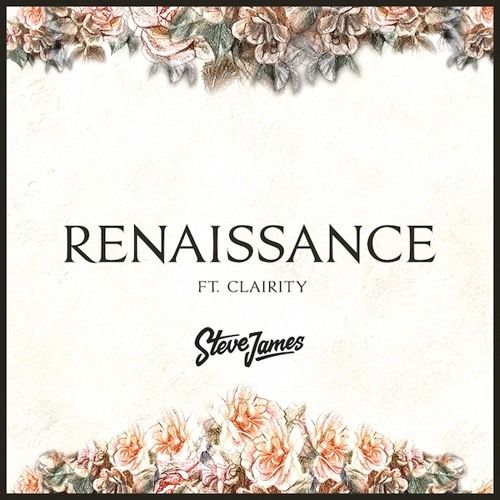 Steve James – Renaissance (Feat. Clairity)
Steve James is a name we've been tracking for quite a while, supporting essentially every track he's released, and watching his every move as he's tactfully progressed in the industry. He won our hearts over time and time again with incredible remixes; from his breakout ZHU remix that's amassed millions of plays, to his more recent remix of the Weeknd with Jasmine Thompson, Steve James has become a force to be reckoned with in the realm of remix production. The leap into the world of original productions is never an easy one, and more often than not, is a leap of faith. Everything has to be perfect. The prep, the timing, the support, and most importantly the production. Lucky for Steve, his hard work in the remix world landed him a spot on Justin Bieber's prodigal album, Purpose, and the hype around his name couldn't be greater, so what better time to drop his debut original, "Renaissance"?
In a recent interview with Pigeons & Planes, the budding producer explained his transition from progressive house productions to a more downtempo/chill style:
"I've been known to make progressive house, and pretty much upbeat club music. But after going to Los Angeles over the summer and just working with a lot of talented musicians from so many different genres, backgrounds, and styles, it's really opened my mind to a lot of different things. It's cool to move out of my comfort zone and try different tempos and get more expressive with the writing."
Teaming up with Lava Records' wunderkind vocalist, Clairity, Steve has cooked up a masterpiece of a tune, utilizing an impressive mixture of elements from progressive house and pop music, further establishing his unique new style. For an 18 year old, Clairity is an exceptionally mature vocalist, displaying talent and sounds akin to that of Imogen Heap or Bjork, and has provided "Renaissance" a beautiful foundation for the instrumentation to take to the next level. Behind the powerful vocals lies an impeccably tight percussive arrangement and signature punchy piano chords, but the pièce de résistance (as with any Steve James release) is the catchy melody and unforgettable drop. You'll have to check it out on Spotify of Soundcloud, because words can't describe how good this is.
Steve James – Renaissance (Feat. Clairity) | Spotify | Hype Machine