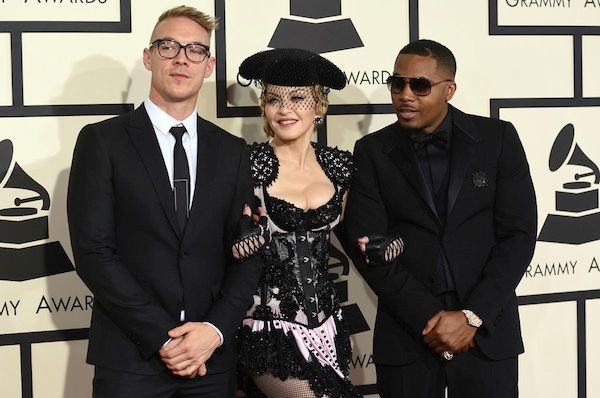 Diplo disclosed some huge news from this year's 57th Annual GRAMMY Awards show. When asked about his upcoming projects, Diplo told CBS.com's Tyler Oakley his expected release dates:
The Madonna album's out in March. I did a lot of her album. Then there's Major Lazer, my project, which I did with Ariana Grande, Ellie Goulding, Travis Scott, Pusha-T, Gwen Stefani- that comes out in April. And with Skrillex I did an album called Jack U, that's out this month, that's really cool.
The announcement comes as huge news for Diplo fans, who have long awaited the hyped up Jack U release. Other than hinting at the Jack U release date, Diplo had time to discuss various other topics. On what it was like to work with Madonna:
It was just so easy. So easygoing. It wasn't stressful at all. I hear stories she's a difficult artist to work with, but she just trusted me from the jump and we just made great music together. I'm not even used to working on pop records, but the connection was really there.
On the spectrum of difficulty for producing:
For a record like say "Climax Rush," that was like an hour. From like the beat to the end. For "Living for Love," the one we're doing tonight, that took almost 7 months to write a hook line and then write the beat. Then the production is very important to be very fresh you know? Because Madonna's like the queen of club music so it has to be good, it has to be classic and it has to be future at the same time.
On working with new artists:
Every week there's like a new direct message on Twitter from somebody super random and I go in the studio with them. I'm actually working with the GRAMMY winning Band Perry next week.
On contacting artists to collaborate through Twitter:
Most of the work I do, like Madonna hit me up. She called me, she got my number from somebody else. That happens. There's not like a system behind the scenes putting together these crazy artists. It's like I meet someone, we get along, we make records together.
Diplo also made news at this year's GRAMMY's for making up with Taylor Swift. The two have had a tumultuous history, starting with Diplo saying, "Someone should make a kickstarter to get Taylor Swift a booty." More recently, he called Swift's fans "evil," saying, "Taylor Swift is very strategic with her friends and enemies. And I know lots of secrets. I can't divulge, but I know a lot of stuff about her. And I'm scared. I'm scared for my life". Still, Diplo said, "I'm a pretty big fan," and the GRAMMYs have supported that statement. The two posted a picture with the caption "Then this happened @taylorswift vs taylor spliff #grammys2015."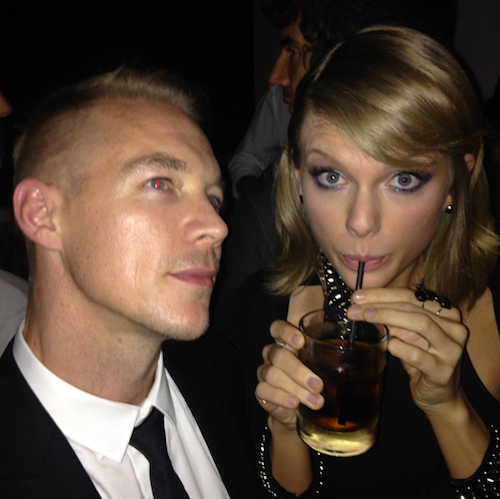 You can also check out Diplo's full interview below.