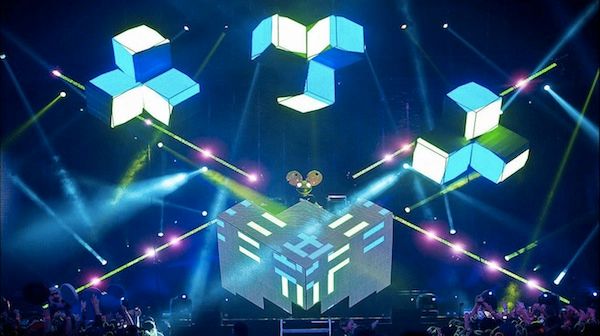 2013 was all things Animals, and the loudest animal was the mighty Mau5. It would be redundant for us to mention his
Twitter hiatus
,
Reddit residency
, his
suckscription service
, or his onslaught of
mini-tunes
that he released, so we will stick right with what really matters: how he ended his year, and how he started his next.
Going into the event, Joel had stood up for the fans, slashing ticket prices for his upcoming events. Unfortunately this was too late, and because of how the event was handled there was a lackluster turn out to Nassau Coliseum on a frigid New York night. Social media has a lot to say about this show, from ticket prices, to the headliners, to the handling of the balloons, but it all overlooks the incredible set thrown down by Joel.
He opened the New Year with a bang by addressing the crowd and showering us with a years worth of balloons. He then proceeded an onslaught of tracks, ranging from staples like Ghost's N' Stuff and Strobe, to IDs like a re-edit of 'Seeya Next Tuesday'. He wove tunes in and out of beats that had people moving on the dance floor, and everyone (including me) completely lost it when he led 'F'n Pig' into 'The Veldt'. The set went from heavy, to progressive, to upbeat-fast paced, laden with incredible tracks and impressive transitions. Joel brought in the New Year with an unforgettable set on an otherwise completely forgettable night, and cemented himself at least among his New York fans as a must-see event.
The next night, in keeping up with tradition, Deadmau5 celebrated New Years Day by playing a show in Miami at Mansion nightclub. He performed at the Fontainbleau Hotel's poolside and at one of its clubs, Arkadia, in 2012 and was at Story in Miami in 2013.
The show was off to a good start, nearly sold out, and packed with homemade-mau5 heads. The crowd was ready to watch the artist perform at the main DJ booth…until we heard noise from the opposite side of the club. A curtain lifted and a stage was revealed and Joel was starting the show, sans head.
With the way the club is set up for this certain stage, the VIP area occupies the front section with a rope for general admission behind the tables. So, couches lined the stage and people took advantage by sitting in them…with their backs turned away from deadmau5 and simultaneously on their phones expressing no interest.
Lol at the entire front row glued to their fucking phones. Much party. Many text. Wow

— deadmau5 (@deadmau5) January 2, 2014
The notorious tweeter took a hiatus from the social media site, but has returned to express his disdain. Before tweeting out the message above, he jumped off the deck, approached the crowd, pantomimed playing on his phone and asked what was up?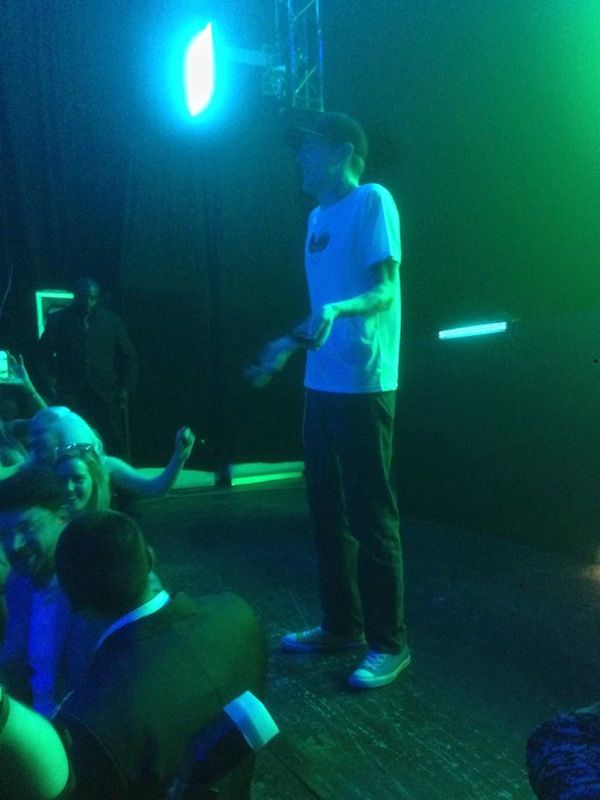 It was all downhill from there. In between songs he would tweet out his disdain for the lackluster VIP crowd that dominated the front.
2 of the coolest dudes just chillin on the stage, texting n stuff. All good. http://t.co/hlF4Ny8I51

— deadmau5 (@deadmau5) January 2, 2014
[Cool side note: he wore a shirt with a design made by Dariu5. The 8-year-old behind the "Draw 4 Deadmau5" Twitter account. He finally got to meet his idol in December.]
MOAR AWESOME! @deadmau5 was wearing the tshirt I made for him at his show last night, thanks for the photos everyone! pic.twitter.com/WvUtY5L2Hi

— Dariu5 Deadmau5 (@Draw4Deadmau5) January 2, 2014
Contrary to rumors circulating that he left the stage early and didn't play out his full time, deadmau5 was up there for the whole 90 minutes. You could see that he was incredibly disheartened with the crowd sitting with their backs towards him, that's just rude. As he signed off on the mic, he thanked the club and said it was real, but everyone knew he felt disrespected. The silver lining of the night was the group of fans surrounding his car backstage expressing their love and wishing him a happy new year.
Woohoo! Got to meet all my fans at the back of the club!!! So worth it now thanks guys!

— deadmau5 (@deadmau5) January 2, 2014
All right so New Years Eve and Day are in the books; seems like Joel has had a pretty rough 48 hours, right? Right. The ever feisty producer was LIVID in a chat room to fans on his personal website, expressing anger at his manager for booking him in Miami for 'trust fund kids' and LiveNation for putting on an event that was 18+ that didn't serve alcohol. He is quoted as saying
"My own tour, my own venues, my own prices, my own policies. Seriously, I just want to have great fuckin' shows with great people, not deal with VIP bullshit, overcharging for fucked up shit, etc. etc. We're trying our best to shoot for fall for the 'big ass show' project we've been working on for the past 2 years, but ABSOLUTELY worst case… spring 2015."
Although 2014 had a sour ring-in for everyone's favorite producer, he will once again stand by his fans and deliver to us all the show that has made us fall in love with him. New York, we will get our redemption soon.