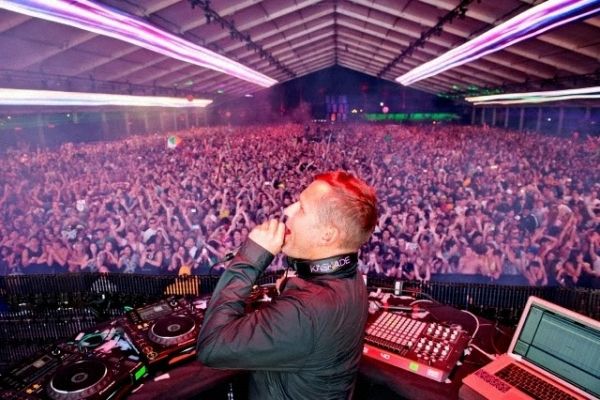 It has been a banner year for Ryan Raddon, known by most as Kaskade. Amidst the 2013 "EDM explosion," Kaskade has far and away seized this year and remained among the ever-growing list of DJs as one of the eminent members of the club.  It shouldn't come as much surprise. After all… he's been one of the elites for over 10 years.
A small but mighty list of notable accomplishments for Kaskade this year: he just landed the award for #1 American DJ, and is's scoring the musical number for EDC: Under the Electric Sky, which has already been included in the upcoming Sundance Film Festival.  He released his Atmosphere album, was nominated for a grammy, gone on two tours, in between multiple Vegas residencies.  As if this wasn't enough, he remains ever-present on the dance music charts, with his remix of Young & Beautiful, and original production, Atmosphere leading the way.

In addition to this stellar list of accomplishments, Kaskade has earned his place along "Good Guy Pasquale" Rotella, as "Good Guy Kaskade."  A very devout family man, this year, he has very openly reached out to
fans in need
.  He's released a ton of free tracks, mashups, and bootlegs via his Soundcloud.  Most importantly however, he  has very vocally defended the electronic music scene through some of its
growing pains
.  He stepped forward when we needed someone with a good reputation to show the world we were more than the
news was reporting
.  The term "servant leader" comes to mind, but that wouldn't do him enough justice.
Rounding off the 2013 highlight reel of Kaskade, on this first day of our "Road to Snowglobe," is his sheer versatility as a performer, with sets this year that have run the gamut from deep house, to progressive, and even trap.  Our only regret is that we aren't the fortunate ones who will be able to countdown the new year with Kaskade.  Although he will be in Las Vegas on December 31st, Snowglobe is one of the five (yes five) fortunate locations that get the pleasure of seeing Kaskade the week of New Year's.
If his set is anything near what it was for his final stop of the Atmosphere tour, it'll be yet one more reason Snowglobe will go down as one of them most unique and memorable New Year's Eve events of the year.