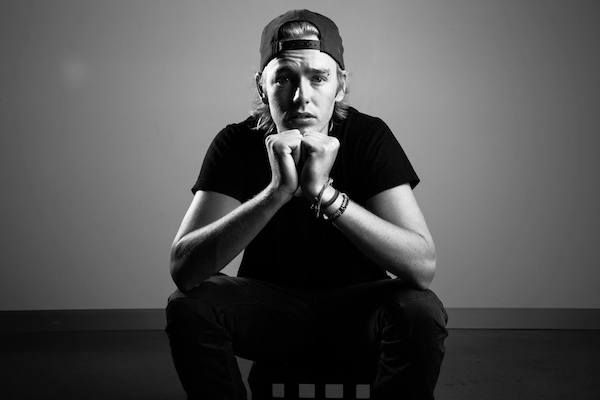 Melbourne bounce music is taking off all over the world. A remarkable talent that has played a major role in this movement is Will Sparks. At only 20 years old, Will has found himself as not only one of the most highly regarded DJs in his homeland of Australia but a worldwide sensation as well. I was able to catch up with him in Chicago the day after he reached the milestone of 100,000 Soundcloud followers. Here's our interview:
Describe to me how your experience has been over here during the North American tour. How do you think the scene here compares to Australia?
It's amazing here. I came in not knowing what to expect. [Melbourne bounce] is a new sound. In Australia, people are loving it. I want to bring it here. So far, it's going great. People react a little differently here. Everbody jumps here. People really love the scene here. They do in Australia too, but it's different. You really have to go to Australia and experience it to understand what's going on there.
Describe the origin and growth of Melbourne bounce music from your perspective.
It started in Australia a while ago, but it only worked in small rooms back then. It was really minimal and simple sounds. Now, it's grown into something more. I'm trying to make it work in big rooms. It's been going well so far. I'll keep progressing and putting out new sounds.
Can you explain to us your sound without using any specific genre labels?
I'd use the word bop. You bop around, and you have fun.
Who were your major influences as you broke into the music scene?
I loved heavy metal. I was a guitarist. I switched [to DJing] really late. I love Showtek. I love hardstyle and the Dutch sound. Melbourne is a little bit Dutchy.
What's it like watching yourself take off in Australia and sitting back while your music has blown up and extended itself to all parts of the globe?
It's surreal. I don't even know how I feel. It's amazing. You embrace the feeling. But, it hasn't really changed me. Some DJs get arrogant, but I'm really just the same person. The ones that do that end up failing. It's hard to justify what's going on. I just keep working. I have more goals to achieve, and I look forward.
As you become more and more in demand across the world, where do you see your career going? Will you try to stay pretty entrenched in the Australian market?
I want to go everywhere. I love my home turf. It's what started me, but I want to be in America, Europe, just everywhere. I'm ready to take it on. I have to be strong about it knowing that I hopefully won't be home much.
You've been really active in the last few months. You've had a ton of releases all of which have been all been successful. What are you working on right now?
I have a bunch of originals that haven't been released that I play in my sets. It's hard to always find the right label. I have a collaboration with a very special guest that you'll hear about soon. I've got some originals with singers that I've worked with in LA. They're all there. I'm just trying to be smart about timing.
Talk to us about some artists in Australia that are up and coming that haven't made their presence known in the US yet.
There's a guy, that I'm telling you will be the biggest DJ in the world, Samual James. No one knows exactly who he is yet. It's almost too hard to explain how good he is. He's gonna be huge. He just needs to get out there. It's hard to push yourself and it's just tough to get out there. I hope the best for him, and he's taught me everything. He'll get his shot soon.
The EDMTunes team would like to congratulate you on your recently achieved milestone of 100,000 Soundcloud followers. Is there a message you'd like to send to the fans?
I just want to say, where the hell are you all? It's too much to believe. I never thought I'd get there, and I really appreciate it. Let's celebrate.