Jason Ross – 1000 Faces
History
Above & Beyond's milestone ABGT live performances are not foreign to many in the electronic music world. And neither is the trio's label, Anjunabeats. The label, and the shows, have opened the door for many producer's careers like Audien, Lane 8, Oliver Smith, and Tritonal.
Back in 2011, Seven Lions (Jeff Montalvo) bursted into the scene with his remix of Above & Beyond's 'You Got To Go'. The remix caught the ears of the legendary producers and, as you now know, everything that came from that track for Jeff changed his life for the better.
And now, in 2014, enter Jason Ross. While he was trained as a classical and jazz musician from an early age, electronic dance music was always a passion. The Minnesota-native even released his own electronic album at the age of 12 in his hometown for a competition and won! (I would post the video but I've been searching for an hour and can't find it. Jason, if you're reading this, please send it over. It's incredible).
Side note: Jason sent the link to the video! Check it out here: https://www.facebook.com/watch/?v=1272093869482049
Anjunabeats heard the first tracks of Jason's, 'Nightfall' and 'Burma', and had to bring him into their London headquarters immediately.
Finally, fast forward to 2017. Jason and Jeff are both household names with very unique sounds. They became friends and ultimately began working together. The two surprised the world by going B2B at ABGT's 250 milestone show at The Gorge in Washington. Both of their sounds flowed supremely well together. While there, they debuted their first collaboration, 'Ocean', featuring Johnathan Mendelsohn. Right then and there, their friendship was solidified. Jason still released on Anjunabeats but also signed with Jeff on his new label, Ophelia. After many track releases, Jason's proving himself as an artist on Ophelia just as much as he did on Anjunabeats.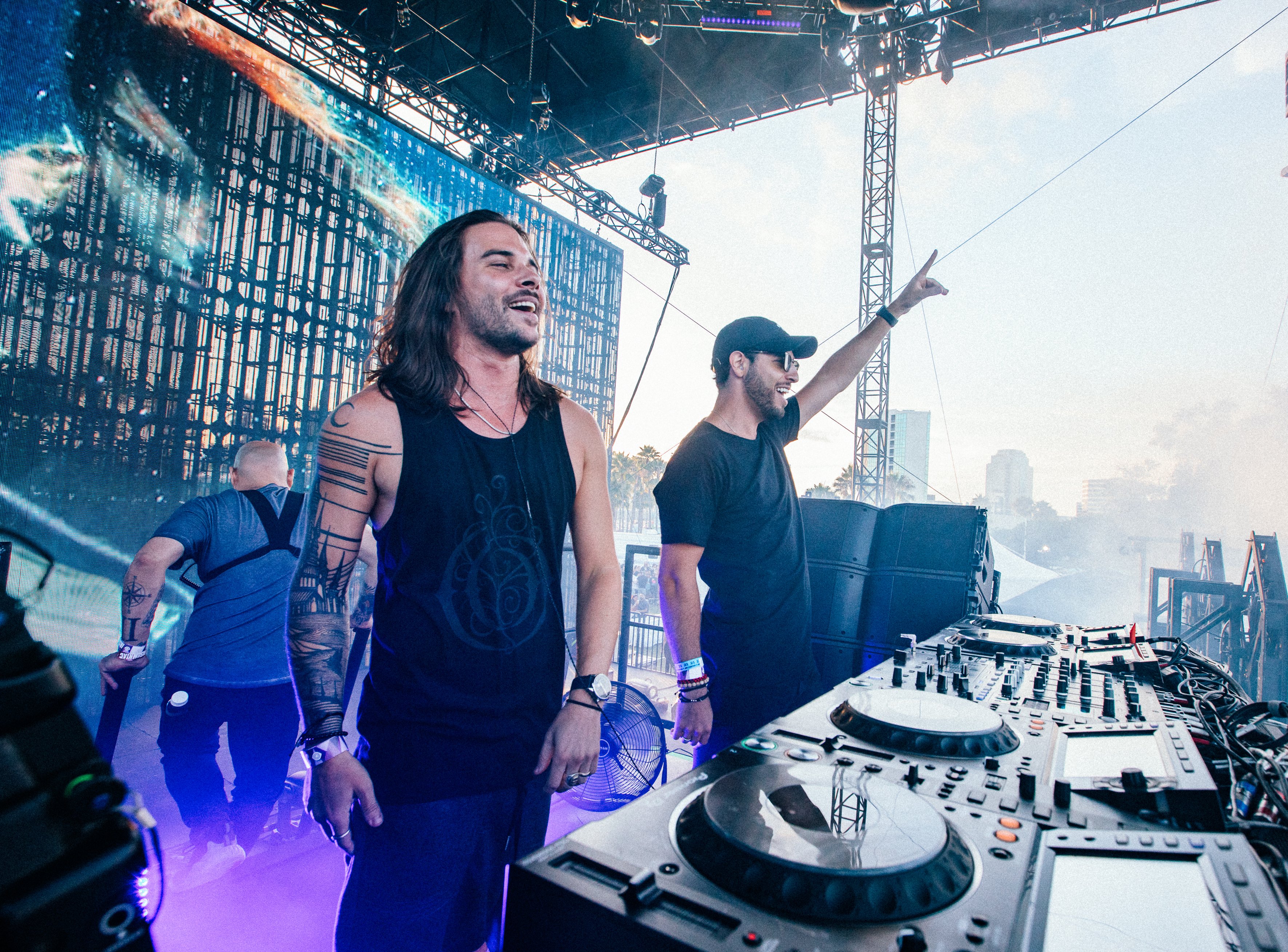 1000 Faces – Track Reviews
Now, here's the good part. Let's get to this debut album, 1000 Faces, which debuted today.
The 10 tracks flow smoothly together. The easy sounds of 'Intro', which can be heard throughout the album, welcomes the listener so carefully. 'When The Night Falls', with singer Fiora, integrates the melodic dubstep sound that Seven Lions helped influence. Fiora is also no stranger to Ophelia. Her delicate and touching voice is surely going to have the audience singing along.
The album also features a track, 'One That Got Away', with fellow producer Dabin. For this song, Dylan Matthews lends his notorious voice to the tear-jerking lyrics about love, change, and pain. 'Chains' with Røry, who lends her voice to many other artists, picks up the tempo midway through the album. 'Shelter', which was released in May of 2019, has cracked over 1 millions streams on Spotify that encompasses and absolutely continues to impress.
The tempo slows with Fiora in 'Leave Me To Wonder' that has an angelic flow to it. Jeff, Seven Lions, contributes to 'Known You Before' which the two debuted long ago and has been played in each producer's sets for quite some time. Jeff's signature sounds are heard throughout the chorus and provides an undeniable beat. Singer Dia Frampton on '1000 Faces' and RUNN finishes the collection out with 'Letting Go'. I recommend looking up the lyrics while listening to this ending track. It's a track we can all relate to with love and saying goodbye.
Future & Throwbacks
This project on Ophelia is indeed a different sound from his Anjunabeats style. For over a year now, he has been digging through his heart and figuring out where he is now and what directions he wants to go. Read our interview with Jason here where he discuses his changes in style.
Jason's album is available here. He's also beginning his impressive North American headlining tour next month. Keep an eye out as well; he has a new Anjunabeats single coming out and a collaboration with Slander! And, without a doubt we'll be hearing a Rooms #4 mix from him as well.
I'm honored to have been able to speak on this debut album of Jason's. Again, I cannot stress enough about how far he has come in his career. It's amazing to see and bear. In order to make dreams happen, you have to start somewhere. I found this poster and photo after digging deep in Jason's socials. Opening for the legendary Judge Jules back in 2009?! How incredible – keep going, man!
Jason Ross – 1000 Faces