This beautiful home decor item is a must-have for lovers of the Berlin club scene. It gathers amazing illustrations of the most iconic clubs all across the city, taking us back to the '70s and '80s.
After the success of last year's edition, we can now find an enhanced version of this calendar for 2020. This innovative calendar is designed by Tine Fetz and Daniel Schneider's. It is titled, "Places 2020 – Vergangene Orte Berliner Subkultur." It contains unique illustrations of the most iconic venues for clubbing in the Berlin of the '70s and '80s. If we go back to those years, we should remember that Berlin was divided by the famous Berlin Wall. This piece of art reminds us of notable East and West Berlin clubs at that time.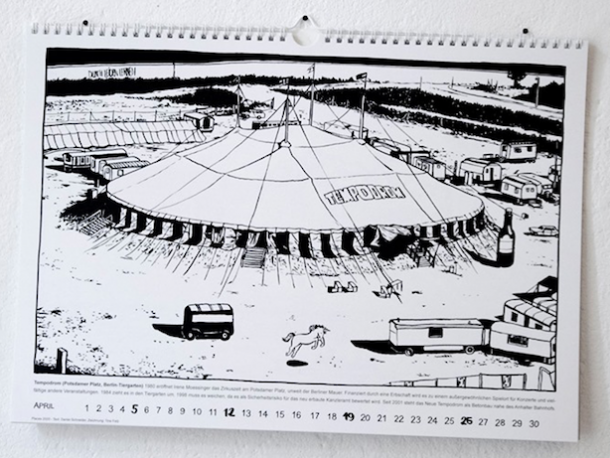 Metropol, Dschungel, La Belle, Tempodrom and more iconic venues of Berlin's Clubbing culture are highlighted in this calendar.
The price of the calendar is €18 + €5.50 in shipping fees (approx. $20.04 + $6.12 in USD). You can order it by sending an e-mail to places-berlin@web.de. It is also available for purchase in store in Berlin at the Archiv der Jugendkulturen in Kreuzberg. If you are planning on visiting the capital of Germany, you could save some money by avoiding the shipping fees. In addition to this calendar, you can visit an exhibition about the history of Berlin club culture. It will be open until 30th November and it is a wonderful plan for curious people.