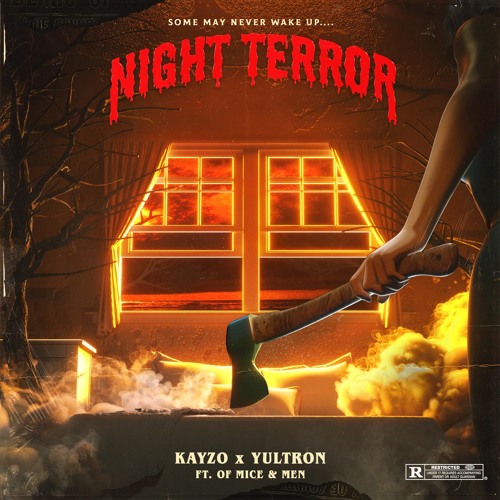 Kayzo x Yultron ft. Of Mice and Men – NIGHT TERROR
Kayzo and Yultron had already announced on twitter that they were collaborating on a new record. However, nobody expected it to be a monster collaboration with metalcore band, Of Mice and Men. Kayzo has evolved his sound over the years to make an insane fusion of metal/rock and bass music. For his newest release, he got the help of Yultron and Of Mice and Men to make a crazy record, titled 'NIGHT TERROR'. The duo of Kayzo and Yultron hit fans with nostalgia of metal music while incorporating a fresh electronic side.
'Night Terror' starts with a guitar lead accompanied by a cinematic melody. Next, this transitions into ominous, dark vocals. After the first verse, the song turns into a classic, fast-paced drum buildup. The buildup includes a pre-drop vocal that highlights the heavy metal side of the band. As for the drop, it's nothing short of spectacular. The heavy-hitting bass will give you that bass face you always want when listening to dubstep. The second drop includes wonky riddim elements backed up by grimy synths.
All in all, this new track is one for the ages. It's a legendary collaboration between two of the biggest names in dance music today. And if that wasn't enough, they added Of Mice and Men to the already stacked collaboration. You can listen to 'NIGHT TERROR' here or down below. Let us know if you love this brand new record as much as we do.
Kayzo x Yultron ft. Of Mice and Men – NIGHT TERROR