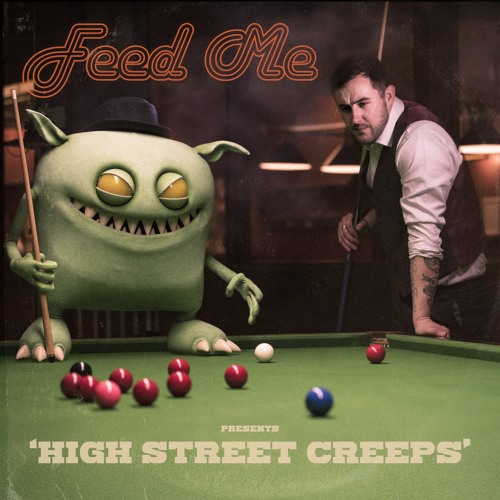 Feed Me presents 'High Street Creeps'
Jon 'Feed Me' Gooch finally released his anticipated album, 'High Street Creeps' on Mau5trap after a six year wait. The wait was absolutely worth it as the album wonderfully shows his progression since releasing 'Calamari Tuesday' in 2013. Feed Me always navigates through genres with his music, even having a Drum n' Bass alias 'Spor.' Between the two albums Jon released 4 EPs showing his stylistic progress as the new album tastefully combines Electro-house and Pop elements.
Tracks 1-3:
Since playing the album, I can't stop listening to it and thinking about it. The album kicks off with 'Perfect Blue,' rising into a calm and melodic arpeggio, with vocal whispers in the background. The track then starts to introduce percussive elements leading up to a rhythmic and dark breakdown. It finally concludes with a gritty, glitchy, and percussive rhythm which directs towards 'Shimmer.' The track begins with a series of short kicks and a deep staccato synth leading into a vocal chop melody. It then quiets down giving a wide, bright, and cinematic synth the ability to take over which cuts back to a rhythmic section.  Finally, the energetic 'Sleepless' introduces a set of eerie and dark synths, rising up to a bass-heavy section packed with adrenaline and distorted rhythms. The song seems to be the heaviest out of the first 3.
Tracks 4-6:
'Feel Love' featuring Rosie Doonan was the first single released off the album. The emotional song sounds sad, cathartic, and beautiful. The track starts with a melody and vocals, leading into a wide and bright bridge with the catchy and powerful vocal taking center stage. One of my favorite things about the song is how it cuts into a classic house tune as it bridges into the next chunk. The song ends with elegant and quiet plucks as its stylistic antithesis 'Barrel Roll' starts. The track heavily reminds me of older Feed Me works with the heavy synth and drum designs while incorporating brighter synth leads. Furthermore, 'Till The Wheels Come Off' with Graham Fink is such a feel good song, and is sure to cause a smile. The distant vocal and instrumentation soothe into a catchy melody with a clean bass-line, projecting the track into a happy and motivating chorus.
Tracks 7-10:
'Satanic Panic' has an eccentric intro. A few seconds of dialogue conclude into kicks with driven pads, only to introduce a stunning synth solo on top. The synth solo gears the track to a heavy and rhythmic section, showcasing Feed Me's attention to incredibly detailed production. Unlike the first chorus which is dancey, the second section is significantly heavier with more emphasis on the snare. The song then concludes into the synth solo with the glossy pads. Chasing it, 'Pumpkin Eyes' featuring Chaney pulls back into the Electro-pop combination. The track differentiates itself from the rest of the album with its infectiously moving and memorable hook.
Preceding the last song, 'Own Ghost' is another spotlight track. The dark and glitchy vocals intertwine with the heavy kick and gritty synth leading into a cinematic bridge. The track feels very inspired by futuristic themes (sci-fi) and seems to have an almost visual imaginative aspect. All I'm saying is that if robots take over, I hope this is their theme song. The album reaches its conclusion with the unforgettable 'Defiant' featuring Lindsay. I'm calling it now, this song will become a Feed Me fan favorite! The track shines light on Jon's love for bright and melodic production, and heavy sections encompassing the album.
Overall:
To sum up, the album is clearly a passion project filled with imagination and care. I seldom feel attached to albums on short notice, but have a feeling 'High street Creeps' will be an album I constantly come back to. It's safe to say I'm getting the vinyl to commemorate it! His store is back online which he will add items to soon.