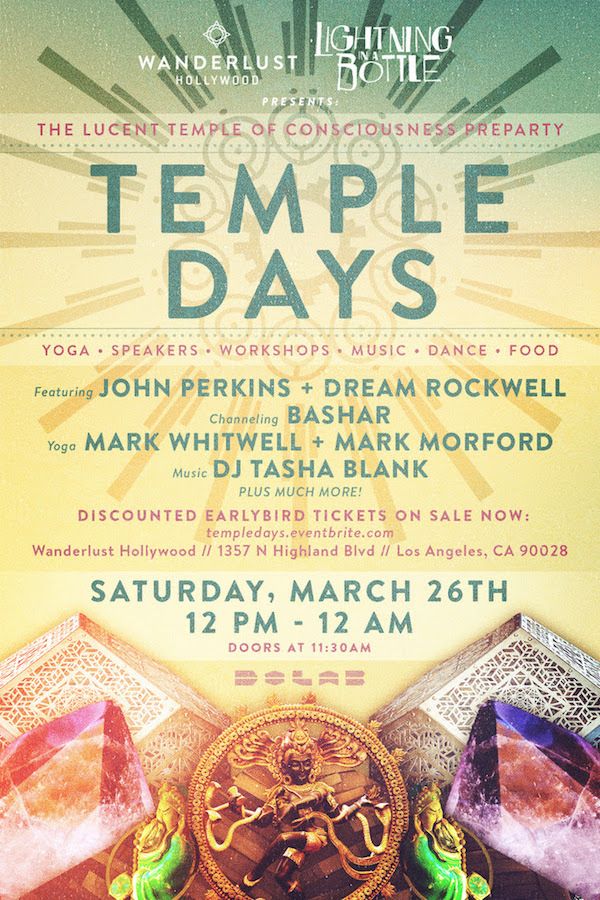 As Lightning in a Bottle's impressive eleventh year is fast approaching, LiB and Wanderlust Hollywood invite this year's eager attendees to the festival's pre-event, "Temple Days", produced in celebration of the vibrational heart of LiB, The Lucent Temple of Consciousness. The second annual "Temple Days" will touch down on March 26th at its new, beautiful home at Wanderlust Hollywood. The event will consist of 12 hours of urban wellness activation and sacred gathering, with spiritually enlightening activities ranging from workshops, yoga and movement, to food, art and musical performances, all designed to explore the diversity of consciousness programming, expand the heart and open the mind.
The second annual "Temple Days" teases transformative experiences expected at this year's LiB, as it encourages attendees to expand their minds with an abundance of heart opening spiritual lessons, whimsical teachings, group rituals and ceremonies, deep healing modalities, potent ancient technologies and breakthroughs in next level consciousness. This year's pre-event gathering features an inspiring lineup of high-caliber curation comprised of world-class speakers, yoga, meditation, experiential workshops, performers, musicians and DJs that has become a signature characteristic found at both Lightning in a Bottle and Wanderlust events. This year's stellar lineup includes speakers John Perkins (best selling author, activist & chief economist), Dream Rockwell (founder of Lucent Dossier and co-founder of Lightning in a Bottle) and a rare visit from the cosmos via extraterrestrial medium Bashar, a long time LiB favorite. Additionally, there will be yoga movement with Mark Whitwell (Founder of Heart of Yoga) and Mark Morford (International yoga instructor and acclaimed author), along with music from DJ Tasha Blank, DJ FreQ Nasty and much more. Come early to participate in the opening ceremony to set your intention for the day and let the merrymaking begin. Master frame drummer Miranda Rondeau will lead attendees into devotion through her truly unique songs and prayers.
The March 26th pre-event takes place from 12 am to 12 pm at Wanderlust Hollywood, 1357 Highland Ave, Los Angeles, CA 90028. Purchase tickets for Temple Days here and RSVP on the Facebook event page. Ticket prices start at $35, increasing to $45 on March 3rd and then up to $55 on March 24th.