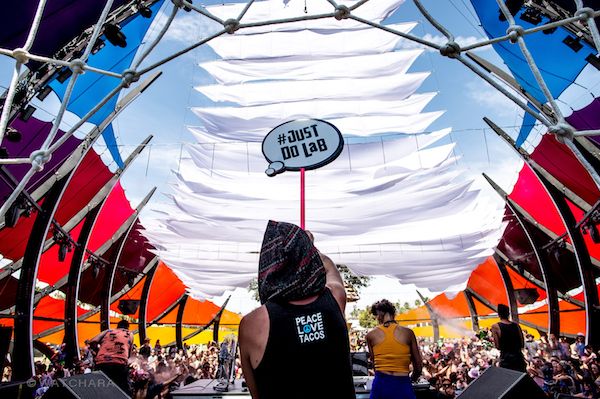 Coachella's notorious technicolor Do LaB Stage, a.k.a. "Big Fish," is, to put simply, just a small glimpse of the beautiful collision of 12 years of imagination, creativity, taste-making and ingenuity behind the Do LaB. The Los Angeles-based music and event production maestros just unveiled their masterfully-curated and vivacious 2016 lineup for their exuberant Coachella stage, that's sure to continue a tradition of opening listeners up to new friends and unforgettable experiences. Let's not forget this is all while providing a non-stop party orchestrated by the musical stylings of internationally acclaimed, groovy, grimy and underground electronic acts. Each weekend of Coachella will boast a unique and fantastically eclectic lineup at the Do LaB Stage; a characteristic distinct from other Coachella stages.
Among the artists playing Weekend 1 are Foreign Family Collective's Big Wild, Canadian indie-electro pop duo HUMANS, Washington DC-based downtempo beat-weaver Imagined Herbal Flows, godfather of experimental bass Paper Diamond, pioneer of the TWONK movement, LA-based Brillz, gritty g-house, dubstep, trap hybrid producer/DJ Ghastly, Australian house music maven Dena Amy, hip-hop-dubstep-trap counterculturalist Stylust Beats, producer of euphoric future bass and pixelated funk Wave Racer, techno underground master Lee Foss, plus MartyParty and Ooah (The Glitch Mob) who reunite once again as PANTyRAiD.
Weekend 2 unlocks a kaleidoscope of beats as Do LaB matches the caliber of Weekend 1's soundscape with an entirely new selection of artists. Dirtybird favorites will flock to the warm desert of Indio over Weekend 2 as the famed Northern California label showcases two of its latest headliners: Berlin's booty shaker Sacha Robotti and the wickedly wry Ardalan whose mixes exude both sass and energy. Also making strong appearances on Weekend 2's bill are Soulection's youthful prodigy Sam Gellaitry, Brisbane electronic duo Cut Snake, enthralling Parisian hip-hop/ future bass blender STWO, soulful Chicago electronica trio Autograf, "Rebel Bass" purveyors and English DJ production duo Stanton Warriors, house/indie-electro duo made up of Candle Weather and Manila Killa Hotel Garuda, drum and bass fusion electronic musician and Do LaB festival staple Kraddy, and West Coast mixer of glitch-a-delic soul whomp and live beatboxer Nico Luminous, musically-diverse instrumentalist and electronic producer NU, Brooklyn-based DJ/producer nomads Bedouin who will bring a comprehensive mix of Middle Eastern and Western sounds. Lastly, surprise special guests will magically materialize at the "Big Fish" both weekends, so keep your eyes and ears peeled!
Peep the full lineup for Do LaB's 2016 Coachella stage below!