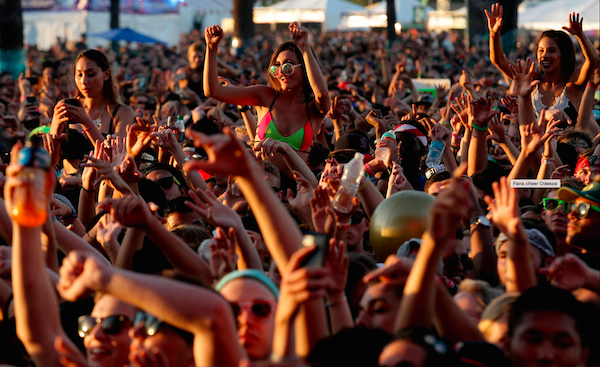 The Los Angeles County Electronic Music Festival Task Force gathered this past Thursday to talk strategy in regards to LA's dance music events and practical harm reduction policies that can be enacted for the county's events in the future. The task force initially assembled in response to the tragic fatalities of two young women at HARD Summer earlier in the year and have held four meeting since. The overall purpose of their meetings is to advise the LA County Board of Supervisors on matters regarding the future of electronic music festivals within the county, along with other general measures that can be enforced to protect public safety at these events.
The task force's most recent meeting placed a large emphasis on harm reduction as a practical approach to drug use at events, as opposed to zero-tolerance policies that have shown to be ineffective at reducing drug use, and often increase drug-related harm as a major consequence. The law enforcement officials in attendance held a unanimous concern for appearing to condone illegal drug usage if they abandon their current zero-tolerance policy in exchange for looser drug regulations at events. And although the Pomona Police took a bold step in the right direction by creating and distributing flyers containing some decent harm reduction tactics at this year's HARD Day of the Dead, much of the information in regards to MDMA was inaccurate and done in "reefer-madness-style propaganda," an unpalatable presentation that many festivalgoers could easily discredit and ignore due to its erroneous, scare tactic approach.
Throughout the task force's meeting, the RAVE Act of 2003 was mentioned quite liberally. The Act was created "to prohibit an individual from knowingly opening, maintaining, managing, controlling, renting, leasing, making available for use, or profiting from any place for the purpose of manufacturing, distributing, or using any controlled substance, and for other purpose." Many promoters, festival events and city officials have blamed the RAVE Act as a major obstacle to their ability to effectively allow harm reduction organizations, such as DanceSafe, onto electronic event grounds. That being said, DanceSafe's founder, Emanuel Sferios, who was present at the meeting, believes that blaming the RAVE Act is a flimsy excuse to enforce the zero-tolerance policy and make little effort to find alternative methods to it. He stated that the language in the Act was vague enough that it didn't forbid any specific harm reduction service.
The end of the Electronic Music Festival Task Force's meeting showed that it is not likely that the LA Board of Supervisors will ban all future electronic music festivals from the county. More importantly, the meeting brought to light some of LA county's most prominent concerns regarding safety within its electronic music community, like the need to revise the RAVE Act of 2003 to reflect the inclusion of alternative harm reduction services as a viable and safe alternative to the zero-tolerance policy. These necessary revisions can be successfully added so long as officials can recognize that by promoting harm reduction services, they are not condoning or encouraging illegal drug usage, but rather, encouraging the health and safety of the county's festivalgoers in a very realistic manner, considering the prevalence of drug use regardless of any existing, restrictive policies.
Source:
MDMA The Movie