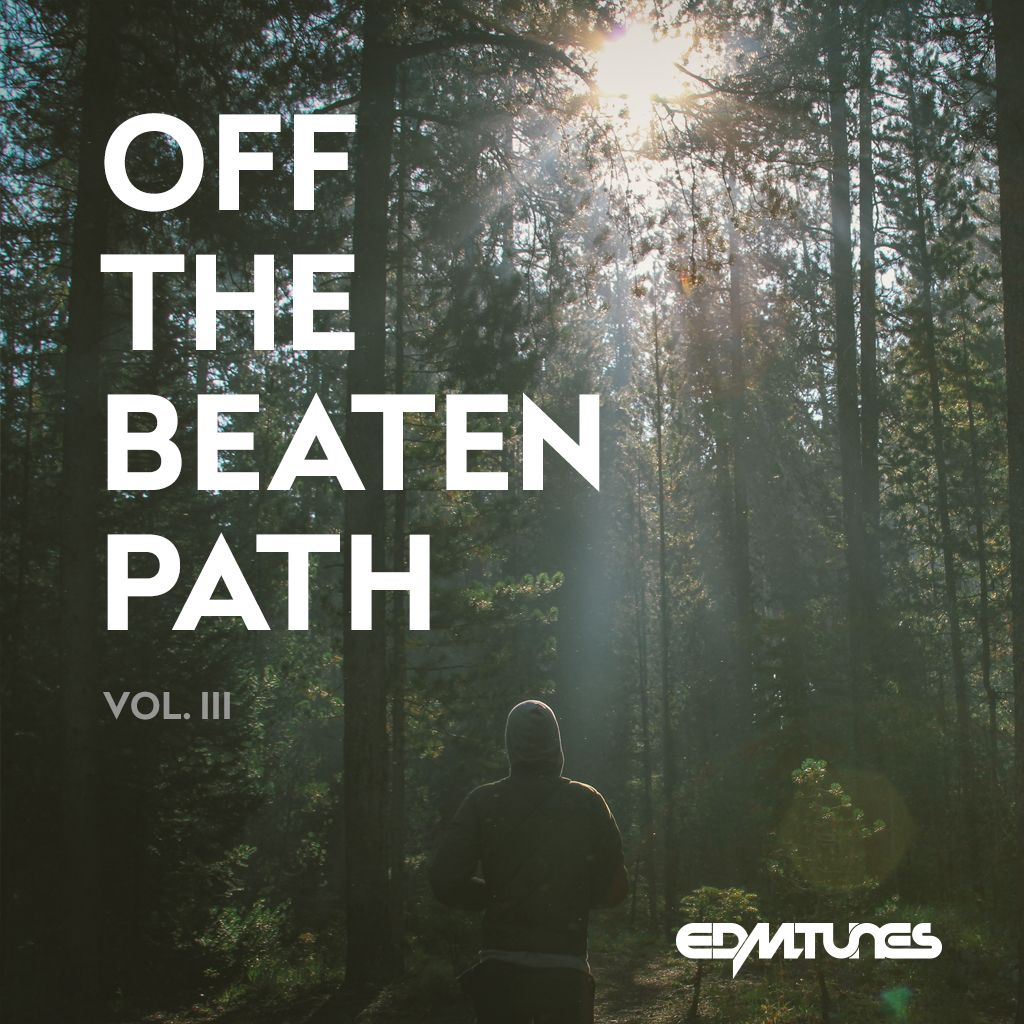 It's been a while, folks. Where have we been? Down the rabbit hole. Deep in online-crates. Buried in a audio-waveforms. We set out in a sea of tunes in search of the next class to join the Off the Beaten Path series, and after a month we've found them. But for those of you who don't know what this series is about, let's circle back and clear things up a bit, yeah?
Off the Beaten Path is EDMTunes' ode to the vast world of yet-to-be-discovered talents that are have more than earned a little love. With the series we look for those who doing things a little different, carving out their a place for their name in the ever growing, and ever saturated world of music. These are names we don't normally get a chance to cover, who make music that you didn't even know you were craving. It's time we dive into it though, or go for a hike rather. Ladies and gentlemen, please welcome the members of Off the Beaten Path, Vol. 3.

This series strives to bring up-and-coming talent to the forefront of your library by showing you some music they didn't know you were searching for. Off the Beaten Path volumes will be compilations of 5 elite artists curated through staff personal searches, with no restraint on genres – be ready for anything and everything from progressive house producers to hip hop beat makers. Your class of Volume 3 is proudly made up by: Wingtip, Klahrk, Ardency, Orygin, and LAUV.
---
Wingtip represents everything we love about raw, retro, pure disco, but reimagined for the 21st century. With visual branding that depicts an air of minimalism, cleanliness, and a hint of mystery, this anonymous producer knows there's more to be a musician these days than just making music (crazy to think about, but true).
"I got started by listening to Pete Rock, Dilla, DJ Premier, and other hip-hop producers that straggled the line between beats and songs. I'm just working towards music that's comparable to them, that you can turn on and feel good, that will hold up over time. I want to let the samples in my tracks breathe new lives for a whole new group of people. Wingtips = good shoes for classed up dance parties. Wingtip = good music for classed up dance parties."
His method is unlike any we've ever heard, and it shows in the final product. You can identify a Wingtip track by its extensive layering of samples across an array of genres that you'd never think could fit together, the general sense that there's a story of moment in life being told within it, and of course an enveloping vibe of joy. If you're looking more folks like Wingtip, he recommends hitting up Vanilla and Kailo.
"I go record shopping in brooklyn until I find 5 or 10 records I like, then import them from a turntable, chop them up, write and record instruments around them, rinse, repeat. I want [people] to appreciate the musicality and emotion of the original samples, but also hopefully appreciate the new energy that the songwriting I do around them brings. I'm obviously making sunshine-y, feel good slowed down house music, so as long as you're kind of forgetting about life for a while I'm doing my job."
---
Porter Robinson may not know it (though we certainly hope he does) but he's inspired an entire new tier of artists, or at the very least brought sounds akin to Worlds out of the woodworks and given them a rich foundation to grow from. Klahrk is one such artist that we feel has much of the same potential a young Porter did once upon a time. He's yet another representative of the Kaleido Collective that we can't help but fall in love with. Which ultimately, seems to be this young artist's goal.
"What really got me started with music production was my original addiction to 'Cross' by Justice, that album kickstarted my whole love for electronic music and it was then that I decided, yeah, I wanna do this and got me into it. What I'm working towards, is hopefully a place where my music makes people feel something and not just think 'oh it's another guy off soundcloud'. I want to get to a place where my music means something to people, and that's what I'm working towards. "
Klahrk's music walks within a world rich with color, quirkiness, and sincerity, with an atmosphere of sheer youthful innocence. If that doesn't make sense to read, just give his A Secret to Everybody EP a listen and then you'll understand.
"I want people to feel something personal to them because to me music is a very personal thing. Of course some tracks have a particularly happy vibe or a sad emotional vibe but music to me is a very personal thing and I want that to come across in my music." 
Check him out here, check out his Soundcloud, and listen to the folks that inspire him, like Wave Racer or Bensinji, or any of his friends over at Kaliedo.
Soundcloud || Facebook || Twitter 

---
Of all the members in this edition of Off the Beaten Path, Ardency is most ready for the big leagues, or easiest to throw in the middle of a 2015 festival lineup. That's not to the others don't have the quality, but there's a certain quality in Ardency's music that is just "NOW." Combine that with a relatively deep discography, and you've got an artist ready to hit the stage and rock the crowd. This is performance music, no doubt. The duo is comprised of two young gentlemen who are both classical trained musicians, and actually got their feet wet with electronic music through sharing dubstep between the two of them in high school. Now despite the odds of living on opposite ends of the US (California and Florida), Ardency is living breathing identity.
"Our goal is to write music that is carried primarily through emotion – some of our tracks are dark and emotional, while some of them tend to be more uplifting.  We'd like to create music that can be enjoyed in any context.

"Our ultimate goal is to stand out; we want people to think of artists with their own unique style and sound when they hear our name."

We say they're off to a great start. Ardency tracks up to this point have largely been remixes of popular tunes, into a genre dubbed "Neon 80s." Their original work though, is even more impressive; crashing cymbals, cascading drums and soaring synths are abound in their work, and while things might not always be supremely up-tempo, melodies have a wonderful flow.
"There's so much that goes on behind the scenes here.  To our fans, it probably seems like we chill for a few weeks until we put out another song, but we're working hard every day.  It's hard, both of us are finishing up school right now and Ardency alone is a full time job.  Just want to say thanks to anybody who has supported us until this point.  We're just getting started but truly would be nowhere without our fans and friends who have helped us along the way."
Soundcloud || Facebook || Twitter || MySpace

---
Orygin is yet another Kaleido member (something this editor wasn't aware of until we compiled this list, but hey, good music is good music). While Klahrk strikes a more surreal and electronic vibe, Orygin combines beautiful physical instrumentation inspired by hours sitting at a piano, with detailed electronic work, and stunning vocals. His sound can best be described as dynamic. Which makes sense, because he's been at this for a while, for somebody his age.
"I started producing at around age 13 just for kicks using FL Studio. When I was 15, I decided to start putting them out for free download when I felt I was good enough and I've just progressed from there."
Similar to Klarhk however, and likely the whole Kaleido crew, there's a general sense that nature and an appreciate for the world him is inherent in his music. Powerful chords, soaring melodies, and poppy background elements make Orgyin's track special, and memorable. Whoever is writing the lyrics to these songs is a mastermind as well, because his tracks display a level of professionalism many professional acts fail to achieve.
"Orygin is about embracing your natural side. Nature has always been my biggest inspiration, and will continue to be. It tells its own story, visually and mentally, so I really try to express my love for nature through music and hope my fans see that. Also I appreciate all the support all of my fans have given me over these past couple of months. 🙂 "
Soundcloud || Facebook || Twitter || Instagram

---
LAUV is somebody we've covered several times on the site, and after a recent interview with him, we couldn't help but feature him here. He's a 21-year old NYC based producer enrolled at NYU, and with only two tracks up on Soundcloud, he's amassed nearly 1 million plays at the time this feature was written (~960k). He's earned remixes from /ˈlo͞osid/ and The Jane Doze as well, proving his music is capable of working within the space of multiple genres. We're really excited for this young star to hit the spotlight soon, and that may not be that far away, as he's got an EP on the way.
"There's not much else I can say about the E.P. without giving too much away. You got it; it's 5 songs, at this point that is really all I can say. No release date yet, nothing official but it's definitely coming soon."
There isn't much to say about his tracks, "The Other" and "Reforget," that is possible to really put into words. You just have to hear him. It's soulful. It's pure. It's clean. It's everything you could want from a vocalist in the world of dance music, or music in general really.
"Personally my biggest goal is just to reach as many people as possible with the music. I don't have any too particular details in mind that are like I need this in five years, I need this in ten years. I just want to continue to grow, I hope I can continue putting out music that people can resonate with. I just want to keep everything I do real and put out songs so I can I can grow with all my friends and fans."
Soundcloud || Facebook || Twitter || Website