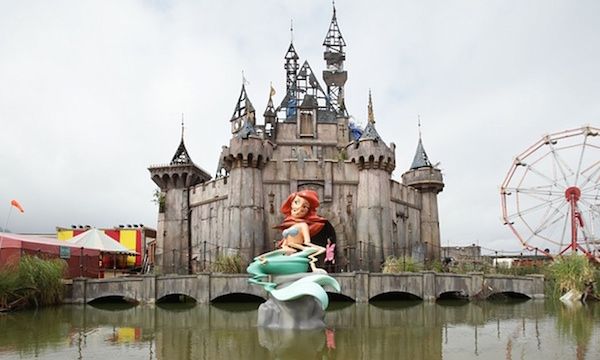 UK's most subversive, mysterious, darkly comic and socially thought-provoking graffiti artist, Banksy, just announced his biggest exhibition yet; a five week long art gallery cleverly titled Dismaland Bemusement Park. It's situated inside the walls of Tropicana; a run-down, seafront swimming resort in the UK where Banksy spend time as a child. The world renown street artist transformed the desolate resort from a 15 year long abandoned lido into a pop up art exhibit featuring new work from himself as well as 50 other artists from around the world whose contributions convey general themes of apocalypse, anti-consumerism, and anti-corporate messages.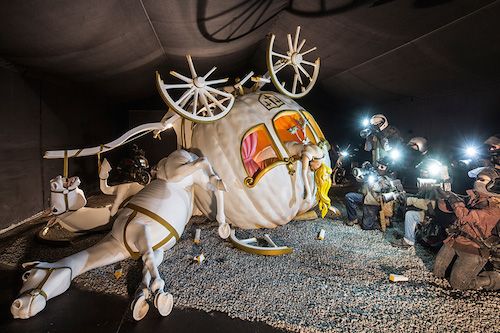 Advertised as "The UK's most disappointing new visitor attraction" that is a "family theme park unsuitable for children," Banksy's Dismaland is full of grumpy and uninformative guards, distressing imagery, a dingy looking Cinderella castle, gargantuan rainbow-colored pinwheel tangled in plastic and Grim Reaper dodgem, just to name a few of its many mentally provocative attractions. Along with art that expresses Banksy's trademark dark humor and overall distressful overtones, Dismaland features a few rides, completely impossible fair games, interactive artworks and unexpected spectacles happening throughout the day. Additionally, there will be DJ's every Saturday night and a series of live concerts throughout its five week stint, featuring performances from Run The Jewels, Massive Attack, Pussy Riot and more.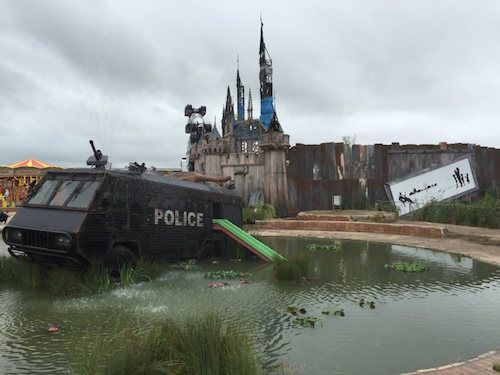 Banksy's Dismaland Bemusement Park is open to the public from August 22 through September 27th, 2015. Check out more pictures from Dismaland here and visit its official website for more details.