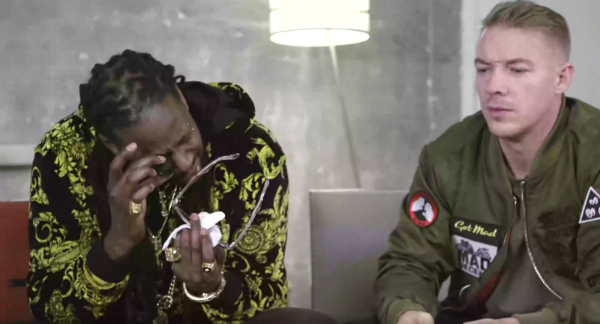 Diplo and 2 Chainz sit among some of the most stylish men within the music industry. While electronic giant, Diplo, is working partnerships with K-Swiss and posing with supermodels for Alexander Wang, rapper 2 Chainz is a self-proclaimed style icon and "sunglasses connoisseur". That may be why they both took to GQ to try on a $48,000 pair of sunglasses by designer 9Five Eyewear as a part of 2 Chainz's ongoing "Most Expensivest Shit" series.
After trying on a gold-layered set of white marble shades laser etched with a crocodile pattern imprint and a pair of rose gold sunglasses-both in the $100-range and declared "very reasonable" by 2 Chainz–Mike from 9Five pulled out the big guns that were neatly tucked away in the carbon fiber compartment of a titanium Halliburton briefcase and protected by an electronic password. The $48K sunglasses have a crystal lens with 800 handset diamonds "done by the best jewelry makers in the world."
Diplo and 2 Chainz handled the sunglasses delicately and scoped out the diamond work with a jewelry loupe before reaching their verdict. Diplo declared, "This isn't for going to, like, the beach; this is for stunting really hard." 2 Chainz stated "I like the diamonds but I can't drop that 50."
And just in case you were wondering, those sunglasses do come with a lifetime warranty.