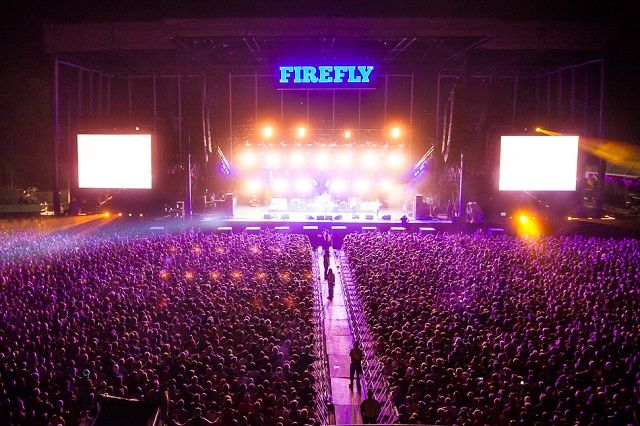 This coming weekend,
Red Frog Events
will host their fourth annual
Firefly Music Festival
 in
the Woodlands of Dover
,
Delaware. Debuting in 2012 with an attendance of 30,000, Firefly's attendance jumped to 80,000 by 2014, making it one of the country's fastest growing festivals, and has just sold out the 2015 festival with 90,000 ticket sales. Don't worry though if you haven't gotten your tickets yet,
StubHub still has plenty
. This year, Firefly is bringing back many of the same attractions they have had in year's past, but this year in front of it's first sellout audience, Firefly will prove why it is the all-encompassing music festival experience of the summer.
1)  Four Days Long

For the second year in a row, Firefly will be four days long. Spanning from June 18 through the 21st, the length of the festival will directly contribute to the experience. Similar to Bonnaroo Music and Arts Festival in Manchester, Tennessee, for those who choose to experience camping at Firefly, living next to the same groups of people for four nights will certainly lead to some new friendships, and some awesome stories. In addition, campers have exclusive access to certain amenities that are not available to local attendees.
2) Camping Amenities
Camping is an integral part of attending Firefly. While many locals attend the festival day by day, camping adds another element to the festival experience. Camping at Firefly includes several options, as luxurious as "Premium Glamping," and "Premium RV Camping" within the racetrack at Dover. All campers have access to their own food stands, general store, market, and Starbucks, as well as a shaded area and WiFi hotspot. Also offered are several relaxing activities including the Hammock Hangout, Yoga, and the Hideaway, where campers can participate in a more secluded 'Silent Disco' than the Thicket (see below) which is available inside the festival grounds.
3) The Thicket
"If a beat drops in the woods, but everyone has headphones on, does it still make a sound?"
The Thicket at Firefly provides a unique 'Silent Disco' experience hidden within the forest while inside the actual festival. While the private campers silent disco is in complete seclusion, the Thicket allows you to take a break from the crowd without leaving the main festival area. Some may want to throw on some headphones for 10 minutes, some for two hours; the thicket makes it easy, centrally located among all the stages.
4) The Brewery
Firefly will continue it's partnership with Delaware's Dogfish Head Brewery to bring its 21+ guests access to some incredible locally brewed craft beer. The Brewery will be positioned inside of an air conditioned tent that will have live streamed festival performances so you don't miss a minute of music. Grab one of several available craft beers from Dogfish Head, including Firefly Ale, and socialize with some of your new festival buddies at the Brewery, and head back to your favorite stage to catch the next artist.
5) Tom's Style Your Sole
Last but not least, Tom's Shoes will be bringing their "Style Your Sole" station back to Firefly. Attendees can work one on one with artists to create their one of a kind Tom's shoe, and as it goes with Toms' ethos, they will donate one pair of shoes for ever pair purchased as part of their "One for One Movement." You won't find an activity like this at any other music festival, so make sure to grab your own pair of custom Tom's during your time at the Woodlands.