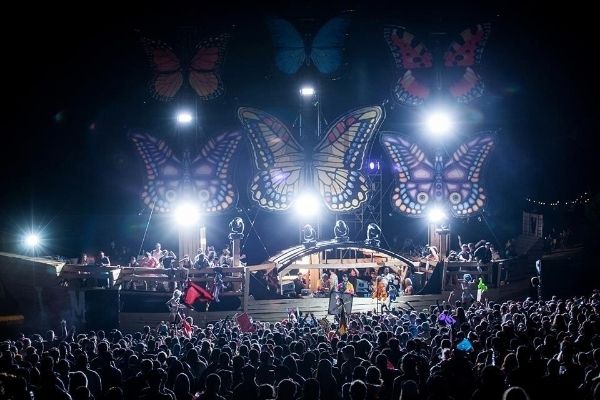 The American festival market is absolutely out of control. Literally almost any month of the year, you can attend a dance festival somewhere in the US. There of course are those that have been around for decades and have established themselves as premier events, but there also those that are young with their own unique personalities awaiting their eminent success. A combination of these two is Mysteryland USA.
Originally beginning in the woods of Holland, Mysteryland prides itself on being the world's oldest dance music festival. The ID&T event began back in 1993 with a humble roster of Buzz Fuzz, Dano, Gizmo, and the Prophet gracing the festival's first ever. After garnering a massive loyal fan base over the next 18 years, Mysteryland sought its first expansion in 2011 to the South American country of Chile.
Inevitable success followed the festival's travel into new territories, and three years later, ID&T decided it was time for the United States to experience Mysteryland on their own home turf. In 2014, Mysteryland's leading reputation allowed its US branch to attract a lineup including Kaskade, Moby, Dillon Francis, Jooris Voorn, the Chainsmokers, Seth Troxler, and more of dance music's finest.
For its second year in Bethel Woods, Mysteryland USA is ready to bring its most impressive lineup yet to upstate New York. Maceo Plex, Richie Hawtin, A-Trak, Porter Robinson, Diplo, the Martinez Brothers, Adam Beyer, and more are set to light the festival grounds on fire with their performances. Last year's lineup was mind-bogglingor a festival's first year in America, but Mysteryland USA's 2015 installment boasts a different quality – diversity.
Diversity is why
Mysteryland
USA is setting itself up for years to come and will be the next great festival. Dance music fans' tastes are rapidly evolving and changing every year. With artists interacting on social media directly, fans begin to rapidly expand their horizons. It is the job of festivals to cater to fans' rapidly expanding favorites, and build lineups around the hottest acts while keeping it tasteful to the festival's personality.
Now that Mysteryland has broken ground with a US expansion, it can put its years of experience to the test to rise to the top tier of music festivals across the country. Their strategic plan of expanding to South America and the US three years after demonstrates Mysteryland's careful fostering of each festival's spinoff. With a close eye on the US dance market, Mysteryland USA will continue to curate their lineup to the masses while keeping it surprising and cultivated to the culture and arts mantra that the festival was built on.
Limited tickets to Mysteryland USA's Memorial Day Weekend affair are on sale here, so grab a ticket if you don't have one already and enjoy volume 2 of the Music of Mystery mix series from Sweater Beats.