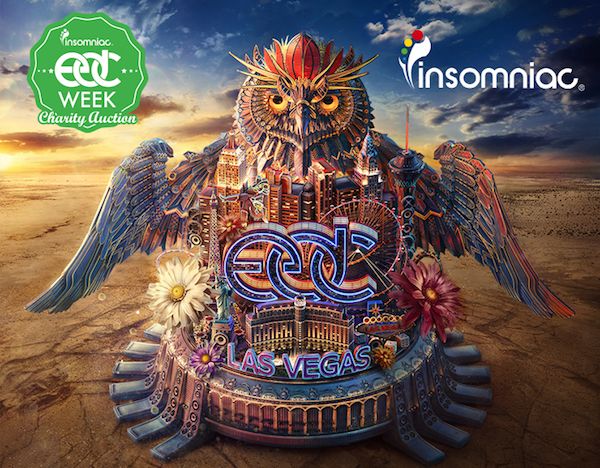 Brace yourselves. A storm of PLUR is heading your way in the form of a charity auction, offering unparalleled opportunities to EDM fans to fulfill lifelong dreams. Partnering with eBay, Insomniac is launching their first ever EDC Week charity auction benefiting a local charity called Culture Shock Las Vegas. Using music and dance, Culture Shock Las Vegas uses music and dance to empower young people to stay away from drugs and violence.
Envisioned by Insomniac head honcho Pasquale Rotella, the auction's goal is to provide once-in-a-lifetime opportunities to faithful dance fans while simultaneously helping the local community in Las Vegas.
Close to Insomniac's side, EDC Las Vegas partners like the TAO Group, Maverick Helicopters and Hakkasan Group have put their heads together to develop more than 50 unique experiences for the 10-day online auction.
At a starting bid of only $0.99(!!), bidders have until Friday, May 15, at 9 a.m. PT to head over to Ebay.com/Insomniac for a chance to make dreams reality. Check out some of our favorite opportunities below (click here for the full list):
Helicopter Into EDC with Pasquale and Holly: The winner will get to arrive at EDC Las Vegas in style with Insomniac's founder and his lovely wife. Skip the drive, and hop on a Maverick helicopter with Pasquale and Holly!
Meet the VP of A&R for Insomniac & Interscope Records: Looking to make your mark on the dance music industry? A power meeting with Interscope's Neil Jacobson, Vice President of A&R for Insomniac Records, is just the break you need. Learn trade secrets from industry tastemakers and game-changers to become the next up-and-coming star.
Drop the First Track at the Stage of Your Choice: Every party has to start somewhere, and one fan will have the chance to kick off EDC Las Vegas by playing the opening track at the stage of their choice.
See the full #EDCLV2015 lineup HERE.