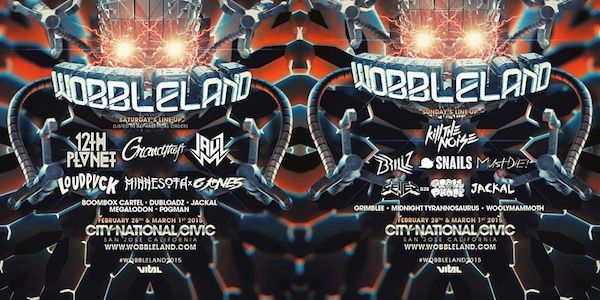 Voted the best dubstep event in the US in 2012 and deemed one of the biggest bass music shows in Northern California, Wobbleland is fast approaching its fifth bass-filled run. Returning to San Jose's Civic Center this Saturday, this installment of Wobbleland promises for an epic weekend filled with some of bass music's biggest and most promising acts.
Along with showcasing famous dubstep vets, like 12th Planet and Kill The Noise, this year's lineup boasts a prominently underground, low end sound. With a weekend dominated by fresh, forward thinking talent like G Jones, Snails, Jauz, Getter, Trollphace and Dubloadz, Wobbleland is one of the few annual bass-emphasized festivals in America that both highlights up-and-coming talent as well as recognizing OG dubstep acts. With the help of 100,000+ watts of PK Sound, Wobbleland attendees should expect to be bombarded with a wide variety of bass music, as sets will most likely visit the roots of dubstep as well as showcase the evolution of the genre.
Vital Event's fifth installment of Wobbleland has extended into two days for the first time ever (a.k.a. there's way too much bass to fit all in one day). Long story short, this weekend is expected to be a head banging, bass music lover's dream come true. Grab tickets for Wobbleland here and check out their 2014 after movie below!