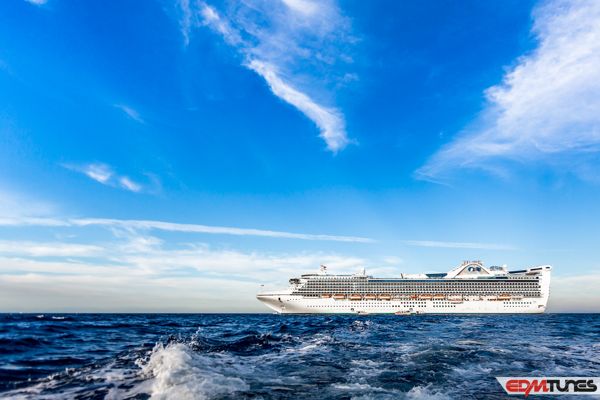 Any live-performing DJ worth his weight in headphones will posit the necessity of crafting a set that a specific audience will respond energetically to. This aspect coupled with the explosion of 'EDM' in the States (with all the newer fans included) is a major reason why a bunch of festival and main stage sets are often slightly different permutations of prior-heard more mainstream track selection. But, the fan base aboard The Groove Cruise is a different story…
Among a music festival celebration consisting of so many seasoned dance music veteran fans and connoisseurs like Groove Cruise Captains, the opportunity for capitalizing on these seasoned ears exists in an increased fashion. "Capitalize in what sense?" you may be asking. Well, many veteran dance music aficionados have been craving the opportunity to hear classic full-length original mixes of tracks from yesteryear in today's thriving live dance music environment. What better chance to cater to the polished electronic music ear than injecting the Original Mix of 'Ecstacy' in your live set aboard the "world's largest floating dance music festival," ATB?!
Submitted for your approval (and hopefully for the DJ's consideration as well) are ten throwback tracks that connoisseur captains would freak out over witnessing live aboard The Groove Cruise. Some of these tracks have been dropped on past Groove Cruises (a la Darude's 'Sandstorm' and Markus Schulz's inclusion of 'Perception') and some have been teased among recent live sets (ATB's 'Ecstacy') although have not been played completely through in their original form. Here are some tracks we'd die to hear in their unadulterated (and not "updated") forms. What better chance as fans to witness this is there outside of the epic Groove Cruise?

Sharam – 'The One' (featuring Daniel Bedingfield)

:
Markus Schulz feat. Justine Suissa – 'Perception'
Ferry Corsten feat. Simon Le Bon – 'Fire'
Michael Woods

vs.

Judge Jules – 'So Special'

:
ATB – 'Fields of Love' (feat. York) & 'Ecstasy' (ORIGINAL Mix):
Aly & Fila – 'Perfect Love' (with Roger Shah feat. Adriana Thorpe)

:
Darude – 'Sandstorm'

:
George Acosta – 'Nite Time' (feat. Kate Walsh)

:
Thomas Gold – 'Something's Gotta Give' (feat. Amanda Wilson)

:
Arty – 'Must Be The Love' (with Nadia Ali & BT) (ORIGINAL Mix)

:
Hope to see you all when we hit 88 miles per hour on the open seas! Don't worry, we will be packing an extra Flux Capacitor just in case.