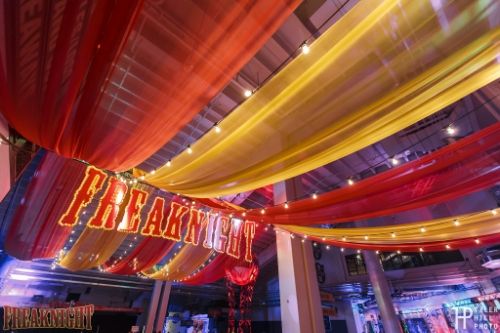 With large scale festivals a rarity in the Pacific Northwest, USC Event's productions quickly turn into pilgrimages for anyone remotely close to the tucked in metropolis of Seattle, Washington. Last Friday, October 31st, saw the kick-off of the 18th annual FreakNight festival as a way to celebrate culture, music, friends, and freaks alike. Held at downtown Seattle's WaMu Theater, FreakNight boasted three massive stages, a star-studded lineup, costumed actors, and 22k attendees.
Due to unfortunate circumstances happening on Friday, the second night of this two-day festival was canceled. EDMTunes had the opportunity to check out Friday's festivities. USC Event's released a press statement ensuring any attendee disappointed about Saturday's last-minute cancelation that their money will be reimbursed.
The Music: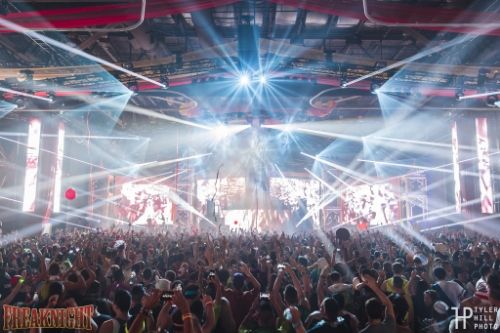 The three stages, Twisted Big Top, Midway of Mayhem, and Bass Asylum, each presented attendees with a unique vibe and accompanying style of music. Bass music, Tech-house, and MainStage music were all there for everyone's listening pleasure, all with dream-team names throwing down massive sets.
The MainStage was Twisted Big Top. Here is where USC Events brought out their production A-game in full form, with lights and fireworks. This is where the likes of anyone from Dyro to Dillon Francis supported the headlining act of Kaskade. Nervo and Gareth Emery's control of the crowd throughout the entireties of their sets were immaculate, as both acts had the crowd going nuts from start to finish. The fact that these two sets are were a hard act to follow was evident when Dillon Francis took the stage to lay down his signature set. A half-hour into the set, the crowd's intensity had almost completely diminished as everyone was refilling waters and taking much-needed breathers.
Midway of Mayhem was the house and techno area of the festival. Tucked far out of the way, and out of the direct circulation of the MainStage traffic, its smaller audiences left more room to get down to these groove-centered acts. The dark minimal lighting and the dense smoke machines were the perfect compliment to the likes of Carl Cox, John Digweed, and Art Department. This stage was the not-so-secret oasis of the festival, as many people headed down to the Midway of Mayhem to listen to the laid-back tracks of these acts in-between the EDM and Bass heavy music of the two other stages.
The third stage was the Bass Asylum, and it lived up to its name without a hitch. Acts such as Snails, Crizzly, and the final b2b sets of Funtcase and Cookie Monsta threw down grizzly low-end beats that attendees couldn't find anywhere else in the venue. Because the stage was placed just off of the central rides and attractions, the Bass Asylum saw all sorts of foot traffic coming in and out of the stage as people would casually wander in to check out the madness within.
Art and Attractions: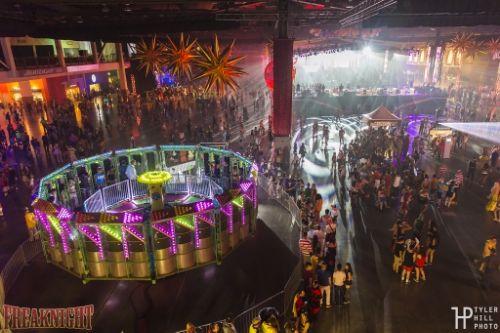 Placed in a central location between all three stages were a handful of attractions, games, and other unique characteristics of the festival. An assortment of carnival rides and side-show games that made the festival dynamic and becoming. Even the trek down to the Midway of Mayhem stage saw an entire corridor filled with black-light art that lit up the corridor and walkways in neon expression. These types of layouts and and cultural flairs make experiences like FreakNight so much more than a normal festival or rave, and act as incredible cherries on top of an immaculate cake.
2nd Night Cancelations and USC Event's Response:
With the doors set to open at 4pm on Saturday, ravers were set in complete shock and utter disappointment as security guards would not admit entrance when attendees arrives at the door. Without any prior notice of the festivals cancelation, ravers were left stranded in downtown Seattle without any plans.
USC Events, along with Century Link Field, attributed the cancelation to a drug-related death that occurred Friday night. USC stated that they did not hear about the death until 4pm Saturday, just as doors were set to open. The drug related death goes on top of the over 12 reported incidents of people hospitalized for over-intoxication.
Seattle's downtown nightlife were quick to respond to the unfortunate events of the evening, and quickly reached out to the DJs who now had nowhere to play after arriving in Seattle. Zeds Dead, along with numerous other FreakNight acts, could be seen throughout a variety of clubs across Seattle that night.
As of Monday, USC Events  Century Link offered refunds for second-night tickets. While this may not recoup the losses many out-of-towners who paid for hotels, planes, costumes, and everything else that comes along with missing the second night of the festival, USC Events is doing all they can for their loyal fans and attendees. The horrific news of a fellow raver's passing is something that should touch us all, as loosing any member of our community is a massive loss to the scene as a whole. USC Events released this official statement: