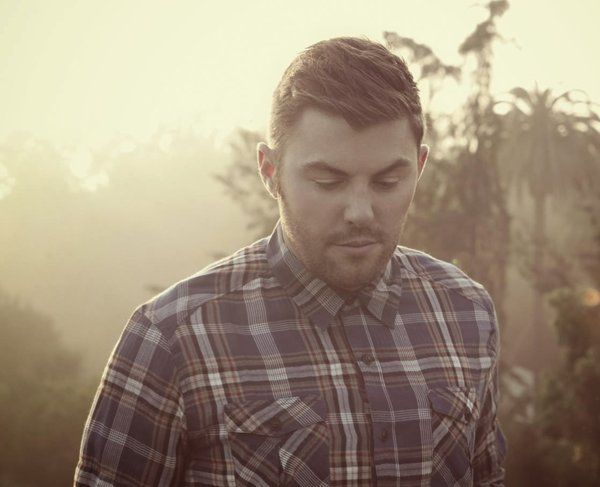 In the age of social media and websites such as Soundcloud, it has become easier than ever for musicians to have their music heard. On the flipside, it is harder for artists to let their unique qualities shine beyond the quagmire of monotony filled with lackluster productions. Enter Josh Legg, producer, DJ, instrumentalist and songwriter, otherwise known as Goldroom. Legg's lush creativity as Goldroom steps beyond the mundane and opens up the aural passages to feelings of warm breezes, daydreams and sunshine with emotive and textured electronic sounds. Although a long time producer, it was two years ago when Goldroom captured the hearts and ears of more than a few listeners with the dreamy single, 'Fifteen', featuring nostalgic vocals from Australian singer, Chela. 'Fifteen' put Goldroom in the spotlight, garnering over 300,000 plays on Soundcloud, a top spot on Hype Machine and plays across BBC radio 1. Since then the Los Angeles based producer has continued to hypnotize many with his ethereally crafted tracks and mixes.
In this past year, Goldroom's touring schedule has increased in volume, making appearances at a multitude of venues and festivals across the globe. I had the opportunity of catching up with the talented producer at Sound nightclub in Los Angeles before his DJ set. Goldroom looking like one of the club patrons with his reminiscently tropical short sleeved button down shirt and his deliberately coifed hair, I had to do a double take as he introduced himself to me on the way to the green room. Once in the control office doubling as our green room, we pulled up a pair of swivel chairs and got started. Attempting to ignore the humming of fans and the reverberation of bass from the club, we eased into a conversation about genres and what Goldroom's place is within the electronic music world.
The genre thing is something I try to avoid as much as possible, because it's an easy trap to get into. For me it's always about song writing and trying to write the best songs possible.
Those who work in genres would probably consider Goldroom's style to be in the vain of the future/tropical house genre. I wanted to know what his opinion was on the recent boom in popularity of that particular sound. Goldroom responded with a clear and concise answer that coincided with his previous statement about his craft.
I think it's really exciting that there's  a lot of producers starting to make more melody driven dance music, but it certainly wasn't something I was trying to capitalize on, that's just the sound that comes out of me.
Swiveling back and forth in his chair, Josh's vibrant nature and passion shone through as the conversation moved to his start as an artist.
I've been writing songs my whole life and my cousin gave me a four track cassette recorder when I was twelve.I was writing songs on guitar and just wanted to record them and make them sound as good as possible, so I started using the four track trying to figure out how to do that. I didn't know I was producing but that's what was happening.
He smiled remembering the happy accident. As an after thought to the anecdote he added that he didn't start recording with computers until 2006/2007. I pressed him for information on his start in experimenting with electronic sounds, wondering if he stumbled into it by accident or whether he had always been into electronic music. He gladly surrendered the details.
It was a little of  both (interested/stumble). The DAW (digital audio workstation)  I use, Logic and having keyboard sounds available to me was one thing, but I also fell in love with The Postal Service, I fell in love with Air and in a very cliche way I saw Daft Punk's pyramid tour in 2007 and it changed my life like it changed a lot of people's lives. It made me feel like electronic music could be communicative to the world and that got me really excited. That was really the turning point.
Since we were holding this interview in Los Angeles and Goldroom has spent the last 10 years of his life living in LA,  I was interested to know if the city of angels had any influence on his music. Running his hand through his hair, Legg response held tinges of awe and romance.
Gold Room itself is a bar in LA and I think of Los Angeles as a big Gold Room, it's a huge part of everything I do. I didn't grow up here, so to me LA still has that element of romance. For me, whether I wanted it to or not it comes across in the music. I love everything about this city. There is something special about driving on the 10 (hwy) and getting to the PCH and bust out of that bridge and there is just palm trees and beach. It's pretty magical and I never lost that excitement about the city. It's totally been a huge inspiration for this project and the last 5 or 6 years of my songwriting.
His answer made a rush of nostalgia come over me as I flashed through images and memories that made feel proud and appreciative of Los Angeles' beauty. I saw how this city could be inspiring for artists.  I shared my thoughts with him and Josh nodded in agreement admitting that he tends to instagram a lot of palm trees, sunsets and other cliche LA scenes. We both chuckled with amusement and continued our discussion about Los Angeles, where he revealed that his sold out show at the Troubadour in the city was one of his proudest moments that he hoped to share with his grand kids one day. That particular show was a live Goldroom performance and sparked musings on the difference between DJing and playing a live show. Josh explained how connecting with the audience differs and his feelings in each setting.
The DJ thing is just really freeing. It's fun. The live thing is really emotional and personal. I suppose that's talking about it in broad terms, but that's how I feel about it. I love DJing as much as I love playing live, they are just very different. I can still get that connection with people (DJing), but there is something special about playing live, when I'm singing or playing a song that I have written for people and they are there and they know the song. There is a back and forth there that isn't as possible when you are DJing.
On this particular night, Goldroom would be playing a DJ set, I wanted to know what sort of sounds he looks for when curating a collection of music to play in his sets or mixes. As the bass continued to thump against the walls of the small room, Josh smiled and began to explain what catches his attention.
Something fresh, something that I haven't heard before, because, especially with Soundcloud–I think 5 or ten years ago it took a really long time for copy cats to show up and now if somebody makes a track that's cool, within a week you'll start seeing and hearing songs that sound like that again. So hearing anything that just sounds refreshing, that's the most exciting thing to me, hearing something refreshing, new and doesn't sound like anything else.
I responded to him complimenting his achievement at providing us with refreshing and unique sounds. Josh sat up in his chair chuckled and in all humbleness retorted:
Some people have a ton of confidence and think they can do whatever and hear a Martin Garrix track and are like "oh I can do that." I don't feel like I can do that! I feel like the only thing I can do is me and be me.
I laughed with him and then he continued with a little Goldroom advice for young musicians and producers.
If you want to make music, the advice is practice. I think the biggest problem is kids think that they can write ten songs and one of them is going to be big and the truth is that it takes hundreds or thousands of tries before good things happen. For every fifty songs, every thirty songs I write, one of them might be alright and that's after working so much. Most of the stuff I make is horrible….I mean at least I think it is. The big thing is just understand that you can be the most talented person in the world, but this stuff takes time.
Well said. New producers take note, work hard and make the music that means something to you. That concluded our interview, as it was almost time for Goldroom to step up to the decks. It was a real pleasure speaking with such a humble artist who absolutely loves his craft. Expect a steady stream of refreshing and inspiring sounds to keep coming from Goldroom.
If you enjoy the sound of Goldroom, and are beginning to get into everything that melodic/ future house has to offer, definitely be sure to check out our partners, InDeep. InDeep is an events company and also general hub for all things underground/future house. There you will not only find the latest from artists like Goldroom in their bi-monthly playlists, but also exclusive mixes from artists in a similar vein. Head on over to their Soundcloud for as much house goodness as you'll ever need.