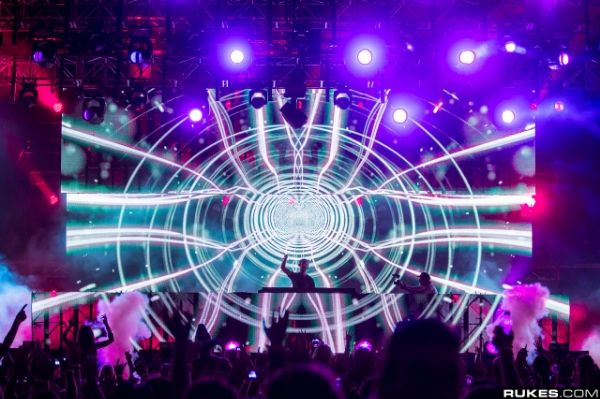 The numbers have been tallied and the results are in. Calvin Harris, who was crowned the "Electronic Cash King" of 2013 with an impressive $46 million in his pocket, is the reigning champion of 2014 with a whopping $66 million. With over 50 festival and club performances under his belt, Harris casually passed by superstar Jay Z with his earnings. With the immense surge in dance music popularity over the past few years, particularly in the United States, several skeptics have predicted that the "EDM bubble" would burst at any moment. However, these staggering annual earnings clearly prove otherwise. The incredibly profitable industry is continuing to grow in vast strides and doesn't seem to be stopping anytime soon.
When speaking about dance music's popularity, Calvin commented to Forbes saying, "The rise of dance music has been astronomical in the last three years. I happened to be in the right place at the right time." Mr. Harris is at the center of it all, or rather, the top of it all.

When calculating the results of this list, Forbes accounted for earnings from live shows, merchandise sales, endorsements, recorded music sales and external business ventures. These numbers represent earnings specifically from June 1, 2013 to June 1, 2014. Sources include Songkick, Pollstar, RIAA, managers, lawyers and some key people in the booming EDM industry. Check below for the list of the world's highest paid DJs of 2014.
1. Calvin Harris – $66 million
2. David Guetta – $30 million
3/4. Tiësto & Avicii – $28 million
5. Steve Aoki – $23 million
6. Afrojack – $22 million
7. Zedd – $21 million
8. Kaskade – $17 million
9. Skrillex – $16.5 million
10. Deadmau5 – $16 million
Notable mentions are Hardwell at #11 with $13 million and Steve Angello who tied with Armin van Buuren at #12 with $12 million. Sebastian Ingrosso, Axwell, and Diplo each made a comfortable $10 million each approximately.

H/T: Forbes