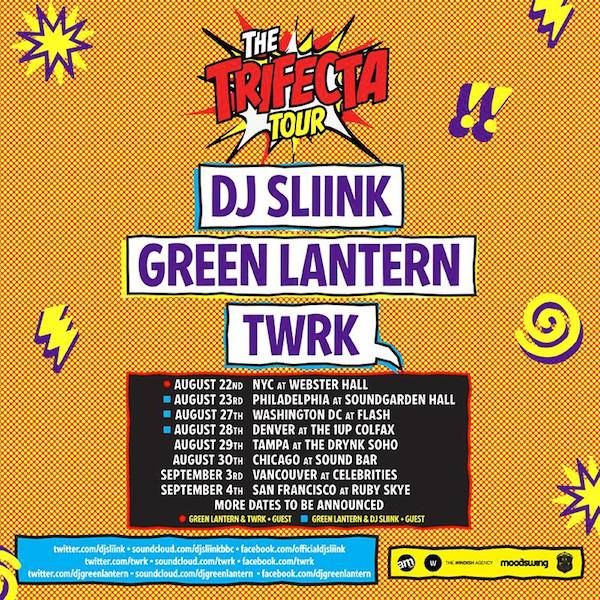 Trifecta Tour Tickets
Jersey club producer, DJ Sliink, 100 bpm heavyweight, TWRK, and hip-hop beats master, Green Lantern, recently combined forces to release their free track, 'Trifecta' in anticipation for the kick off of their North American Trifecta Tour, starting this weekend in New York City. The track acts as the perfect showcase for each producer's individual strengths, successfully blending trap, twerk and jersey-club.
'Trifecta' comes in with a phat bass that slaps right from the beginning, while hype vocal samples are woven throughout, and manipulated in different ways to keep the track sounding dynamic. The hard hitting horns accompanied by the quintessential hip-hop high hats, demonstrate to listeners the type of party vibes they should expect while attending the Trifecta Tour. The vocal manipulations in the second drop are dripping with jersey club influences while the third drop brings all the attitude and filth. Each drop adds a fresh dimension to the track, and shows off the unique skill sets of each artist as they came together for the creation of their tour anthem.
Based on the quality and variety of sounds and styles incased within 'Trifecta', one can only expect that the Trifecta Tour will be a twerked out, booty shaking concert experience. Don't worry if your city doesn't appear on the list of tour dates, more stops are still being added!