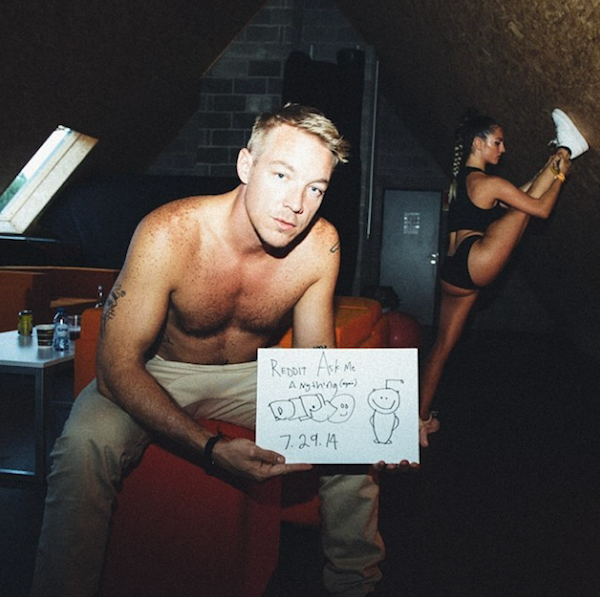 Diplo took to Reddit for his second Reddit AMA to promote his new compilation album "Random White Dude Be Everywhere," and the results were everything we could hope for from Blondre 3000. The album, "Random White Dude Be Everywhere," is a compilation album consisting of 5 classic Diplo tracks, 5 remixes and 2 brand new tracks; "Techno" and "6th Gear." "Techno," which features Waka Flocka Flame and Yellow Claw, brings the elements of hardstyle to a trap track, then turns it up another notch with a bass line that rattles and shakes a rough beat. "6th Gear," on the other hand, features Alvaro and features that classic trap sound with an echoing 808 drum beat. Although the tune does not bring anything new to the table, it is one that will probably thrive in a festival scene. You can stream the album HERE and buy it on iTunes HERE. As for the AMA, Diplo answered questions ranging from interest in a coffee run with Deadmau5 to why Jillionaire and Switch are no longer a part of Major Lazer. Although the spelling from the former teacher is nothing short of atrocious, his satire and overall classiness made this one of the better music AMAs in recent memory:
1. Diplo on good music.

2. Jillionaire, Switch and Major Lazer.

3. Jack U album and how it came to be.

4. Life on the road and life with his son.

5. Favorite Producers.

6. Friends on Mad Decent.

7. Getting to know all that is Diplo.

8. Kanye West Collaboration?
9. Deadmau5 Coffee Run?
9. Diplo quits teaching.

10. Diplo and the DJ Mag.

11. Diplo and Riff Raff.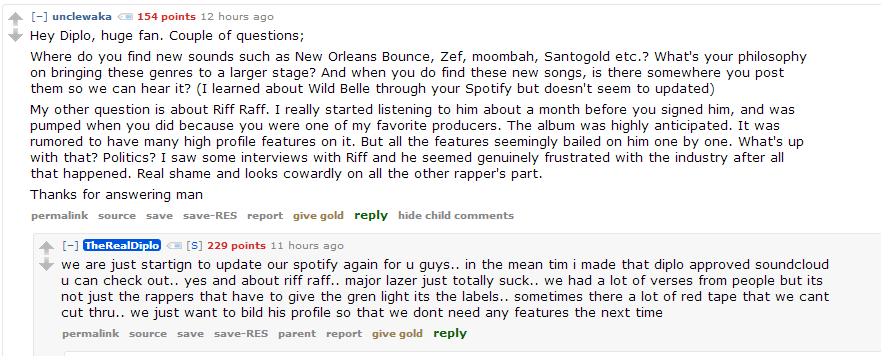 12. The troll is strong with these ones.