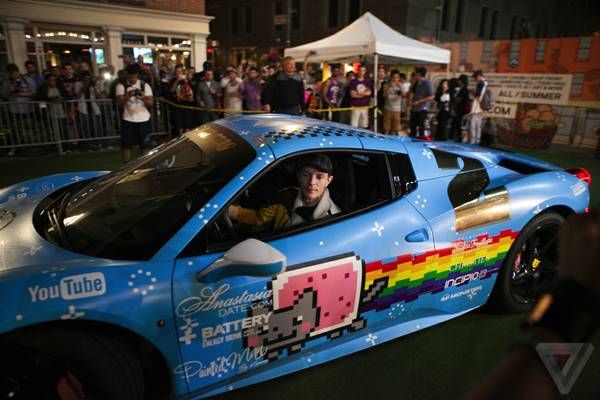 After serving admirably in the Gumball 3000, Deadmau5 has listed his purrari on Craigslist for a measly $380,000. The car, which is beautifully wrapped in nyancat, has accumulated a total of 6,500 miles on it, with a majority of it coming in the aforementioned Gumball 3000 and in the famous Tim Horton's Coffee Runs. The Canadian DJ has said that he will listen to offers, and that anything over $380k will go to the Toronto Humane Society. The news came during his iTunes Twitter Q&A, which was used to build some hype for his already highly anticipated album. On top of winning the car and getting to meet Joel, the winner will also get an "iPod full of nyancat songs" and the chance to film a "farewell purrari" coffee run. If you're on the fence about what to spend the $500,000 you inherited from your great uncle, just listen to the wise words of Joel himself:
Selling the majestic Purrari… asking 380k OBO … anything over 380 goes to charity, so get those bids in! (Toronto Humane Society) …. comes with Ipod full of nyancat songs. AND we will personally invite the buyer to Toronto to come and film a "farewell purrari" coffee run with me. 😀 (so basicly it comes with a free tim hortons coffee that youll have to pay for anyway) 

we will ship this thing anywhere in north america. um… also… car stuff… it has like 6500 miles on it… purrs like a nyancat. and can be fully factory restored (wrap removed) if you're a pussy.
For sale: http://t.co/5meRFMox6S hahahah!!! comes with non-free coffee!!!

— deadmau5 (@deadmau5) June 16, 2014
like i said, whoever buys the car, can come and film a coffee run with me 🙂 should be funny to see how this turns out. — deadmau5 (@deadmau5) June 16, 2014

So what lies in store for our favorite Mau5 post-purrari?
but srsly folks, after i get home, kim putting the purrari on the market. gunna sell it for a mclaren 650s. keep your eyes open if u wannit!

— deadmau5 (@deadmau5) June 13, 2014