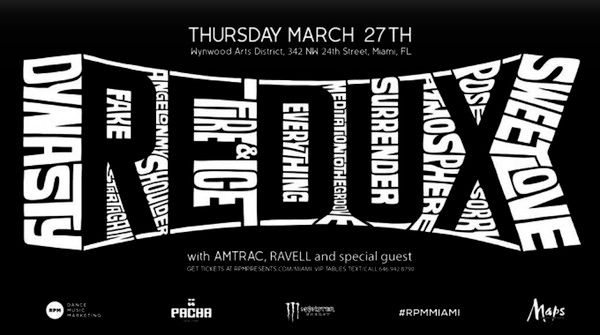 Spring of 2013 brought the 10 year anniversary of Kaskade's debut album It's You, It's Me. To commemorate the milestone, Kaskade embarked on a tour entitled Redux. This tour graced small venues across the United States, bringing the deeper, sexy and sultry sounds of Kaskade. Due to the small capacity (200-300 people) venues and the high volume of Freaks attempting to attend, each show sold out in matter of seconds and left many fans heartbroken and aching for another chance. That chance has come again… at least for those who will be in Miami.
Kaskade surprised fans by announcing a special Redux show to be held on Thursday March 27th during Miami Music Week. Kaskade will receive support from his Atmosphere Tour openers, Amtrac and Ravell. For those of you not familiar with the Redux concept, it is a space where people come together to sweat it out to the deeper sounds of Kaskade, a space reminiscent of the house music days of Detroit, Chicago and San Francisco. Still not convinced? Here's how some would describe Redux:

@kaskade it's 4 AM, your eyes are closed and you're legs are jello yet somehow you're still bobbin ur head #redux

— Mix (@iammikedup) March 12, 2014
@kaskade The only time you can still breathe while drowning. #redux — Joey King (@jwuwu3) March 12, 2014
@kaskade intimate

— Juan Menjivar (@juanmenjivar20) March 12, 2014
Kaskade's Redux shows are truly something special and worth checking out. You can read Kaskade's breakdown of what Redux means in his tumblr post. If you need more convincing to attend this special event or simply want to reminisce about past Redux shows, check out part of Kaskade's Redux show in San Diego below and get down to the groove.