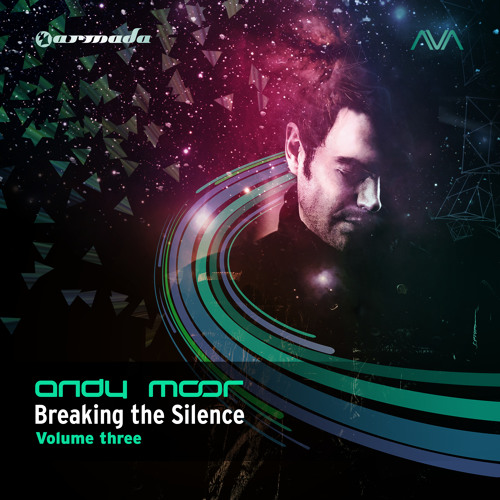 Andy Moor – Breaking The Silence: Volume 3
Label: Armada Music | Release Date: March 14, 2013
Beatport | iTunes
British electronic music producer Andrew Beardmore comprises some of my earliest personal memories of dance music, and throughout the years of constant aural evolution, Andy Moor has managed to remain true to his progressive and trance roots while maintaining adaptability and fluidity with the changing times. Strength of artistic vision such as Andy's deserves direct kudos, and his latest release of Volume 3 of his Breaking The Silence compilation series spotlights the recent shining stars of dance music from the experience of Andy Moor's ears and point of view. Compilations are neat tools like that, giving insight into a producers' personal aural spectrum of choice.
As a prior Grammy-award nominee with countless remixes (Armin van Buuren, Tiesto, Paul Oakenfold, even Britney Spears) and original productions ("World To Turn," "Faces," "In Your Arms," etc.) under his belt on top of manning the helm as label head at Ava Recordings and hosting over 100 episodes of his PODCast Moor Music, Andy shows he still has a bit of time left to put together a compilation reflecting his own vision of the scene today.
The dual-CD mix encompasses a variety of some of the best tracks in the melodic trance/progressive arena which emulsifies into a seamless mixture of high-flying melodies and harder more driving elements, showing the versatility that trance productions allow for in current times. The first CD takes you on a steady climb into the atmosphere; with airy vibes, sweeping harmonic sections and littered with a sense of mystery via the likes of LTN's edit of "Love Again" by Andy Moor and Betsie Larkin, Juventa's remix of Kerry Leva's "Proud" and tracks by Anry, DNS Project, Norin & Rad and Yuri Kane among many more.
The 2nd CD brings us back down to earth a bit with a harder more driving edge, because life is all about that balance. This portion features one of Andy's new productions "Fade To Light" as well as Protoculture's remix of Solarstone's "Solarcoaster" and other cuts from producers like Tenishia, Eximinds, Alex M.O.R.P.H., Somna and Boom Jinx.
Feeling like your dance music library is getting stale? Let Andy help freshen up your collection with his sonic diary. Scope the tracklist and additional Mini-Mix below and let us know what your favorite cut of the mix is!
Tracklist:
Disc 1:
Judah feat. Kailin – This Moment (Radio Edit) (03:05)
Shawn Mitiska & Sedi – Double Tap (Original Mix) (05:40)
Andy Moor & Betsie Larkin – Love Again (LTN Radio Edit) (03:50)
Anry – Serene Sky (Radio Edit) (04:03)
DNS Project – Latitude (Radio Edit) (03:33)
Space RockerZ – Weapons Hot (Radio Edit) (03:18)
Kerry Leva – Proud (Juventa Remix) (06:35)
Norin & Rad – Thundercat (Original Mix Edit) (03:30)
The Madison – Getting Closer (Radio Edit) (03:34)
Masoud feat. Aneym – No More (Radio Edit) (04:07)
Yuri Kane feat. Melissa Loretta – Saved You (Radio Edit) (04:40)
PROFF & Boom Jinx – Blue Angel (Fon.Leman Remix) (06:49)
Speed Limits – Remember The Good Times (Radio Edit) (03:16)
LTN feat. Christina Novelli – Feeling Like Yeah (Radio Edit) (05:02)
Andy Moor – Breaking The Silence, Vol. 3 (Full Continuous DJ Mix, Pt. 1) (69:15)
Disc 2:
Boom Jinx & Judah – Please Believe Me (Radio Edit) (02:43)
Andy Moor – Fade To Light (Radio Edit) (03:36)
Fatum – Accelerate (Radio Edit) (03:38)
Charlotte Courage – Perverse (Original Mix) (06:17)
Solarstone – Solarcoaster (Protoculture Radio Edit) (03:30)
Masoud feat. Alexandra Badoi – Where Is The Sunrise (Radio Edit) (04:35)
Tenishia & Andy Moor – Words Untold (Tenishia Radio Edit) (03:05)
Andy Moor – I Be (Radio Edit) (04:32)
Sunny Lax – Marvel (Original Mix) (05:59)
Alex M.O.R.P.H. & Zara Taylor – Human (Radio Edit) (03:57)
The Madison – Sakhoe (Radio Edit) (04:21)
Eximinds feat. Chloe – Rescue Me (Radio Edit) (03:46)
Mike Saint-Jules & Stine Grove – Wasteland (Radio Edit) (04:20)
Somna feat. Noire Lee – Cosmic Synergy (Radio Edit) (04:07)
Tenishia – Benedictus (Radio Edit) (03:17)
Sean Murphy – Monster (Radio Edit) (04:08)
Andy Moor – Breaking The Silence, Vol. 3 (Full Continuous DJ Mix, Pt. 2) (71:38)