These days, Paper Diamond hardly needs an introduction, with fans of his coming from and appreciating all subgenres of electronic music. But in case you haven't heard this producer/DJ's unique originals (they encompass everything from downtempo to hip-hop to straight-up bangers) or if you haven't had the chance to catch one of his live sets (improvised each night and always full of energy), you definitely ought to start now.
Originally from Colorado, Paper Diamond, also known as Alex Botwin, has been going at it nonstop lately, with dynamic productions like 2013's Paragon EP and a successful festival and touring season. We got the chance to catch up with him before his headlining show at Webster Hall in New York City this past Friday, to hear what's been going on and what's next.
[EDMTunes] How's tour going? Any crazy stories so far?
[Paper Diamond] I got in a Twitter fight last night [after the Philadelphia show] with somebody – first time ever!
With a fan?
With a fan. I never really say anything online to any fans when they talk s***. But somebody said that I played a pre-recorded set, which I never have done in my life. I finally had it, and decided to tell them I didn't do it, and when he kept arguing with me, I was just like "Get out of here with that s***," and then all of his friends got super pissed. But it was fun, we were all laughing about it on the bus for like two hours. And then I freestyle rapped for about 15 minutes straight and went to bed.

But I love Philly. Every night's been different and unique and awesome. The tour's been super cool – Atlanta was really dope and I'm glad to be on the road
This tour is definitely more trap-oriented with the guests that are playing along with you [LOUDPVCK, Gent & Jawns, Branchez, Manic Focus]. Do you think with more trap artists that you tend to play your set that way? Last time you were in NYC was for Big Gigantic, which is more jazzy, instrumental music.
No, I'm still doing my same thing. I'm playing for two hours every night, and actually I'm slowing things down. I'm still doing what I always want to do as a headliner. I just take people up and down, maybe play some of my songs that aren't as heavy, and I think that's what makes me stand apart. Everyone else is playing trap, but I'm playing…what I play.
Going off of that, does it change when you're recording? I think what you've done on Pretty Lights Music is different that what you've done on Mad Decent or with Diplo. Do you let the label or artists you're working closely with influence the sounds you create?
No, it's just whatever I'm into. Honestly, with Paragon, there's maybe three trappy songs on there. The rest of it is songs like "In My Right Mind", or some straight hip-hop songs on there, where there's no samples at all. With Paragon, I just didn't sample anything. So it's just coming from me. Sure, there's songs like "All Goose", which is kind of trappy, but it's so much different from everything else. And the intro, the outro, the interlude.
My favorite is "Like A Summer Breeze" – it's less than two minutes, but it's the perfect little interlude for the EP.
Thanks. Yeah, I just wanted to do everything. So I would say it's not really about that [influence]. When I was on Pretty Lights Music, that's when I was super into that style, and I still like it. I like sample-based stuff. But they kind of want to have their stuff in a similar format, and I just don't always fit that. I'm all over the place: I wanna make dance tunes, I wanna make hip-hop songs, I wanna make crazy beats. Like "Black Rose", the track I just put out.

I even have all these songs that I've been making this whole time. When I was producing under the name 'Alex B,' I was making kind of avant-garde hip-hop stuff, and I've still been making it throughout all this time as Paper Diamond, but I had so much of that already out, that instead I wanted to put out a lot of dance music to be more well-rounded. Now everytime I put something different out, people are like "Oh, is this your new direction? Is this where you're going with your style?" And it's just not the case. I love making everything.

I literally have hundreds of hip-hop songs, and rap too. I have all these different songs I'm working on with these big rappers right now, for their projects. I have instrumental songs, I have cinematic-sounding songs, I have indie songs. When people are talking about direction – it's not any one way. It's just whatever I feel like putting out at the time. The more I release, the more people will just have to deal with this way that I make music, you know what I mean?
Totally. As writers, we're always looking for the right words to describe the genre or style of music we're hearing. But I feel like it's becoming increasingly irrelevant to categorize dance music into genres all the time.
Well, it is! Music is so freely made now. Like, I have the ability to make music right here in my hotel room if I wanted to, or on the bus, or anywhere. Everybody has their own voice, and they can record on their own, it's so much easier now.
The latest EP has a ton of collaborations, with featured singers or tracks with credits that say "co-produced by" so-and-so. How did those come about? [These collabs include Cherub, Buku, Jay Fresh, and Protohype to name a few.]
During that time period where Paragon was made, I was kind of managing Cherub, so I was doing a lot of things at once. Making music, but also running a label, running an art gallery, running a design firm. Last year, we recently closed the gallery, and I've solely been focusing on music. So I have a lot more of just my stuff. But at the time I had a lot more access to singers, MCs, and rappers, so you'll see a lot of features on those songs. I like doing stuff by myself, but I like collab-ing as well.
On your latest mix for Diplo & Friends, Diplo introduces you by saying "every festival in the world is not complete without Paper Diamond." You just recently started touring in Europe. What festivals have you not played yet that you want to play in the future?
I'd like to play Glastonbury, or that one in Croatia – Outlook – for sure. Fuji Rock would be dope. I played at the base of Mt. Fuji one time with the band I was in. Stereosonic would be amazing. There's a bunch! I just want to travel the world.
Maybe less so now, but your earlier stuff, that Colorado sound, is very uniquely American. How do you think international listeners would receive it?
I don't really know yet, 'cuz I haven't really played that style that much over there. When I was in Europe, I was just doing what I'm doing now, which is a big mix of everything. I'll play deep house songs in the middle of a set. I'm gonna drop a drum 'n bass song from out of nowhere tonight. I like to freak people out, take people out of their normal routine.

But I'm still kind of new to playing in Europe. I've played in Japan a bunch, not as Paper Diamond, but in previous groups. So it's a new experience for me. But what's cool about my set is that it's all improvised every night. So I can see how people are vibing then go in a different direction if necessary. No matter what, I know people are gonna have a good time.
Do you think people vibe differently in different parts of the States? Tonight in New York, what would that vibe be?
Absolutely they do. Tonight, I'm playing almost two hours, so I'm going to go all over the place. Start off heavy, let people cool down for a sec, play some nice melodic stuff, then get into it again. But I'm not really sure. I do it on the fly.
So then you improvise every night?
Yeah. Sometimes I know, for example, before the show I'll start with a certain song, then I'll just work my way forward from there.
Would you say that the sets you create for a club tour would be any different from a festival set?
No. I actually have one set that has every song I've made in, and I'll literally go through and color code stuff. Like, these tracks will work for this night, these won't, and so on. They're all different BPMs, so the color coding helps me see visually where I want to go with a set, but that's it. All my mixtapes start out live, and then I'll go back and add little sound effects and stuff. I've got it down pat.
Obviously! So what about the future – what artists do you want to work with?
Oh, so many people. I love Yukimi from Little Dragon. That's my favorite band, probably. There's a lot of rappers and singers I want to work with. I'm pretty much open for collaboration. I've actually been half-living in Los Angeles, so I haven't been in Colorado as much. But I've been going to all these different record labels and studios, and working with different artists, some European artists. But I'm open. I'd love to work with Pharrell some day, I think that would be dope. I'm gonna collab with Pharrell's hat. It's gonna be awesome.
Well that's the future – but to bring up some past music real quick: you recently posted a mix from when you were still known as Alex B on SoundCloud, and that got a lot of popular reception.
Yeah, I think it got 100,000 plays in 2 weeks.
Will there be any more previously unreleased tunes coming out?
For a while I was releasing a lot of dance music, 'cuz I had released so much downtempo as Alex B. But now that I've had more upbeat, banger-type stuff come out, I'm going to start releasing everything. Some avant-garde, some cinematic stuff.
Cinematic?
I see the music like a movie. I see the video before the song is even finished.
That's awesome. Well that's all the questions on your music. Any last good fan stories to tell? You started out by talking about the Twitter fight…
It's been amazing. Honestly, I am so grateful for all the people that come to my shows, and to be able to do what I do. Seeing all the fans' faces light up. The people that hit me up online with positive things to say, I definitely pay attention to. I always make time for fans, and I always make time to respond to people that actually care about what they're talking about. We've been doing Meet & Greets everyday – lots of Paper Diamond kandi flying around. People like to bring me bracelets and stuff.
So then what do you think about the whole kandi-raver culture that's taking America by storm?
It's like the new hippie thing – the fans care about being good people and they really love the music. I was so into the music like that too before. I think that if people can come to shows and positively effect each other while enjoying the music and being responsible, then f*** yeah, wear whatever you want to wear. It's not for me, but it's self-expression. Let the freak flag out! I'm down.
One last thing – what do you miss most when you're on tour?
My dog! Otis. Oh my god. Anytime I think about him, I just instantly want to squeeze him. My friend's watching him in Los Angeles. I was thinking about bringing him on the bus. But definitely Puppy Diamond is what I miss the most.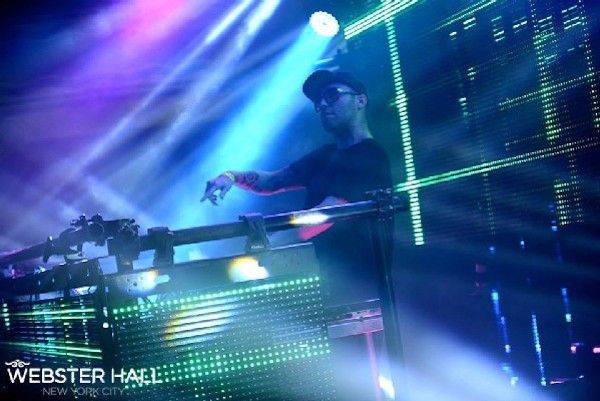 The show ended up being everything Alex told us it would be and more. After Gent & Jawns and LOUDPVCK got the place bumpin' with some trap sets (literally, the floor was shaking), Paper Diamond owned New York City for the night. We got to hear his originals, old and new, and some awesome remixes. And yes, he did drop a drum 'n bass track in there to freak everyone out ("Tarantula" by Pendulum, DJ Fresh, and Spyda – what a tune!) All in all, an unforgettable night with tastes of all the different styles that make electronic dance music so special.
If you're lucky enough to catch Paper Diamond on the remainder of his Cold Crush tour, make sure you do so!
Photo by Carlos Alayo for Webster Hall.