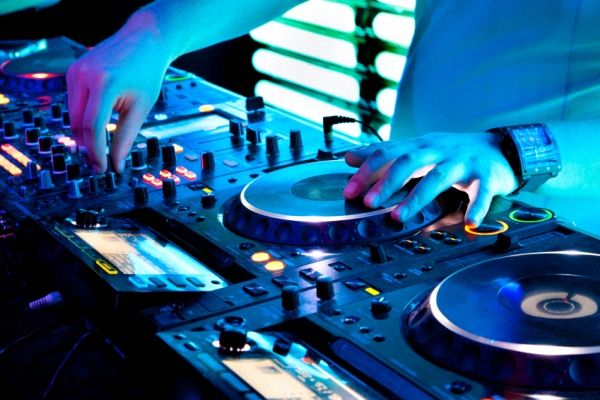 In one of the most shrewd and savvy PR moves of the year, social media management company, JustGo has released a Top 100 DJs redux, through the eyes of some pretty elaborate social media statistics.  In this extended look at the new age of internet popularity, they did some pretty ridiculous (but spot on) analyses looking at social media fan base growth, Google popularity, and piracy rates into their calculations.

Before we get into how they ran their numbers, take a look at their "new top 100."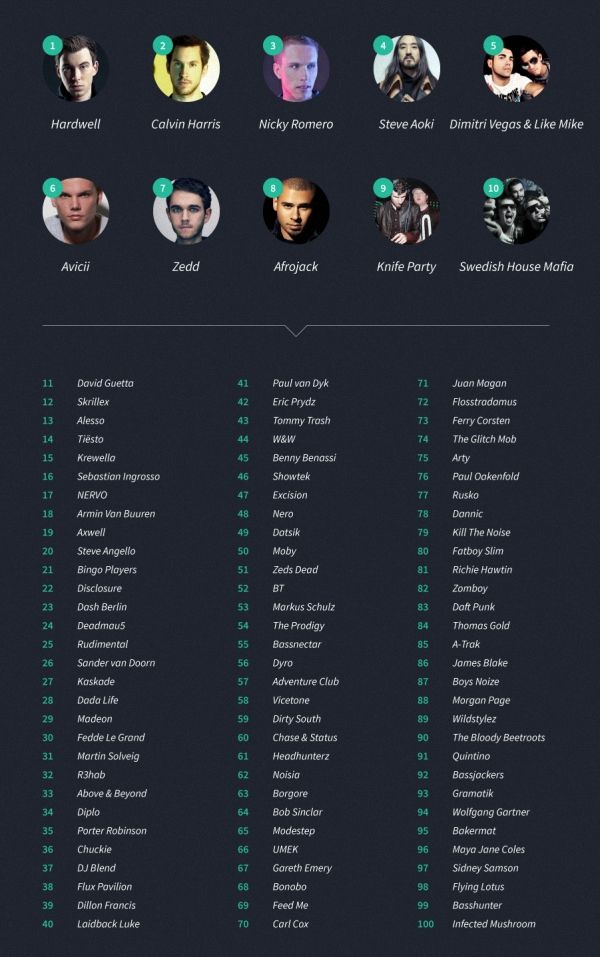 As hard as it is not to wage a formal opinion on the topic, its hard not to look at this and think that it seems like a much more representative selection of our top 100 DJs.  Yes, there are still some missing that will likely go noticed, but it still seems much easier to swallow.
As mentioned in their methodology, the explanation is as follows:
"We looked at the top 100 DJs by taking into account the number of Total Fans as well as New Fans acquired in 2013.  While Total Fans is more reflective of a DJ's overall popularity, New Fans – as we define it – is more reflective of current excitement.  Therefore, we gave Total Fans a 2:1 weighting against New Fans or 60% for Total Fans versus 30% for New Fans.  "There is also a degree of popularity that can be measured outside of social media.  We looked at mentions across Google and summed the total number of mentions from Google with Digital Millenium Copyright Act (DCMA) piracy notices as documented in Chillingeffects.org.  The overall popularity outside of social media accounts for 10% of each DJ's total score."
So far we have…
60% Current Fans
30% New Fans
10% Google "Stuff"
Pretty straightforward thus far.  JustGo only provided us one infographic on "Google Stuff," so we will start there.  Arguably, this is a measure of who had some of the most popular songs of the year.  Zedd – Clarity, Nicky Romero – I Could Be the One, DV & LM – Mammoth, Calvin Harris – Thinking About You, Hardwell – Apollo.  Those are just a few that come to mind.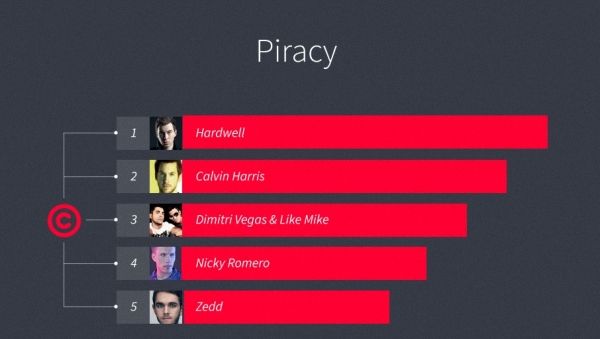 Beyond the above, JustGo didn't take much time on the Google "stuff" and focused primarily on the fans in social media.  First off, they gave us a breakdown of the "Overall Total Fans," which is a summary of the total number of fans per social media medium.  To little surprise, Facebook carried the heaviest weight in the analysis, followed by Twitter, Youtube, then Soundcloud.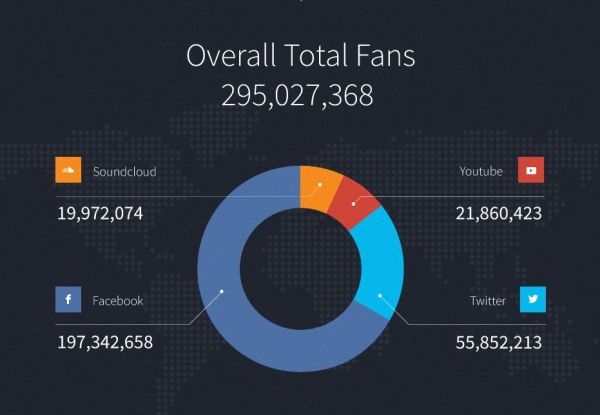 Next up, they focused on the question: "Where are all the new fans coming from?"  Also to be expected, based on the stat above, the largest percentile growth has been coming from the platforms that had less representation in 2012.  Interestingly enough, total fan growth totaled 34%.  This basically means that in 2013, 1 new person became a fan of an electronic artist, for every 3 people who have been a fan up through 2012.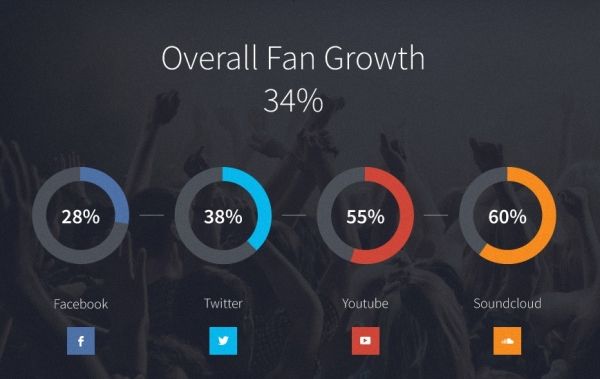 For these platforms, here are the winners of the "new fan game."  Keep in mind this is still only 30% of the overall.  3 relatively new acts, and…Armin.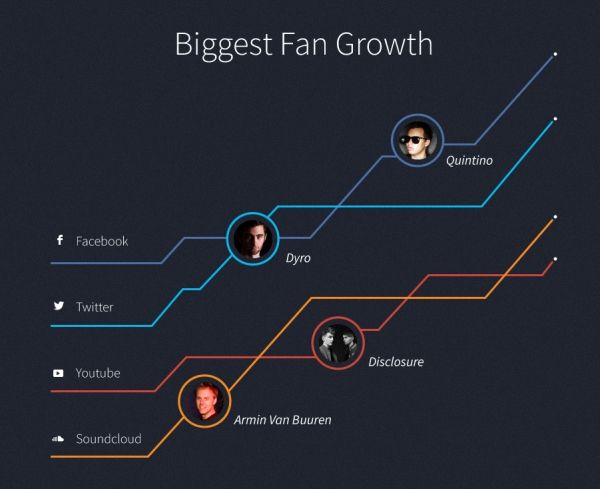 Kudos to JustGo for trying to give us a different taste on the DJ Mag list.  It may not be the "best" marker out there, but it's a fun new way to look at things.  A few potential critiques to look at for the future:
"Google stuff" is primarily a measure of claims filed.  If an artist doesn't file any claims because they want their music to get out there, they're going to be penalized from that measurement.
This type of analysis is somewhat heavily weighted towards people who are interacting on their social media venues, and who are putting out music.  This really makes this more like a "Best Producer," and less about being the "Best DJ."
With a whopping 60% of the weight being given to total fans, it will always be increasingly difficult for newer acts to make the list.  Perhaps this is justified, but just some commentary.
All in all a very interesting summary of 2013's best DJs.  What do you think?  Any reactions to the list, or other helpful critiques for the future?
Special thanks to ToppleTrack and JustGo for producing the information necessary for this writeup.