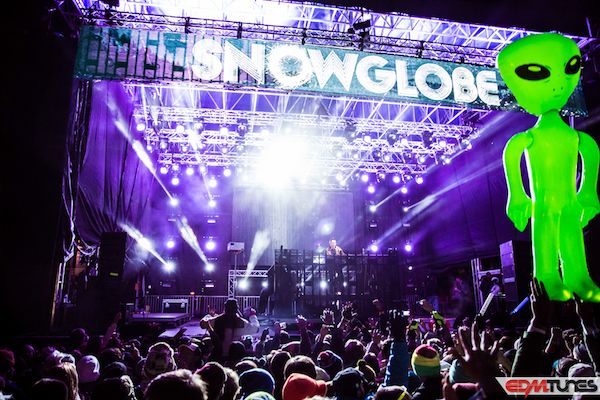 Tucked away on the campus of South Lake Community College lies a new years event called Snowglobe.  As the world of dance music festivals continues to consolidate into fewer and fewer entities that represent bigger and bigger festivals, this event shows that the dreamers still have a place in this world.  Snowglobe's promoters took this year's event, the third of its kind, and sought to recreate the unique experience of a mountainy snow-rave to ring in the new year.
Although the event itself is a 3-day festival, those traveling from out of town are really looking to commit to a 5-day affair.  Although plenty of ravers stayed in the hotels on the Tahoe strip, we opted to come a bit early, rent a cabin, and hit the slopes prior to the festival.  It offered some balance, and a very reasonable alternative for those not truly interested in attending the entire festival.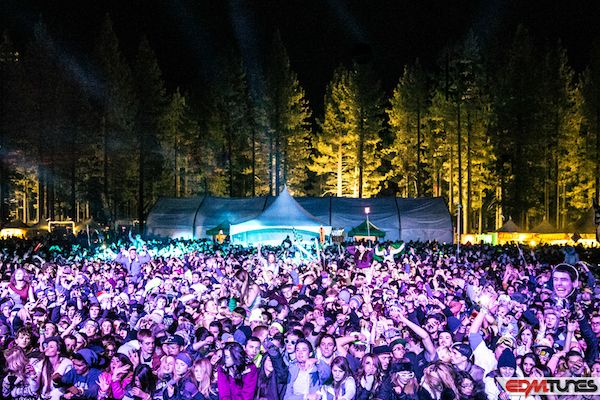 Security was present, but not abrasive.  Medical personnel and info stations were on-site in multiple locations, and even amidst the sub-freezing temperatures, Snowglobe had water stations for the Camelbak-ers.  Walking into the venue, you were immediately presented with the main stage, comfortably boxed in by vendors, stations, and art exhibits.  A venture out the back corner of the field led you down a path to the other two stages, each under their own tents, named Sierra and Igloo.  Support services were plentiful and polite, there were no waiting lines for restrooms. Delightfully enough, shuttle service had the venue empty in under 45 minutes every night.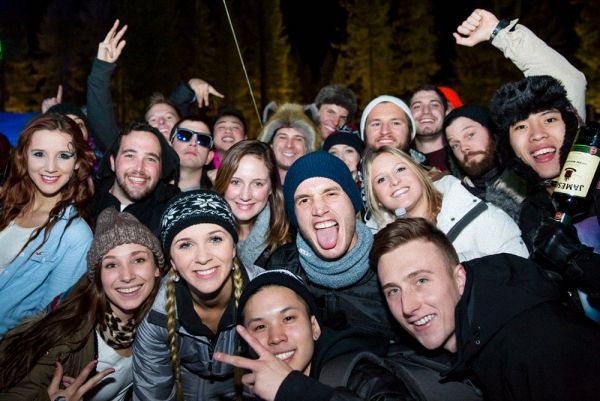 Where Snowglobe really won the hearts of its attendees was in how good of a lineup they put together on a shoestring budget.  A few big ticket artists were smattered throughout the lineup, all pulling double duty in nights where they boasted multiple performances in either Vegas, LA, or San Francisco.  Beyond these artists, Snowglobe shined, if you knew what to look for.  Walking into this, "small festival," nobody expected a list of headliners compared to Decadence or Lights All Night, and with Vegas blowing out NYE DJ salaries, filling the rest of the lineup was no easy task.  This event turned into a proving ground for some deeply underground artists, and that of course was a joy for the fans. A lot of original mixes, a lot of energy, live mixing, and a lot of sets that featured little-to-no presence of the songs relentlessly abused throughout 2013's festival season (Animals, Clarity, etc).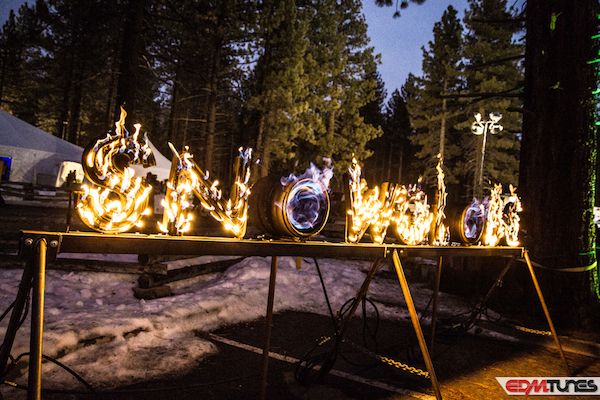 For those seeking to freshen up playlists, some noteworthy mentions from the sets of the weekend: for the upbeat – X5ight, SirensCeol, or Andrew Luce; For the House-lovers – Treasure Fingers, Justin Jay, or Justin Martin.
One of the more savvy moves was the decision to devote an entire tent to deep house/ techno/ tech house for all three days.  It remains one of the few areas of electronic music outside the main interests of the U.S mainstream-raver scene. The tent's presence left some of the more experienced ravers with some "awe-factor," while also providing a low-key area with good music, and temperature control for those who may have needed to warm up a bit without crashing into each other.
Then came the moment on Day 2 that had everyone talking.  Nestled into a pretty early 5:00 pm slot at the Sierra tent, one of our Snowglobe Showcase Artists, Kap Slap, violently thrust himself into the limelight in his festival debut.  Within minutes, everyone was shedding layers, screaming song lyrics, as he crushed the decks, and transitioned from song to song.  He tore the roof off the tent with his signature electro/mashup/progressive set.  These are the sets you seek out as a writer, the kind of sets that you can watch and smile.  That man will be playing a Mainstage in 2014, and you're going to love it.  Shoutout to his top-gun neon bomber-suit crew, who kept the energy blasting from within the crowd.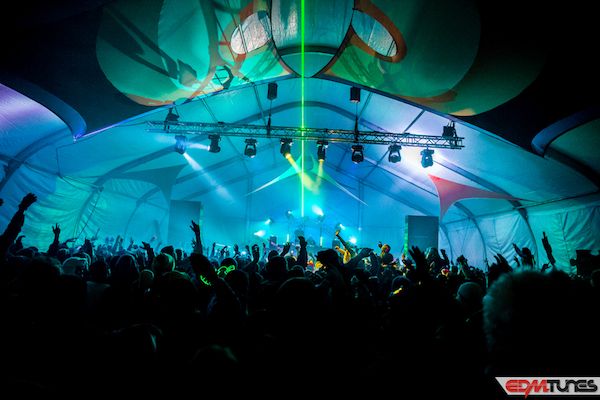 Day 1 did feature a somewhat smaller crowd in comparison to the latter two days, as it was the only day of the event that did not sell out.  Aside from the electronic artists, Snowglobe also had a pretty strong presence of jam-band and live music as well, giving the New Year's Eve closing set to local Tahoe band, Cut Copy.  We can't leave out Beats Antique or Dillon Francis, who each gave us their own NYE dose of weird.  Dillon kept his stage theatrics to a minimum, dosed with some humor and a 20 minute set of sexy "I'm trying to get you guys laid music."  Beats Antique though – because who wouldn't want to watch people in horse masks dancing to tribal music, a woman in a leopard-print onesie banging a bass drum, and an artist live painting on stage.  It was surreal, but a perfect preface to SN double-O P DO double-G.
Having spent this fortunate year touring the world's electronic festivals, this festival draws a lot of inspiration from its "Escape-from-reality big brother," Electric Forest: it's smattered with live art exhibits, a more relaxed crowd, and a location that is tucked away from society.  Snowglobe contains the making of something that can and will be a powerhouse in years to come.  I do leave this review with one constructive thought as the promoters begin preparations for next year.
It's OK Not to Have Mega-DJs
Announcing a "to be determined artist" stacked next to Kaskade and Tiesto, and making it Cut Copy was a mistake.  It is one that left hardcore electronic fans a bit disappointed.  Talent  comes in droves these days.  You won't hear anyone complain about seeing Kaskade or Tiesto at the event, but you must question if they were essential for success.  Being a smaller festival gives the freedom to go more "exploratory" with acts.  This kind of a festival is where mid-tier and up-and-coming artists thrive.  These artists, who may play mid or early-day at a mega-festival, would look like royalty as a headliner here, and come at a fraction of the booking fee.  Think Vicetone, DJ Snake, Luke Bond, Pierce Fulton, or Maor Levi.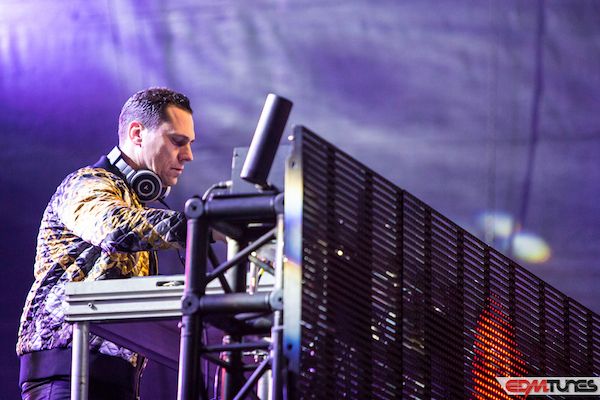 The event itself wasn't perfect.  The tents could have been bigger, especially the one that held the night's closing sets (Igloo).  The snow theme could have been given more attention in the decorations and production.  However, these are fairly minor gripes for an otherwise amazing three day experience.
Snowglobe was charming, it delivered its promise to us to give us something different than what we've grown to expect amidst this "EDM Explosion," and it was a satisfying way to ring in the New Year.  Cheers to 2014.