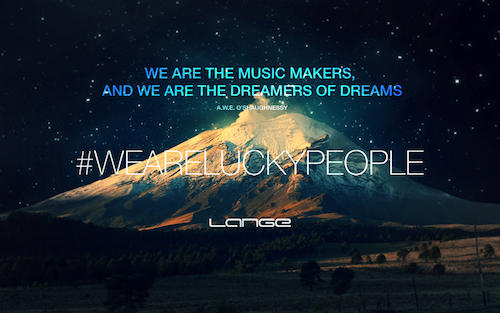 Ever wonder what happens in the day-to-day life of a world-class DJ? Here at EDMTunes, we're bringing you the "Diary of a DJ" series, where UK producer, DJ and record label owner LANGE will be journaling his activities leading up to the release of his album, "We Are Lucky People." For more information on Lange, see the introduction entry here.


Lange:
Welcome to my first "Diary of A DJ" blog entry! This is going to be a bi-weekly commentary on what I'm up to in the lead-up to the release of my 3rd artist album 'We Are Lucky People'. Let's get to it…
Monday, July 22nd – Sunday, August 4:
Fresh back from the Ukraine, Monday was mainly filled with finishing that week's episode of Intercity. Usually I prep the show on flights during the weekend to maximise studio time in the UK, but a stupidly early flight back meant I was still in sleep catch-up mode. Going through all the new promos and putting the show together took the best part of Monday, (bar nipping out for an all important haircut!).

I was back in the studio Tuesday for a full day's studio sesh and ideas for single 6 for the new album started to take shape (check out the teaser of it below!) This continued into Wednesday morning (literally, as I always work well into the early hours) and later I took some time out to do some phoners and a bunch of written interviews including a front cover feature with Tillate magazine. It's been a very interview-intensive period recently with the ongoing artist album build-up, constant new singles, and my Trance Nation compilation for Ministry Of Sound.

At 8pm (UK) I jumped on Twitter to join the listeners for episode 134 of Intercity. I got some great feedback on this week's show and I revealed the final exclusive track of the Trance Nation mix comp, a vocal track from me called 'Unfamiliar Truth' (feat. Hysteria!). This new one will be featured on 'We Are Lucky People' with a full single release to follow later.
Thursday, I took most of the day off (very rare!) but caught up with Andy Moor on Skype to discuss possible tracks for our Back2Back festival sets coming up that weekend. On Friday, I headed to Global Gathering, where it was good to catch up with so many peeps including Mark & Cassie from Ministry Of Sound who I've been working closely with on Trance Nation and of course friends & other artists. After food and drinks in the VIP, Mr. Moor and I headed over to the Godskitchen tent and rocked out our set, which included his new one 'I Be' and my 2013 update of 'Follow Me'.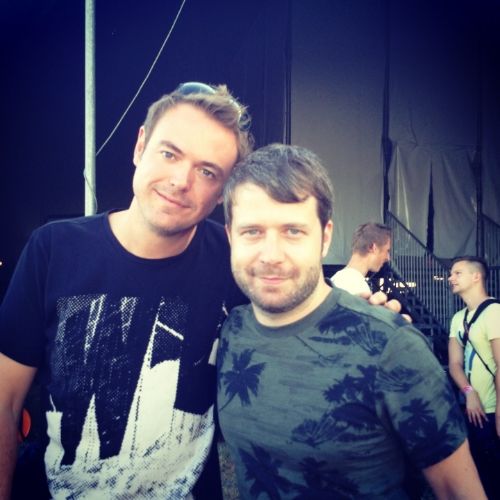 On Sunday afternoon, I headed to Boom in Belgium for the massive Tomorrowland! I got to hang out with my friends Protoculture, Max Graham, Paul Van Dyk, Shogun, Johan Gielen and others and again, Mr Moor and I were on B2B duty again and smashed it hard to close the Tranceaddict stage. Brilliant night! Straight after the event I headed back to the Brussels airport for a few hours sleep. Ouch, the champagne had been flowing at TW and didn't I know it when I woke for my early flight back to UK! I've been asking my agent to book early flights so I can get back in the studio as soon as possible – Bad call this time!
Anyway, starting the week with the champers still in my system was one way to toast the release of Trance Nation which landed in stores just as I was landing back in London. Have to confess, I didn't have the most productive day (largely due to my hangover), but I did manage to catch up on some emails and ticked some boxes on my task list. Tuesday was catch up day with some label stuff; going through demos for Lange Recordings and a meeting about future projects, then I had a late afternoon/evening studio sesh. I'm already behind schedule with the production for my album(!) so finishing single 6 this week was the goal. By Thursday I'd got a name for the track – I went with 'Imagineer' and this sparked the addition of a vocal sample. Also on Thursday, I got my sharpie out and signed a whole load of Trance Nation albums for competition prizes and a limited run through my online store.
Friday was a long day. Tim from Stark Profiles, (who's guilty of organising a ton of interviews about Trance Nation for me) popped in for a meet and a soda. I prepped for a week's tour in the States and then it was into the studio for one final session on 'Imagineer'. The session ended at 6am and I was driven to the airport at 7am. Breakfast in the BA lounge at T5 kept me going until I boarded a flight to New York. Naturally I slept through that one. Annoyingly, a gig cancellation two weeks prior had meant flights were rearranged late and so I had to take the long way to San Diego. With the connection in JFK it was 17 hours total before I dropped into San Diego. I spent one hour at the hotel and then it was time to hit the club.
I really enjoyed 'Bassmnt' club in downtown SD and the new track went off! (Always a buzz!) I worked in the hotel most of Sunday after waking pretty early; tweaking 'Imagineer' with feedback from it's inaugural club play in mind, finishing up some more written interviews, and attempting to slash my inbox down from 250!  We're talking San Diego here, so naturally I found myself a spot in the sun by the pool for most of the day. Hey, I worked hard! 😉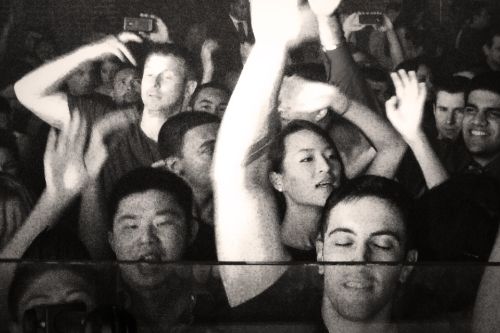 For my next entry, I'll be answering your questions about the business side of the industry and what goes into making an album. You can post your questions in the comments section below or on my Facebook page. Looking forward to hearing what you have to say!
Website | Facebook | Twitter | YouTube | Radio
#WeAreLuckyPeople