Australia's top DJ presents #SomethingBIG with the Stafford Brothers. Each and every week, brothers Matt & Chris Stafford give you exclusive 'in studio' experience with the producers of the biggest records dominating dance-floors all over the globe. This week, they welcome special guests Krewella directly from their studio and in their own words. Tune in and listen as these two powerhouses team up and take you through some of their biggest and baddest hits, including a "behind-the-scenes" rendition to "Killin It", "Legacy" and "Alive". Download your free copy today.
Tune in to Evolution Radio every Saturday Night across America – 7pm ET.


#SomethingBIG- Episode #028: PLAYLIST
01: 'HOW WE STARTED FROM THE BOTTOM' (MAKJ Ultra edit) Hardwell & Showtek Vs Drake
02: 'BLITZ' Bobby Rock
03: 'AIRWOLF' Vince Moogin
04: 'THREE TRIANGLES' (Losing My Religion) Hardwell
05: 'HANDS UP' (Future Music Festival 2013 Anthem) Stafford Brothers feat. Lil Jon
06: 'IGNITE' Dannic
07: 'AFTER DARK' Style Of Eye & Tom Staar
08: 'IN MY MIND' (Stefan Dabruck remix) Ivan Gough & Feenixpawl feat. Georgi Kay
09: 'KILLIN' IT' (Chuckie remix) Krewella
10: 'LEGACY' Nicky Romero Vs Krewella
11: 'ALIVE' (Stafford Brothers & Jealous Much? remix) Krewella
12: 'ALL ALONE' Splittr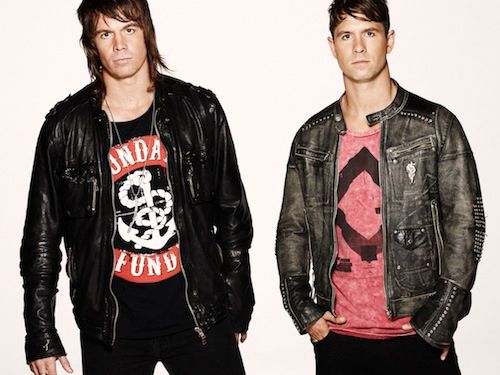 Couldn't get enough of the Stafford Brothers? Check out their recent release of the official Future Music Festival 2013 anthem, "Hands Up," + Remixes. The boys aren't new to main stage at the Future Music Festival, having already played alongside the likes of Skrillex, Swedish House Mafia, and Fatboy Slim, just to name a few. It's no surprise that "Hands Up" was used as the official anthem; the overtoned introduction followed by the overpowering progressive house finish topped with heavy basslines and emotional melodies really can't go unnoticed.  Check out "Hands Up" featuring Lil Jon and purchase it on Beatport today.
Keep a close eye on these brothers as they quickly progress on their path to international stardom with every unforgettable and masterful releases.