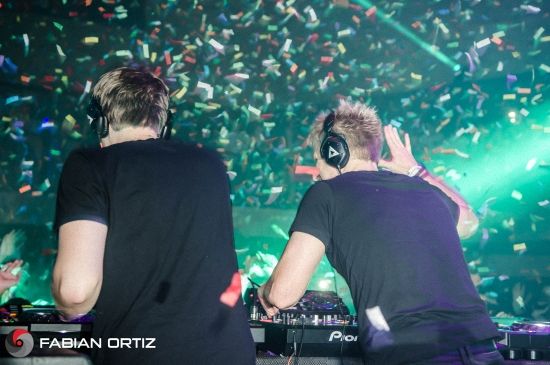 EDMTunes
recently had the immense honor to sit down with
Tritonal
right before their set at
Exchange LA
in Los Angeles. Upon arriving at the venue, it was clear that the night would be one for the books – I had never seen Exchange LA so packed with people so early on in the evening. The Tritonians had arrived and they were ready for bring it for Chad & Dave. Navigating the crowd and the multi level venue was no easy task, but I managed to weave my way through the masses and finally find a spot on the balcony where I could check out the opening act,
Topher Jones
, and prepare for the interview. Shortly after midnight the EDMTunes team found the green room and sat down with the boys from Tritonal for an exciting chat before their set.
EDMTunes: First off, welcome back to LA and thank you guys so much for sitting down with us, we really appreciate it.
Chad: Absolutely.
EDMTunes: Can you tell me a little bit about how you guys met and how you formed Tritonal and how you ultimately ended up meeting and [interviewer awkward stumbles over her words]
Chad: Coming together?
EDMTunes: Yeah! Coming together! (That's totally what I meant to say)
Dave: That is definitely a long story but in a nutshell we met online actually and it was on a forum involving synthesizers and what not –
EDMTunes: Not match.com then?
Chad: We say that though, that's the joke.
Dave: That's the running joke, but really we were just trading music back and forth and sharing our ideas and it ended up launching into a collab – one song turned into a hundred.
EDMTunes: You guys spend a lot of time together, obviously.
Chad: Yeah, yeah.
EDMTunes: Do you ever disagree?
Chad: All the time.
EDMTunes: All the time?
Chad: You have to! Yeah, I mean anytime you're a musician or doing anything creative it's a super personal thing cause you're going on your instincts and your gut feelings and you're going 'Do I trust myself here?' Sometimes it's disagreeing because you really disagree sometimes it's disagreeing because you're playing devil's advocate and you're seeing if this is the right way to go. But ultimately, any good relationship it's about give and take and it's about balance and um, it's about really finding out how you can use each other's strengths and weaknesses to do something greater than you could alone and finding that sort of synergy and a lot of our success is due to the fact we've been able to come together and as a team come up with really cool ideas that apart would never have happened. That's sort of the success of Tritonal
EDMTunes: And you guys are from Austin, TX right?
Chad: I am. I went to school there. Dave moved down from DC –
Dave: Yeah, I'm live in DC.
Chad: But he's been there 5 years now, he's an Austinite now.

EDMTunes: Is it more special when you play in your relative home towns than it is other places?
Chad: It is but we don't ever play there.
Dave: No we don't play Austin very frequently. Last time we played Austin, you may have heard, it was the Air Up There 100, so special.
Chad: Sell out. 2500 people. The reason we don't play Austin – well early in our career we made a decision that we wanted to be international artists. And anytime you're a local artist and you're playing local shows a lot it's very hard to be known or respected on a global stage. So, we set a precedent early that if we played our home town or even our home state then we were gonna be booked as any other international artists would be and we set the bar high cause we had big goals and we sort of keep that bar there even today.
EDMTunes: I read online that this part of the tour has you playing 6 shows in 6 days, right?
Chad: Yeah.
EDMTunes: So how much sleep did you guys get last night, are you guys okay or is it hectic – do you have trouble preparing?
Dave: We actually are pretty health conscious so we do try to get a work out in, we try to sleep as much as we can – we don't drink, we don't party. We got our laptops with us we're working on music all the time and of course we get sick here and there but we try to make sure we manage ourselves.
Chad: We have a lot of fun onstage.
EDMTunes: Oh yeah, you can tell.
Chad: So when we say we don't party we don't mean we don't have fun. What we mean is like after the event is over I don't like go to after parties and hang out all night and partake in after party favors and stuff and we go home and try to get the sleep that's so important so that the next night when we're in LA or when we're in Vegas tomorrow at Marquee you get the same Tritonal as the last crowd did which is a super excited energetic duo who's like super passionate about what they're doing. You know?
EDMTunes: And I think that's part of what makes your fans such die-hard fans. Do you guys have any crazy stories about fan encounters on tour so far that you can share?
Chad: We've had some like airport scares where we show up in cities and they're there and you're coming off the plane and they're meeting you with like posters and markers and sign this and do that and you're like 'woah woah what's going on here?' and you're just bombarded. But as much as we joke about that it's super fun. I think that the crazy stuff more happens online where they super try to get into your life and send you a hundred emails in a row and send your wife emails. But to be honest the Tritonians are a really respectful group and they sort of follow how Dave and I try to live our lives which is be grateful, and be humble and try to reach for your dreams and take others along the way as you can.
EDMTunes: Speaking of Tritonia, how hard is it to keep up with the radio show while you're on tour?
Chad: Golly.
Dave: Well, actually we've already done a lot of the shows in advance. We prepared those shows so that we are able to go out and do what we need to do and come back…
Chad: The voiceovers aren't done yet, cause we obviously need to talk about the shows and where we're going next. We get thousands of promos of tracks so if we know we're gonna be out for two weeks it's no skin off my back to prepare a couple mixes in advance and when we get a little break we can do the next episode.
EDMTunes: I also wanted to ask about RESET, which is an awesome track, I love it and I heard it at the Machinima after party for E3 about a month ago…
Chad: Oh, you were there?
EDMTunes: Yeah, strange night right?
Chad: Super cool though, Cinnamon Toast Crunch –
EDMTunes: Cinnamon Toast Crunch everywhere! But the track is a collab with 7 Skies – so how you guys hook up and how did that come about?
Chad: David's been one of our friends – I don't know if you know but Tritonal used to release records on Anjunabeats and Anjunadeep and we did remixes for Jaytech and so did 7 Skies, he's been an Anjunabeats kid like a trance – super trance producer so you know it's kind of shocking for Tritonal and 7 Skies did this super dubsteppy electro record. But that's why we did that. He's in a place in his career where he's totally looking to take another trajection. We've already done a hard left turn in terms of the branding, the radio show, the aesthetic, the releases, the sound and he's on board with that. He's like I love what you're doing. I love that you're taking melodies from trance that are still intelligent and powerful and emotional and you're infusing them with tracks that have energy and work on the floor. So when we got together we just talked about if it's peak time in our set and we need a record that's just gonna get everybody going what would that be?

EDMTunes: RESET.
Chad: And it would be RESET right? Hit the button! And so that was the theme behind it.
EDMTunes: Are you playing any unreleased tracks tonight from the upcoming Metamorphic EP?
Chad: Yeah, we're playing five.
EDMTunes: Is there a release date yet for Metamorphic?
Chad: Metamorphic II, yeah but we can't tell you that.
EDMTunes: That's alright, I won't ask to get you guys into trouble. How did you guys hook up with Topher Jones who is opening for you tonight?
Dave: We met Topher a couple of years back.
Chad: Yeah, like 3 or 4 years back.
Dave: And he used to do some things with…was it Ultra?
Chad: Nope, Topher comes from Black Hole – he used to be a trance producer. A lot of people don't realize – they know him from 'Hello Chicago' and 'Drop the Brohammer?' era like super progressive house tracks but Topher used to make tech trance and we knew him from those days and have went to a few music conferences with him and his brother. He's an American dude, he lives like we do – we love having fun on the road, we work out together, and he's just a straight up awesome guy to have on tour. And you know Tritonia and Tritonal is about living a good life and taking others with you and he's the perfect candidate to open up for us. And I think he challenges us, like he's not your typical opener who plays techno all dark and moody before the big awesome headliner comes on. You see all these interviews like, 'the opening DJ needs to play like this so that I can shine' and like screw that. Topher go out there and play your big records and be a superstar dude because you're only gonna challenge me and Dave to step our game.
EDMTunes: And be even better.
Chad: And smash it even harder. Like I've always hated diva DJ's that are like 'You're playing too hard for my sound' and I won't name em but ya'll know who you are out there and like step up – quit being afraid to match the opening DJ. And my opinion, if the opening DJ is playing a better set than me? Then he might need to have my spot. And so in turn it forces me to make bigger tracks and it forces me to have better energy and it forces me to like match whatever is going on in the room.
EDMTunes: I love how pumped up you are right now.
Chad: It's just a pet peeve of mine. Like reading about it and we've been the openers for so many guys who give you the track list and the BPM and the manager comes over and is like 'you playing too hard right now for my little baby, they can't take it…'
EDMTunes: I've got just one question for you guys, and you've been awesome so far. 2013 has been a great year for you so can you each give me like a personal highlight – You [Dave] don't talk a lot I noticed I'm kinda calling you out…can each of you give me a personal highlight of yours so far?
Dave: It's always gotta be EDC, EDC is always fun but this year I think the studio's gotta take the highlight because of what we've been doing and where we've been taking our sound. That's gotta be my 2013 highlight.
Chad: Yeah, Tritonia man. That in combination with now being co-owners of Enhanced Recordings is huge. We have not released that many records this year and Tritonia has systematically kept our sound and brand growing while not having to put out records every month. Right you can tell what Tritonal is up to by what they're mashing up in their radio show, what they're playing in their radio show and what they're playing in their sets. Being on Sirius XM two times a week every week allows us to tell our fans where we're going where we're playing and what we're doing. It's just such a great outreach.
EDMTunes: It is, it's my favorite radio show I absolutely love it.
Chad: And that residency, with the exception of Metamorphic I, has been the biggest thing for our careers this year.
EDMTunes: Alright guys, I'm not gonna take up any more of your time. Thanks so much, again.