Reigning supreme from Miami, the 23 and 22 year old Matt Toth and Julio Mejia boys of GTA are quickly climbing the ladder to the top. Having just wrapped up their 2 month European tour with Rihanna and performing to over 20,000 fans on a nightly basis, it's safe to say that these boys are here to stay for good. The raw sound that GTA is producing exhibits some hip-hop influence, while at the same time staying true to their dirty and sexy vibe that keeps the crowd on their toes. They built a name for themselves around the saying 'Death to Genres'; which has become their calling card, as they are pioneering the explosion of not settling into any major genre, but instead, branching out far and wide and creating musical elements that can be played in a variety of DJ sets. We caught up with the youngsters in Los Angeles this past weekend to hear what they got to say about their journey thus far and how promising their future is looking.

So let's get the big question out of the way, what is it like touring and opening for an act like Rihanna?
Dope. Real dope. We made a handful of fans out of that especially since we were playing to a sold out audience of over 20,000 every night.
Rihanna clearly is not EDM, so you're playing to a completely different crowd. Has that fact changed up what you guys play in your sets?
A little bit. We stayed true to ourselves and played what we wanted to hear and what we wanted to play. We did what we usually liked to do and changed it here and there, maybe added additional beats to some pop vocals. But in the end, we didn't have to change our production and style as much as we originally thought we would.
With releases on Mad Decent, Mix Mash, and Fool's Gold, you guys have obviously been exposed and supported by a lot of heavy hitters in the industry such as Diplo, Laidback Luke and A-Trak. What does that mean to you guys?
We love it. Honestly, when we started working with them it was like, "Man…I'm working with someone I've always looked up to." Y'know, these guys are THE producers, the guys that we go out of our ways to see at festivals. Sometimes we step back and go, "oh shit, Diplo is actually at our house making a song right now!" It's crazy.
One of your mantras is "death to genres". Could you talk about where thats coming from and why you feel that way?
It came from an e-mail interview one time on the plane that had a question that goes "Death to ______". Where we'd fill in the blank. Instantly we thought of "genre". "Death to genre" really made sense and it directly corresponds to how we portray our music.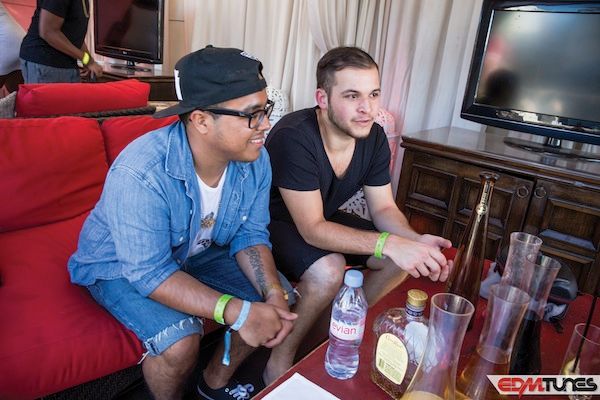 GTA has gone deep in terms of versatility and style of music that you guys play in your live sets. Are there any specific genres that you guys haven't yet dived into that you would like to?
Not really, we tried a little bit of everything from everywhere. We always try to take influences from all different kind of sounds, hip-hop influence is a main thing. We also, we put some rock into our shit and obviously EDM influence is a must. So nothing we really haven't done yet, just aiming to target the aspects that we could incorporate more into. And that's really where 'Death to Genres' comes in, we can't quite categorize our genre of music because we're always branching out for more.
How was working with someone as huge and a hands-on-everything guy like Diplo?
It's sweet. He really gives great advise on how to make things cool. He would could up to us and be like, "hey, this is where you make the song drop". He'd show us where it would be appropriate to transition from here to there and whatnot. He has a great knowledge of where what should be. Basically, he knows when and where people should be dancing in the club. He has helped us out tremendously with our club tracks because he really knows the ins and outs of that nature. All in all, he just has great taste which helps out the all of us.
You've already worker with some hot names, but is there anyone you guys really want to work with in the future inside and outside of the EDM industry?
Inside of EDM – Angger Dimas, he's definitely one of my favorite producers out there right now. Some of the things we've heard him produce has been out of this world. Steve Aoki and DIM MAK was very lucky to pick him up because I know there are a handful of people trying to get him right now.

Outside of EDM – Jay-Z, Waka Flocka, 2 Chainz, Future, Lil Wayne, Tyga, basically all of those guys that we play in our sets. We really dig the west coast rappers in general. All of those dudes have hit records that are "sexy". Whoever can really rap and make girls dance and stuff like that is what we look for.
You guys have had a busy year thus far. How's the rest of the year looking?
We're working on some very big things that we really can't discuss in full details right now, but they're all coming together quite nicely. We definitely have this release that is coming out soon that our fans have been asking for. Another 'Death to Genre' is coming right up real soon. After that Rihanna tour, we've been gradually planning for next year and hopefully 2014 will the bang we've been waiting for.