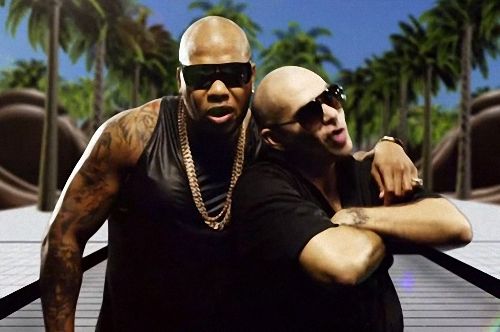 If we took a poll on the worst thing that's happened to EDM, Flo Rida would have a strong case for the top spot. Type in "Flo Rida steals" on google and the search engine will give you limitless choices of how to finish your statement. Three strikes and you're out, right? I really hope so. After his theft of Avicii's "Levels" and Bingo Players "Cry," Flo Rida has made Diplo his latest victim. This time, he couldn't do it alone. Mr. Worldwide himself, Pitbull, decided to join in on the vicious crime.  What visionary genius did his uncreative mind have have to steal this time? Computer generated clones of women shaking their asses is the answer. Diplo used this concept in his "Butter's Theme" video. The unmistakable resemblance can be seen in the two videos shown below.

Flo Rida must be very very clueless about the EDM community if he's choosing to mess with Diplo of all people. Diplo is a no nonsense guy to say the least. Just in the past year, he's unleashed rants directed at Daft Punk for their album best listened to "on drugs on a rainy bridge" and DJ BL3ND for his mysterious rise to millions of likes on Facebook and other social media platforms. Two rappers stealing his music video was bound to draw an epic and volatile reaction. The only way to describe it can be Diplo's words himself. Check out the twitter rant below…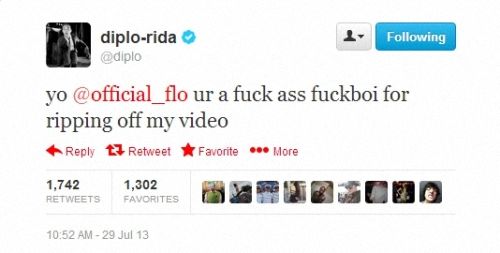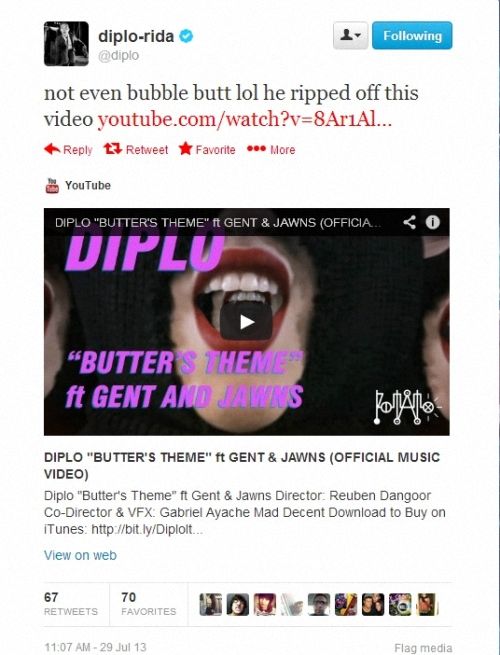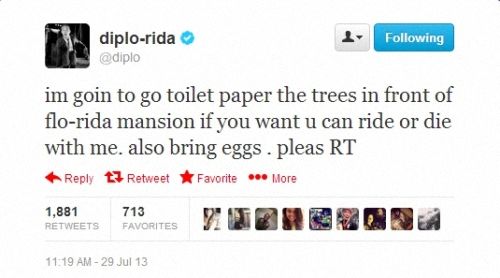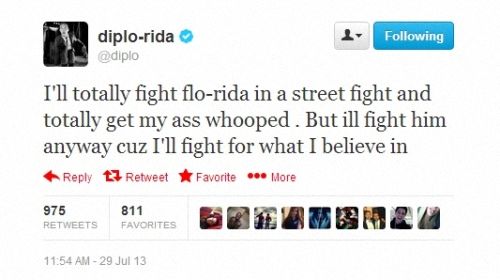 Flo Rida – Can't Believe It ft. Pitbull

DIPLO "BUTTER'S THEME" ft GENT & JAWNS
UPDATE

:
"I NEVER SAW DIPLO'S VIDEO"

The story has picked up some steam ever since the Twitter outbursts … when Flo Rida was asked about the resemblance in the "Can't Believe It" and "Butter's Theme" videos, Flo Rida made it clear that he didn't rip off anybody. In fact, Flo claims that "Can't Believe It" was just a homage to the ass-masters of the past. Here's what he had to say:
"[The] only thing stands out in that is the fact that I thank God I can afford a mansion," he laughed. "I haven't even seen the ['Butter's Theme'] video, but shout out to Sir Mix-A-Lot, 2 Live Crew who definitely inspired my video. You talk about Sir Mix-A-Lot, and you wipe both of us off the picture, really."
Flo doesn't seem to be bothered by the threats either.
"For someone like him," he said, "I just wish him the best of luck on his career."
Tbh my beef w @official_flo is kinda lame.. My team will just stay being creative and working hard. We got ideas forever

— beyonce knowles (@diplo) July 29, 2013